Unravelling memories as creative scrapbooks
By Shannine Daniel
View(s):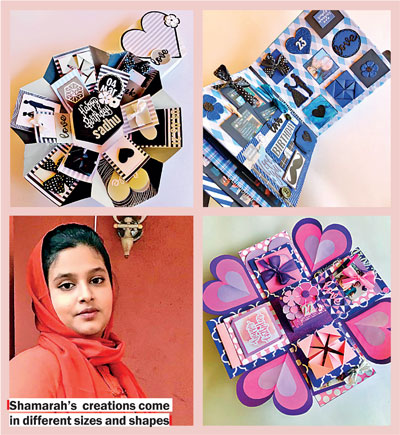 "I love how we can collect memories through pictures and bind them together into a beautiful scrapbook. I also love that it is in the form of a book, similar to a traditional picture album – but presented much more creatively, and detailed and customised according to personal preferences," says 22-year-old Shamarah Fazeel.
 Shamarah is the founder of uniqorn.lk, an online crafts store which focuses on personalised handcrafted gifts such as scrapbooks and photo albums.
Scrapbooks have been around for a long time, and even in 2021 this method of collecting, preserving, presenting and arranging photos, artwork, notes and other memorabilia is still popular. Scrapbooks make ideal gifts for loved ones and can be gifted on various occasions- birthdays or anniversaries.
Shamarah has been interested in arts and crafts since she was eight years old, and has been making scrapbooks and other crafts for family members and friends, for a few years now.
 She uses mostly a range of boards, cardstock and paper – handpicked from local bookshops and stationery stores and also shops at online craft supply and stationery stores on Instagram, and through apps like Ebay.
Right now Shamarah does her business fulltime through Instagram (uniqorn.lk). She began this business in 2018 and is happy with how far it has grown; so far she has been able to complete around 800 orders.
 "One of my friends had an online business when I was starting mine, so I learned a lot about how to operate an online business with her help. I researched about how I could market my products, who my target audience or customer base is and how I could reach them. I also researched delivery and payment options I could use for the business," she said.
Along with a variety of scrapbooks of different sizes, varieties and features, Shamarah offers "scrapcards", explosion boxes, "scrapframes" and Hexagonal craft boxes available in different dimensions and designs. Giving us some insight into her innovative creations, Shamarah said scrapcards are fancy type of greeting card (basically a cross between a card and a scrapbook), while scrapframes are handmade frames with photos and drawings and explosion boxes and hexagon boxes are crafts in the shape of cubes or 3D hexagons, also decorated with photos, drawings and designs.
Walking us through the process of creating a scrapbook she said once she receives an order for a scrapbook, she first takes down the customisation requested by the client such as the colours, theme and occasion. Keeping these in mind she selects the pattern papers, coloured sheets, and cardstock. Then she roughly sketches out the layout for the pages into a notebook.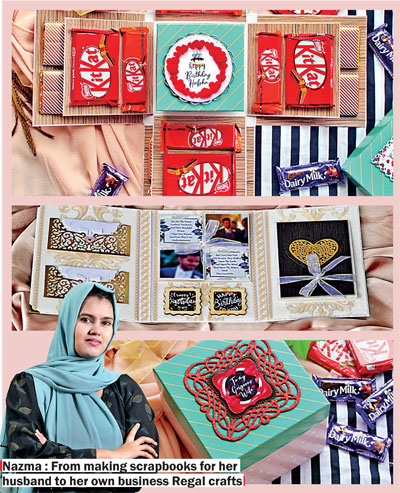 "This is when I try to come up with ideas. Once I plan the layouts for all sides of the scrapbook, I add in all the mini crafts and create the pages according to the rough sketches. Lastly, I attach the images and quotes that are sent in by the customer. I choose spots that would make the images look appealing, according to the colour code on the scrapbook."
 "There were two instances where I had slightly unusual requests. One customer asked me to make a gigantic scrapbook of around 60 pages for an unusually large budget and another asked me to make a replica cover of "The monster book of monsters" from Harry Potter in the form of a scrapbook. I could not take up both requests as I could not source the materials needed," she said.
The cost varies for each individual project, according to the size, design and features, and Shamarah's products cost between Rs. 2500 and Rs. 15,000.
Nazma Fasmil, the owner of Regal Crafts, says on average, the cost of making a scrapbook or any other item can vary between Rs 2500 to Rs 12500. It all depends on the materials and the content.
Nazma has been running Regal Crafts and making customised handmade gifts such as scrapbooks, explosion boxes and cards and also custom party decorations like cake toppers, party banners, centrepieces and wall decor since February 2019.
 "I began making scrapbooks for my husband for birthdays and anniversaries, and when I posted my creations on social media people encouraged me to start a business," Nazma said.
Nazma's bestseller is the explosion chocolate gift box, which is packed with chocolates, notes, photos and other items the customers choose. She uses different types of boards, cards, pattern papers and other items for her creations, and sources materials locally. She also tries to use recycled and recyclable materials as much as possible.
Orders for Regal Crafts products can be placed through Instagram (regalcrafts) and Facebook (Regal Crafts). Nazma says customers need to contact her at least one week in advance and provide the necessary details that need to be added to a product.
 "One of the biggest challenges I am experiencing in making my creations is last minute orders and multiple orders. I used to ask my family for help, and I plan my time better with an established morning routine. Coffee helps me a lot to manage my stress," Nazma smiles.
A problem both Shamarah and Nazma cite is the lack of quality arts and crafts supplies because there are only a few suppliers and not much variety in terms of the products.
 "I manage with what is available here as much as possible and the rest I order online through Ebay and AliExpress," Nazma said.
   "Most of the time I'm unable to find the exact tools or supplies from local book stores so I have to compromise. I think as a small business it is important for me to find affordable prices – it can get really expensive when getting down certain craft supplies even from sites like Ebay and Amazon," said Shamarah.