Theatrical criticism on social and political settings of SL
View(s):

Asoka Handagama's  "A Death at an Antique Shop "

"A Death at an Antique Shop", the newest stage play directed by playwright and filmmaker Asoka Handagama will go on the boards at 3.30 p.m. and 7.00 p.m. on May 14 at the Lionel Wendt Theater, Colombo 07.

Having staged on five days so far the play was performed to packed audiences.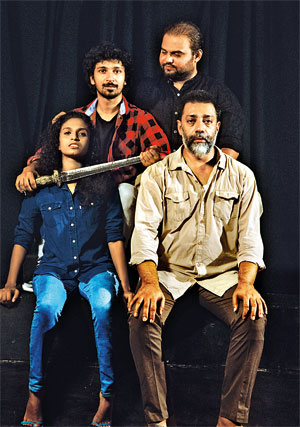 Having made an impressive name both local and international cinema, Asoka returns to the stage after his last play 'Magatha' which won the Best Original play at the State Drama Festival in 1989.
A powerful story featuring a widower who earlier worked at the museum and now runs his own antique shop and his daughter an undergraduate, the play is a scathing attack on the political, social and religious sections of the country.
The main roles are played by experienced Saumya Liyanage and young and talented stars Pasan Ranaweera, Nipuni Sharadha and Stefan Thirimanna and a number of other performers.
Musical score of the play is by Chinthaka Jayakody, production designer is Bimal Dushmantha and lighting is by Anuruddha Mallavarchchi.
The play will be performed in compliance with government's COVID 19 regulations and only 25 percent of the full capacity would be allowed.
All the seats in the theatre are box-planed and tickets priced at Rs. 1000, Rs. 2000 and Rs. 3000 and are  available at  theatre gate. The play is organised by Jude Srimal.