A game between a black magician and a genie
'Sakala Guru'-2
View(s):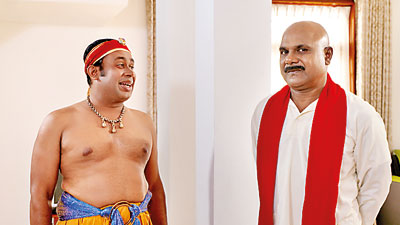 Following the huge popularity it received, 'Sakala Guru', teleplay woven around a black magician (Gura) and his genie, 'Sakala Guru' -2 is ready for telecast on the National Rupavahini channel. Starting from May 5, the teleplay directed by Tikiri Ratnayake and produced by Siddharth Abeywardena, will be aired from Monday to Thursday at 7.30 pm prime time.
When the power of the god dwelling in the shrine is no more there, Podde Gurunanse and his aide Sumane start  helping the villagers joining with a genie who was gifted by his guru. But there are regular fights between Sumane and the genie. The reason is Genie has fallen in love with Pushpa, Sumane's wife. As the time pass Genie becomes uncontrollable and this becomes worst when it comes across a female genie. As Podi Gurunanse realises that he no longer go on with the genie, he decides to abandon the shrine and find another place. By doing so he thinks that the power of genie too would disappear. Sumane is overwhelmed by this decision as he could get rid of the genie who is eyeing on his wife. Thus abandoning genies, Gurunanse and Sumane goes to the house of school teacher in the village to open a new shrine there.
However when the entire family with Gurunanse's wife Siriyawathi and Sumane's wife Pushpa shift there, new problems start cropping up. Gurananse believes that the Genie will never come to his new shrine. But within a few days the Genie visits the new shrine. But it has no power now. Yet Gurunanse gets hold of it and starts a new journey in his new shrine.
The teledrama stars Giriraj Kaushalya, Chamila Peiris, Nethali Nanayakkara, Ananda Athukorala, Mihiti Sirithilaka, Chinthaka Peiris, Hansamali Janaki, Mahinda Pathirage, Udaya Kumari, Susila Kottage, Imeshan Nelligahawatte, Harshi Anjumala, Hasarinda Kesara, Dilhani Weerasinghe, Indika Prabath, Sujeth Shanthapriya and Aloka Dhananjani.
Behind the screen, screenplay written by Chinthaka Peiris, editor Manjula Malwatte, camera and lighting by Chandana Dharmapriya, music by Navaratne Gamage, make up by Priyantha Ishwara and art director is Saman Narayana.