A grand dame of the hills steeped in colonial history
By Prasani Tillekeratne
View(s):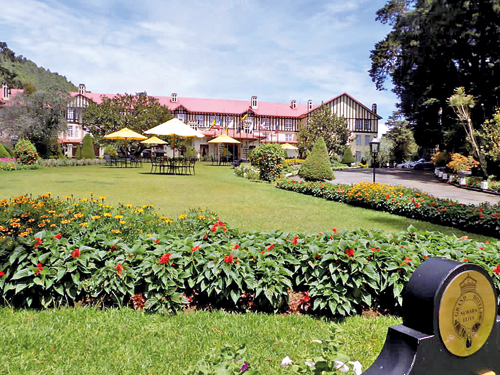 Tucked away in a magnificent colonial building over a century old is a treasure trove of British history.
The oak snooker tables with bulbous legs were transported by elephants from the Colombo Port through dust laden tracks traversed by bullock carts. They still bear the names of the British companies though one is not sure whether they exist anymore – Burwat Steel Vacuum Cushions as well as Burroughs and Watts.
The snooker balls made of thick ivory are there. So is a hand operated Marker Board, British made and still working. The building where our onetime colonial masters played together with their seats, specially made tall benches are intact. So is the plank that runs over the backrest where they place their beer mugs when it comes to their turn to play. The setting reminds one of scenes in a western movie.
The walls speak of history too. There are photographs that project life during colonial days including transport by roads, bare breasted women doing their chores and colonial leaders on hunting expeditions.
The adjoining rustic bar reflects a tradition. It has remained that way for a century and the ritual of the fireplace being worked with firewood continues.
Interestingly even the cues of over a century, used by Lieutenant Governor Sir Edward Barnes, who was one of the Adjutants serving the Duke of Wellington Arthur Wellesley, in the 1815 Battle of Waterloo in Belgium are still there.
For 66 years, the building was the private residence of Sir Edward Barnes and the sprawling building had only 13 spacious rooms. Now, for 195 years, it has been The Grand Hotel which retains the grandeur of the days of Sir Barnes but is today a five-star steeped in colonial history. The 144-room hotel still has fireplaces though they are no longer used. Instead, the rooms with wooden floors are lined with heaters enough to balance the pleasant cold.
"Our guests are our loyalty," says Refhan Razeen, a veteran in the hospitality industry who is General Manager. "Our personalised service together with our opulence make our guests happy," he adds.
At the beginning of the COVID-19, the hotel was badly hit with no guests. Now, they have geared themselves, with strict health guidelines, to receive guests as the Nuwara Eliya seasons looms.
Some of the special features include dining for a fee in the Boiler Room, one that heated the entire building, with the chef and learning about turning out culinary specialities.