National New Year dawns as Govt. plunges from crisis to crisis
By Our Political Editor
View(s):
Essential commodity prices skyrocket; sweetmeats tradition contaminated by import of cancer-causing coconut oil
Rupee crashes to lowest value, adding to economic woes and further increasing the cost of living
With little evidence, Public Security Minister Weeraskera identifies Naufer as mastermind of Easter attacks; but questions over whether it is linked to Cardinal's deadline
PC polls unlikely this year as Speaker appoints select committee to work out election process; dissent within ruling alliance as 11 party leaders hold separate meeting with former president Sirisena
The national New Year dawns in just two days, the second under a COVID-19 pandemic, and the Sri Lanka Nidahas Podujana Sandanaya (SLPNS) government, now 17 months in office, is plunging catastrophically from one crisis to another.
At first, it was not entirely the Government's fault. The economy received a devastating blow from COVID-19. Businesses, both big and small, were hit triggering large scale unemployment. The bigger ones received relief packages and not the others. Many hotels and restaurants still remain closed. However, as the weeks and months went by, it was an entirely different story.
The distribution of vaccines to fight the pandemic was mishandled. Other than the frontline workers, those who qualified most were as powerful as the deadly virus – ones with political influence.  They arrived at the vaccination centres in Pajeros, Prados and other luxury vehicles.  A few had "VIP lists" on hand. There are a large number of those unfortunate who have missed the vaccine and live-in fear.
Now, with official figures of COVID-19 victims well into three-digits, one wonders whether the deadly coronavirus is only affecting a lesser number of victims. Or in the alternative, is it the result of a lower number of PCR tests being conducted? Either way, the low figures, rightly or wrongly, have fuelled public confidence. It could be judged by the large turnouts at shops and marketplaces. Many who missed the festivities last year want to make good this time.
Yet, other issues are weighing heavily on Sri Lankans. The prices of essential consumer items have skyrocketed to outer space. Different varieties of rice have shot up in price by about 10 to 30 percent in recent weeks. As revealed last week, a kilo of red chillies has reached a record high of Rs 1,000. The price of Moong Dhal, widely used for sweetmeats during the avurudhu and puththandu season, stood at between Rs 240 and Rs 250, but the price has shot up to Rs 725 a kilo. Turmeric, the import of which was banned, is now Rs 6,500 a kilo. Consumers are buying it in packs of 100 grams for Rs 650.
Like the well-known adage of being gored by a bull after a fall from a tree, the frying of Kavun, Kokis, Aasmi  and other traditional sweetmeats for the avurudhu has become virtually impossible. The recent stocks of imported coconut oil, it has now been confirmed, contained dangerous cancer-causing properties. Street vendors have shut down their business of selling Vadey and Samosa. Mothers complained they could not give their children food fried in contaminated coconut oil.
In the immediate aftermath of the discovery of contaminated coconut oil, President Gotabaya Rajapaksa placed a total ban on the import of palm oil. His order also covered stocks that were awaiting clearance at the Colombo Port. Bakers complained they would find it difficult to produce bread or cakes. It took a cool three days for Trade Minister Bandula Gunawardena to declare that bakers (and even biscuit manufacturers) would be given special permits to import palm oil.  At least two biscuit manufacturers have been compelled to halve their production capacity.
As for the non-availability of rice and other commodities at old prices, his answer was for consumers to purchase a budget pack from the
Co-operative Wholesale Establishment (CWE) branches or Co-operative Societies. Ironic enough, good varieties of samba rice, the price of which had shot up by 30  percent, were not available there. This, too, after a bumper Maha harvest. A fundamental question anyone would raise is why the Trade Ministry did not plan for the Avurudhu  and Puththandu season. Media statements, repeated ad nauseum of stock availability and lower prices, have only embarrassed the ruling alliance leaders. Poultry breeders said they would raise the price of a kilo of chicken to Rs 800. Minister Gunawardena's answer was that they have not obtained permission so far. Those remarks only mean stocks would simply disappear from the freezers and fridges of outlets to be sold in the black market. Gunawardena also said three kilos of rice would be sufficient for a family for two weeks. When it generated a controversy, he ate his words. He declared what he meant was for only one person and not a family. Sadly, there is no corrective action to restore public confidence in the government by such lapses.
Exacerbating this situation is the depreciation of the rupee in relation to the US dollar. For the first time since independence, the rupee equivalent to a US dollar dropped to Rs 203.50. Months earlier, the Government banned the import of a variety of what it called non-essential items to conserve the country's foreign reserves. Yet, there are essentials needed for the life of the community – such as food and fuel imports. The prices of those products cannot be retained at present levels. Inevitably, the depreciation of the rupee will lead to increased costs earlier than later.
Foreign relations
This naturally turns the focus on the conduct of Sri Lanka's foreign relations. Like shooting oneself in the foot, the government has antagonised almost all western countries. How, the Foreign Ministry in Colombo and the country's own Permanent Representative at the UN in Geneva handled the resolution on Sri Lanka at the Human Rights Council is a historic example. These countries are now taking unprecedented steps to deal with military officials, bureaucrats, and politicians, who are allegedly responsible for violation of human rights and international humanitarian law. From different capitals due anytime now is a travel ban on a number of persons.
That Sri Lanka's strategy in Geneva was not based on a cohesive strategy is now well known. It was only a failed media campaign which helped the egos of a few. After all the name calling on Western nations — including Foreign Secretary Jayanath Colombage's advice urging US President Joe Biden to mind his own business, how could Sri Lanka now turn to them for economic assistance? How could it promote foreign investment in Sri Lanka from those countries? The trust deficit is a widening gulf.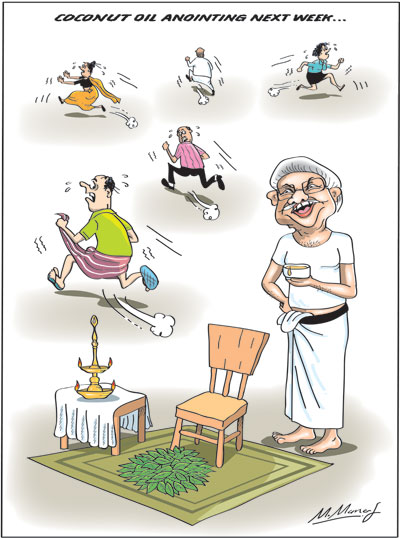 It is the same case with neighbouring India which feels let down. Despite confident claims by the Foreign Secretary that New Delhi would vote in favour of Sri Lanka at the UNHRC, it abstained. He denies now that he said it. The Human Rights Council will meet in Geneva in September this year to examine the progress made by Sri Lanka on the implementation of the Resolution adopted last month. Sadly, there have been no corrective measures over the blunders, action against a nation and its people being let down, nor a strategy for the next sessions. Simply saying we are victims of the big powers, that we have rejected the Resolution and that the Resolution is illegal is of no help. It is yet to dawn on the alliance leaders, who have been badly embarrassed, that such devastating developments impact on their own reputation. When such countries look down upon them, the damage is colossal. That it is caused by their own men and women is lost on them. It is only now that the Foreign Ministry wants to enlist 40 young recruits to the foreign service. This is the highest number since 24 were recruited in 1998. Whether the present enlistment is too high and both the Minister and his Secretary want to be remembered for this remains a big question.
The issues highlighted above, in essence, encapsulate the dilemma of the people of Sri Lanka. For the ruling alliance and their leaders, the issues arising from those highlighted are only a part of the problem. There are even bigger ones, like for example a depletion of the foreign reserves that portend an economic catastrophe. This is notwithstanding proud boasts by less than a handful of politicians who are disproving all established economic theories to claim everything is rosy and prosperity is just round the road. Ostentation is at a higher level with funds spent to mark events that occurred decades ago and celebrated with a lot of fanfare.
Cardinal's warning
Added to them are a plethora of other issues. One is over how to deal with the findings of the Commission of Inquiry that probed the Easter Sunday massacres that left at least 268 men, women, and children dead. Colombo's Archbishop Malcolm Cardinal Ranjith has publicly warned that the Catholic community would take to the streets if no tangible action was seen by April 21. During his Easter Sunday sermon, he was less than polite when he queried whether former President Maithripala Sirisena wore his clothes when he declared plans to re-contest elections. The prelate urged him, rather uncharitably, to remain at home. The Commission has ruled that "criminal proceedings" should be brought against Sirisena.
Yet, Malcolm Cardinal Ranjith's warnings cannot be dismissed pronto. The Catholic church is well connected not only in Sri Lanka but internationally. The worst calamity the community has suffered during Easter due to acts of terrorism by Muslim extremists is known the world over. It falls very much within the ambit of the recently adopted Resolution on Sri Lanka at the Human Rights Council. A case could easily be made before the new Secretariat now taking shape to probe fresh complaints on grounds of alleged accountability and violation of human rights. This aspect seems to be lost on alliance leaders.
In this backdrop, one is not sure whether it was wise strategy on the part of Public Security Minister Sarath Weerasekera to have officially identified Naufer Moulavi as the mastermind behind the attacks. He claimed that it was this person who had "brainwashed" Zaharan Hashim to carry out the string of attacks. Minister Weerasekera is the only one to say it.
Firstly, if indeed Naufer Moulavi was the mastermind, why was he not summoned to testify before the Commission of Inquiry? Secondly, has the Criminal Investigation Department (CID) any evidence to confirm this belated claim? More importantly, why should Minister Weerasekera make such an official announcement? Should it not have come from the investigators? His remarks have already prompted some sections to believe it is linked to Malcolm Cardinal Ranjith's threat to launch protests. They argue there was no requirement otherwise to name a leader "without any basis," seal off avenues of further investigations and seemingly close the case. Any accusations of attempting to hide the truth could boomerang on the Government. There is also another aspect. Internal Security Minister Chamal Rajapaksa has won the President's approval to obtain the services of retired senior Police officers, particularly those associated with the CID, to monitor whether the CID investigations are on the right track. The present Director, SSP Nishantha Soysa, has now been replaced. He is succeeded by SSP Rohan Premaratne.
There is not a word in the conclusion of the Commission report (or in any other part) on Naufer giving leadership. It has concluded that according to evidence available, Zahran, Rilwan, Shaini, Ilham, Inshaf, Jameel, Hasthun, Muath, Azad, Mubarak, Naufer, Milhan, Sadeeq and others "as persons who are directly connected with the terrorist acts referred in the mandate."
On Chapter 16 of the report, the Commission gives Mohamed Ibrahim Mohamed Naufer's profile. This is what it says: "He was known as Abu Shaid in Zahran's group. He was born on November 30, 1978 in Kattankudy. His father is Mohammadu Musthapha Mohammadu Ibrahim and the mother Ibrahim Nichmattu Nachchi.
"He had his early education at Meera Balika School, Kattankudy, Central College, Kattankudy and Jamiyah Falahi School, Kattankudy, up to ordinary level examination. Then he went to Islhiya Arabic College, Madampe, which is operated by the SLJI (Sri Lanka Jamaat-E-Islami) organisation and studied up to Advanced Level examination. At the same time, he followed a course there to become a Moulavi.
"It is at Islhiya Arabic College, Madampe, that Naufer was exposed to Islamic extremism. He was taught about the establishment of an Islamic State and was shown videos depicting the problems faced by the Muslims in Afghanistan, Bosnia and Chechniya. He was taught weapons training are mandatory. Every year, the students were taken to the jungle and given training in camps. He was appointed as a publicity officer of the SLJI. The time period of this activity is most probably in the 1990s. From 2000 to 2004, he learnt Arabic culture at the South Eastern University.
"According to one witness, Naufer turned towards Thowheed due to the influence of Ehiyas Llmi, who was a Salafi follower.  Salafis are fundamentalists who believe in a return to the original political and moral practices of Islam. According to the same source Naufer was the first Sri Lankan to start posting on Facebook about the ISIS ideology. He married Mohamed Sithy Hajira in 2003. She was a sister of the mother of Hadiya, wife of Zahran. Naufer met Zahran probably around 2004 when Zahran was attending Jamayathul Salaf Madrasa in Kattankudy to learn Islam. Naufer began to influence Zahran towards Wahabism.
"Around 2005/2006 Zahran started an organisation named Daarul Adhar ad Da'iyyah in Kattankudy which is Wahabist.  Zahran and Naufer together with Nashmal Moulavi, Ashfar Moulavi, Rauff and Thowfeek were at Daarul Adhar ad Dai'yyah. According to Hadiya, Naufer and Zahran fell out before Naufer proceeded to Qatar in 2008. In 2006 Naufer proceeded to Qatar and returned in six months' time. He then started working as a teacher at Amana International School and went back to Qatar in 2008 and worked there until 2016 when he returned to Sri Lanka. During his stay in Qatar, he used to come to Sri Lanka generally around once a year. He worked as a translator in a law office.
"He came in contact with Milhan and Hasim Ahamed through the Facebook. He met Milhan in Qatar on a few occasions and discussed IS activities with him. Naufer returned to Sri Lanka in July 2016 and became friends with Zahran again. Later around October 2016, Naufer gave a pen drive to Zahran containing IS videos of beheading. This evidence given by Hadiya fits with the timing Zahran began posting IS material on Facebook. Naufer took part in the first training camp held at Rambewa, Medawachchiya, in November 2017 where around 14 persons including Zahran, Naufer, Anzar, Rizwie, Rizwan, Abdeen, Ramiz, Milhan, Hasthun and Rilwan took part.
"Members of the JMI came and met Naufer at his home and informed that some members of the group have attended lectures by Nilam, and that Umair has gone to Syria and returned. They wanted all to join hands rather than acting separately. Naufer was informed that they had previously met Zahran. Naufer took part in all the training camps organised by Zahran and lectured on IS ideology and its activities. In January 2019, Zahran gave Naufer money to be given to the families of the suspect arrested in relation to the attack on Buddha statues in Mawanella. Zahran was given this money by Ilham. Naufer went to Puttalam with his wife and gave money to the family of Mufeed who was in custody. He recovered the laptop of Zahran's from Mufeed's wife and handed it back to Zahran.
"The evidence is that Naufer was appointed as the second in command of the group by Zahran. However, the role played by Naufer is more closely connected to the theoretician of the group. Zahran has instructed Naufer to stay at a different place to where Zahran and the others were staying for the safety of the organisation. He was given a 9 mm pistol at the safe house in Enderamulla by Zahran. He is presently in custody."
There are two key aspects that emerge from the profile of Naufer documented by the Commission. The Commission has not identified him as the leader, leave alone suggesting in any way that he was at the apex. Moreover, he has remained in custody when the Commission sittings were in progress. That naturally raises the issue of how Minister Weerasekera concluded that he was the leader. If indeed there is evidence, he should place it before the public to confirm his assertions. Another more important aspect, is confirmation that the Muslim extremist group did have IS connection. Why then did the Senior DIG in charge of the CID then, Ravi Seneviratne, continue to insist that they had no IS connections? Did he come under political pressure by those in the yahapalana government? This is at a time when US intelligence and investigators who were in Colombo were able to conclude that there were IS links.
It is unfortunate that some of the remarks made by Minister Weerasekera, a retired Rear Admiral of the Sri Lanka Navy and once served as Director (Operations), have caused considerable damage to the country. Just ahead of the Human Rights Council vote on the Resolution on Sri Lanka, he called for a ban on the Burqa and Niqab. Pakistan, which was campaigning for Sri Lanka, lodged a strong protest with Foreign Minister Dinesh Gunawardena but failed to persuade members of the Organisation of Islamic Countries (OIC) to support Sri Lanka. This influential and wealthy group is livid over what it perceives as state discrimination of Muslims. Sadly, in this instance, one is not sure whether or not Minister Weerasekera has been advised to use restraint over controversial remarks he continues to make. It does not seem so.
Believe it or not, a government envoy is now doing the rounds exploring the prospects of financial aid from some OIC members.
Internal crises
Another mounting issue for the Government is the rapid pace of deforestation. Interestingly, it became incumbent on Attorney General Dappula de Livera to summon government officials dealing with forest conservation. He reminded them of the provisions under the existing law to deal with encroachers. In many cases, they still have a problem. Since such illegal activity is carried out by activists supporting ruling party politicians, the Police are hesitant to deal with them. Ideally, the Government should have established a Task Force with wide powers and dealt with the violators effectively.  Sadly, the issue has become a selective exercise though Environment Minister Mahinda Ameraweera concedes there is encroachment of state lands.
If the people are resilient, the greater question is how both the Government and the opposition are reacting to these issues. On the Government side, discontent is growing though members have been cautiously avoiding public responses.
Some ruling alliance partners, who are at variance with the leadership, seem to believe expression of displeasure from within without embarrassing the leadership was the answer. Towards this end, they are now getting together with likeminded groups to make themselves a strong force so their demands would be heeded and their voices heard. The tragic irony in this situation – the key issues for the Government have been caused by their own people and the displeasure is also coming from within the ranks.
Former President Maithripala Sirisena chaired a meeting on Thursday afternoon at the Sri Lanka Freedom Party (SLFP) headquarters in Darley Road. The focus was on two main aspects — the mode of voting at Provincial Council elections and a joint May Day rally. The latter meant the parties that took part do not wish to take part in the main alliance rally in a move that will express their displeasure. However, a decision on the issue now hinges on a meeting they propose to have with Prime Minister Mahinda Rajapaksa on April 19. There, they propose to raise the issues which they want the government leaders to address.
Provincial polls
As reported earlier, President Gotabaya Rajapaksa had earlier proposed to conduct Provincial Council elections by late June. Towards this end, he had a meeting with members of the Election Commission, and they were gearing themselves for it. To facilitate this, he had sought to expedite legislation setting out the new system of voting for PC polls. In fact, Minister Janaka Bandara Tennekoon had forwarded proposals to the Cabinet of Ministers. One was to follow the hitherto adopted process of proportional representation (PR). In the alternative, he had recommended 70 percent to be elected by the first-past-the-post (FPP) system and the remaining 30 precent under the PR system. The meeting attended by 11 political parties of the alliance decided to support the latter proposal. However, they are opposed to giving two bonus seats from each district.
The enthusiasm for the conduct of the PC polls waned in the wake of the voting at Human Rights Council where India abstained. President Rajapaksa, the Chennai based Hindu newspaper of March 28 reported, that Sri Lanka will not allow other countries to achieve their geopolitical needs by introducing "separatism under the guise of power devolution" in the island nation. "The government does not wish to be associated with the power struggles in the Indian Ocean region by the global giants," Mr. Rajapaksa said, adding that the sovereignty of Sri Lanka would not be betrayed, a front-page report in the state-run Daily News said on Monday."
Among those taking part in Thursday's meeting at the SLFP headquarters were Dayasiri Jayasekera (SLFP), Wimal Weerawansa (National Freedom Front),  D.E.W. Gunasekara (Communist Party), Dr Weerasumana Weerasinghe (Communist Party), Prof Tissa Vitharana L(anka Sama Samaja Party – LSSP), Ven. Athuraliye Rathana Thera (Our Power of People Party),  Tiran Alles (United People's Party),  Vasudewa Nanayakkara (Democratic Left Front), Udaya Gammanpila (Pivituru Hela Urumaya), Gewindu Kumaratunga (Yuthukama) and  A.L.M Athaulla, National Congress.
For former President Sirisena, through chairing the meeting, he has seized an important opportunity to become politically assertive. In more than one sense, within the alliance he is giving leadership to a likeminded parties which have their own grievances. Another aspect is the consolidation of Sirisena's base if he is to face action on the Easter Sunday incidents. This is akin to sitting on the edge of a sword. If the Government is bold enough to act against him on the basis of the Commission report, Sirisena's bid to give leadership to a new group could wither away and make the participants destitute. On the other hand, at least to some extent, the group could voice their support for him. Whichever the case would be, there is a threat to a two thirds majority for a new Constitution.
In the light of the current developments, a Provincial Council election is not on the cards this year. Even the accord reached by constituent parties of the alliance last Thursday would eventually have to be placed before the Parliamentary Select Committee which will be named by Speaker Mahinda Yapa Abeywardena, to study all polls laws – presidential, parliamentary, local government and Provincial Councils.
Last Tuesday, the Parliament adopted a motion to appoint a Select Committee "to identify appropriate reforms of the election laws and the electoral system and to recommend amendments, (a) identify appropriate changes in the election laws and the electoral system; and (b) recommend necessary amendments. (a) That the Chair and Members of the Committee shall be appointed by the Speaker; (b) that notwithstanding the provisions of Standing Order 101 of Parliament, the Committee shall consist of fifteen (15) Members; and (c) that the Committee shall report to Parliament within six months of its first sitting or such extended period as Parliament may grant.
That the Committee shall have the power to —
(b) summon any person to appear before it, to require any person to procure any document or record, to procure and receive all such evidence, written or oral, as the Committee may think it necessary for the fullest consideration of the matters referred to.
(c) obtain the services of specialists and experts in the relevant fields to assist the Committee; and
(d) make interim reports from time to time and sit notwithstanding any adjournment of Parliament.
The PSC will only be named at a future sitting of Parliament. Thereafter, government sources said, sittings may last a few months since varied viewpoints will be heard by the PSC. Thereafter, legislation based on the recommendations would take more time, these sources said.
The biggest advantage to the ruling alliance in all these developments is the absence of a robust opposition. The United National Party (UNP) has no representation in Parliament and its grassroots level organisations are mostly in shambles. The Samagi Jana Balavegaya (SJB), now the main opposition, has been found wanting in many areas. On most issues it does not even issue a formal statement and keeps pussy footing. Its own key members confess, privately of course, that the leadership is reluctant for reasons unknown. An interesting aspect of this serious discontent has been the cordial relations some SJB members maintain with the UNP leadership. The subject has centred often on issues related to the leadership.
With no PC polls in the foreseeable future to become a litmus test for the Government, it finds itself sitting pretty. That is with a climate provided for by a lame duck main opposition. Yet, a prolonged delay to take corrective action on issues affecting the people and the country will have its own repercussions it cannot afford. More so since most issues have been created by those within on whom the alliance leaders placed trust. They have let these leaders down. This is why they should act or forsake their own standing.