SL will get 100,000 Sputnik V doses this month but unable to say when 1m COVISHIELD doses will come – SPC GM
By Kumudini Hettiarachchi & Ruqyyaha Deane
'No moves by SPC to buy Sinopharm'
View(s):
A stock of 100,000 doses of Russia's Sputnik-V is due in April and another 200,000 doses in May, said State Pharmaceuticals Corporation (SPC) General Manager Dinusha Dassanayake when contacted by the Sunday Times on Friday.
He did not know the date of arrival of these Russian vaccines in April, while with regard to AstraZeneca's COVISHIELD vaccine from India's Serum Institute, he conceded that he was unable to give a date when the 1 million stock earlier scheduled to be delivered in March and April would arrive in the country. This is due to an export ban on vaccines by India.
A dose of COVISHIELD is US$ 5.25 and Sputnik V US$ 9.95, it is learnt.
"We have signed an agreement for around 7 million doses of Sputnik V. According to the delivery schedule received on Friday (April 2), Sri Lanka is to get 100,000 doses in April; 200,000 doses in May; 600,000 doses in June; 600,000 doses in July; 800,000 doses in August; 1 million doses in September; 1.1 million doses in October; 1.1 million doses in November; and 1.2 million doses in December," he said.
Mr. Dassanyake said that they are in discussion with AstraZeneca's manufacturer in the United Kingdom. However, the demand is very high. They are in the process of getting the documentation for submission to the NMRA, which has to register the manufacturing site. (The NMRA has so far registered the AstraZeneca vaccine manufacturing plant of Serum Institute.)
With regard to the Pfizer vaccine, he said that the SPC received a 'Heads of Terms' document (setting out the terms of the transaction) on Thursday (April 1) and once that is signed, documents can be submitted to the NMRA for emergency-use listing. When that is done, negotiations for supply and prices would be held.
Mr. Dassanayake added that they have "no engagement" with the Sinopharm vaccine. It was a donation and there have been no moves by the SPC to purchase this vaccine.
Meanwhile, emergency use authorization for Bharat Biotech is pending. The documents have been submitted to the NMRA, which has requested additional documents, he added.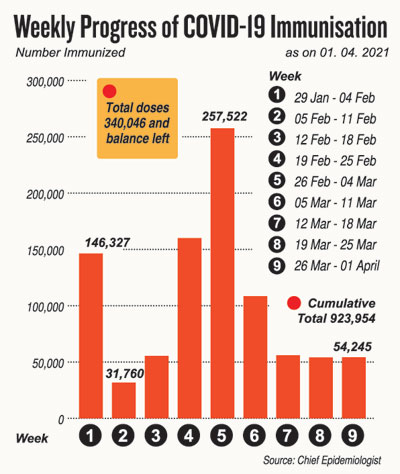 Vaccines received and administered so far –
500,000 doses of COVISHIELD (donation from India)
500,000 doses of COVISHIELD (bought from India)
264,000 doses of COVISHIELD (from COVAX)
Doses administered from January 29 to April 1 – 923,954
Doses remaining from stocks in hand – 340,046 (if community vaccine programme is halted now)
Second doses due in the first week beginning April 23 – 146,327 second doses