Digana tremors no cause for panic, but don't take nature for granted: Experts
By Tharushi Weerasinghe
View(s):
Committee concludes natural processes the likely cause; calls for long-term seismic monitoring to produce conclusive evidence
Victoria dam chief engineer assures tremors not connected to dam that was built to withstand tremors up to nine and beyond on the Richter scale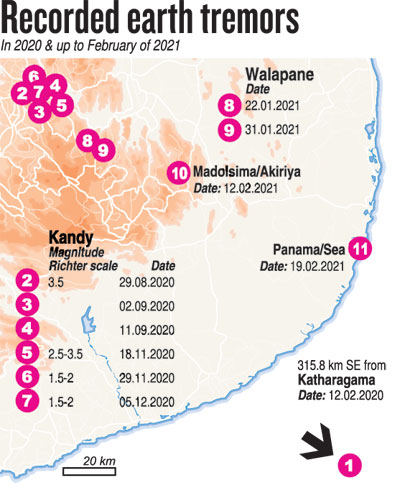 The area of Digana in Kandy, particularly near the periphery of the Victoria reservoir, is experiencing earth tremors of a frequency not seen in years.
Last year, the Geological Survey and Mines Bureau (GSMB) recorded ten tremors between August 29 and December 5–a period of just eight weeks–although instruments only picked up six "main events". They were the first to be recorded since nine accelerometers were fixed in the Kotamale, Randenigala and Victoria dams in 2016, said Wasantha Ehelapitiya, Deputy Director/ Chief Engineer at Victoria dam.
The most significant tremor measures 3.5 on the Richter scale and occurred on August 28 last year in Digana. Another, on November 11, was between 2.5 and 3.5 on the scale. Residents from Rajagalla South near Victoria dam have also noted the frequency of tremors. Previously, these were felt once or twice a year; before that, only once in around four years.
"There was a thundering sound and a sudden wave of pressure moved in waves upstream," said D G P Asela, a 39-year-old fish vendor. While this only lasted a few seconds, the sound circulated before stopping. It could not have been caused by mining. Having worked in the industry for a while, he could tell the difference.
"We are worried that there's something wrong with the dam because we live just two kilometres away from it," Mr Asela said, adding that residents were concerned about the waterways around the dam having strong flows when the reservoir was full.
These fears are unfounded, reassured Mr Ehelapitiya. The dam was built to withstand tremors up to nine and beyond on the Richter scale. The movements last year had "absolutely no impact" on it. But experts say tremors are likely to increase and are urging the authorities to impose strict guidelines to ensure buildings are erected to withstand "reasonable degrees of tremors".
The Indo-Australia tectonic plate on which Sri Lanka sits is breaking up, said Prof Chandana Dissanayake, Retired Senior Professor of Geology, who wrote in 2010 about the possibility and probability of increased tremors.
"Theoretically, experiencing a massive earthquake is remote," he maintained. "Of course, the odd one which might be a little stronger might happen, it's always possible. Those who are building high-rise structures must take note and not neglect standards."
"Minor tremors will definitely continue," he added. "There will be more and more as the plate is breaking up and moving towards the Himalayas. While this is nothing in terms of human years, in geological terms it will be significant some day."
The regularity of tremors prompted the Environment Ministry to appoint an expert committee to investigate. Its report has now concluded they are likely to have been caused by natural processes.
The 12-member group acknowledged that there were public concerns about whether the tremors were signs of a large earthquake in future or were connected to the dolomitic marble mining industry in the area. It held, however, that the tremors "may have been caused by ground motions associated with the uplift of the Central highlands".
The committee also called for long-term seismic monitoring to produce conclusive evidence. The quantity of data that had been available was limited as there were only a few seismic stations. This meant the expert team were unable to point the exact epicenters. But it was agreed they were all in the vicinity of the Victoria reservoir.
How tremors are experienced is based on their proximity to seismic stations, their mode and how much attention people are paying, said Atula Senaratne, Chair Professor of Geology at the University of Peradeniya. He was a committee member.
Tremors followed by a blast-like noise usually happen when rocks break. Shallow tremors are closer to the surface and, therefore, felt more. They are also more dangerous than deeper tremors that take place around 10km away from the surface, nearer the crust. Some tremors are felt in waves when energy moves across the strata.
In Sri Lanka's Central highlands, there was minute, constant vertical movement. This is what brought about changes like creation of continents over millions of years. Energy in the earth's core, called convention current, drives the movement of the crust at about 1mm per year, Prof Senaratne said.
Sri Lanka is not situated near any plate boundaries, therefore, doesn't suffer the dangerous impact of movements happening close to the surface in the form of earthquakes. Nevertheless, slight movement under the Central highlands still happens. The tremors were concerning from a geological point of view as it could point to instability in the slopes and threats to dam security, Prof Senaratne said: "We don't know enough to understand it yet so we need to read the earth more and that requires more equipment."
The strata under Sri Lanka were made up of crystalline rocks that contained cracks between 70 and 80 km long, mostly in the Central parts. There were notable cracks Mahaweli fold and near the Randenigala fold near the dam and reservoir.
"These lineaments are also found near the Victoria dam and these movements can cause tremors," Prof Senaratne observed. While Victoria dam had been built to withstand tremors, a sudden increase could point to deeper underground activity. The use of more accelerometers, which monitor seismic activity, will also help experts identify the reason for tremors more precisely.
Another unusual occurrence was that, while tremors were usual after the rains, these were recorded before the rains. The severity of the their sound indicated they were natural but more in-depth analysis involving further data was required for a conclusive decision.
Prof Dissanayake, who agreed with Prof Senaratne, said the break-up of the Indo-Australia tectonic plate could also trigger tremors as the Northern part of the plate moves further up and the Southern part moves further down, knocking against landmasses. There is a release of pressure.
The tremors in Digana need not cause panic. Nevertheless, do not take nature for granted, Prof Dissanayake said.
Committee's recommendations

Some of the committee's recommendations are:  

Deploy a dense, short-period seismic network to monitor natural and anthropogenic (originating in human activity) micro-seismic activities in addition to accelerometers already installed at dam sites;

Carry out seismic micro zonation mapping with reference to dam and building safety;

Establish a satellite-based GPS monitoring system for studying crustal movements;

Carry out proper assessments on measuring the impact due to limestone and other quarry blasting activities in and around the Victoria damn and reservoir area;

Carry out landslide mapping in all reservoir areas around the Central highlands;

Analyse the relationship between reservoir dynamics and local seismic activities (water level fluctuations, conditions on the banks, down-streams);

Do a dam assessment.

The committee also recommends the restriction of mining and quarrying within a 200m limit from the reservoir full supply level; and the cancellation of mining and quarrying licences within a 100m limit from the reservoir fully supply level.