World Recognised Masters Degree Programmes from University of West London
View(s):

Enrolments open for Summer 2021 intake at ANC Education
ANC School of Postgraduate Education offers a large portfolio of Top ranked World-Class British Postgraduate qualifications in partnership with the University of West London (UWL). With over 12 years of experience delivering the highest quality of academic programmes to match industry standards, ANC School of Postgraduate Education commands a leading edge in the domain of postgraduate education in Sri Lanka today, paving the way for a very diverse group of students from Business, Engineering, Medicine, Law and Sciences looking for a globally recognised MBA/MSc/LLM to progress into global career opportunities as well as advancement in their careers.
ANC School of Postgraduate Education invites applications for its Summer intake for the following University of West London Postgraduate Education programmes offered at ANC:
MBA General
MBA for CIMA/ACCA/CA passed finalists
MBA with Hospitality Management
MBA with  PMP (PMI U.S.A)
LLM International Business and Commercial Law
MSc Clinical and Health Psychology
The University of West London (UWL) has climbed an impressive 23 places to become one of the top 40 universities in the UK (ranked UWL 34th out of 121 universities) according to the influential Guardian University Guide and has secured the 17th rank for Business, Management and Marketing offered by the Claude Littner Business School of UWL.The School of Law and Criminology of the University of West London has a long standing reputation for legal education in London for offering LLB, LLM and PhD qualifications in UK and the UWL Law School has been ranked Top 15 in UK by The Guardian League Table 2021.This quality collaboration with ANC School of Post-Graduate Studies and UWL has culminated in over 1500 postgraduates from the ANC/University of West London Master's degree programmes.
UWL Cutting edge Master's Degree programmes is one of the highest ranked Business Degree programmes in the United Kingdom and Sri Lankan students now have the opportunity to study the MBA General and MBA pathway for CIMA/ACCA/CA programmes from the Highest Ranked British Business School in Business, Management and Marketing in Sri Lanka (Guardian League Table2021).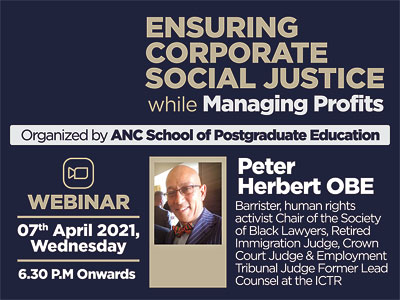 The Tailor-made MBA for CIMA/ACCA/CA passed finalists will allow you to gain a practical and hands-on knowledge in a range of subjects that are pivotal in the global business world such as Managing People, Global Marketing, Strategy & Entrepreneurship, Business Intelligence and so forth in order to bridge the skills gap to meet the industry demands.  UWL grants 50% exemptions to CIMA/ACCA/CA qualified professionals as part of the tailor-made MBA program. This is an accelerated MBA programme delivered at ANC that could be completed within 8 to 12 months on a part time basis.
The LLM Programme in International Business & Commercial Law awarded by UWL offers a rewarding career for both legal and non-legal professionals to progress in their careers in a range of disciplines owing to the versatility of the legal qualification. The LLM degree awarded by the University of West London will provide its students with the qualification to further their academic and professional growth in a timely and cost effective manner.The LLM programme consists of 6 modules + dissertation and can be completed in 15 months.
The MSc in Clinical and Health Psychology programme provides the academic pathway for a student to embark on a career in Clinical and Health Psychology for a psychology graduate as the programme aims at providing theory and skills that are central to psychology in the areas of clinical and health psychology. Those aspiring to further their education in the field of Psychology with the aim of landing a global career, now have the exclusive opportunity to earn a British qualification from UWL, entirely in Sri Lanka within 15 months.
Students enrolling for the summer 2021 intake will enjoy Rs 75,000 concession on their fees (Limited offers).
We also help students take student loans funded by supportive banks that offer financial solutions for those who need financial assistance for their studies. The banks facilitate students to pay the loan in installments (up to 60 months) with a minimum monthly commitment starting from *LKR 15,000. 12 Month Credit Card payment plans are also available. *conditions apply
ANC School of Postgraduate Education is hosting the Webinar on 'Ensuring Corporate Social Justice while Managing Profits" on 7th April 2021 at 6.30pm via zoom. The Guest Speaker Mr. Peter Herbert OBE is a Barrister, human rights activist, and Chair of the Society of Black Lawyers. Peter is the former Metropolitan Police Authority, and recently retired Immigration Judge, Crown Court Judge, and Employment Tribunal Judge. The session will be moderated by Ms. Kavitha Ganesan, Barrister at Law Lincoln's inn and LLM Coordinator for ANC Education. We invite interested participants for this exclusive Webinar and to reserve your spot today.
For more information about the MBA, MSc and LLM programmes, including obtaining an application form, contact the ANC School of Postgraduate Education on 077 67 67 837 to booka counseling session online. Or  visit www.ancedu.com or follow us on Facebook: https://www.facebook.com/ANCpostgraduate/ and "ANC_Education" on Instagram.