UCL Students excel with more Monash Global Awards of Excellence
View(s):

Universal College Lanka (UCL) is the exclusive partner for Monash education in Sri Lanka, providing a guaranteed pathway to the prestigious Monash University in Australia and Malaysia through the Monash University Foundation Year and the Monash College Diploma programmes.

UCL students have excelled at the recently completed semester examinations of the MCD Programme (Monash University Year 1 equivalent), achieving Monash Global Awards of Excellence at programme/ course- level topping all three streams – Business, Engineering and Science, emerging as Best Performers by securing the top exit score in each course, prior to transitioning to Year 2 at Monash University to complete their degree.

In addition, UCL students have secured 43 Monash Global Awards of Excellence at unit/ subject level at the same examination. These awards are presented to the students who achieve the highest marks in their respective units/ subjects at the examination conducted simultaneously across all Monash partners internationally, including those studying in Australia.

These high performing UCL students are eligible to apply for the International Merit Scholarships and Special Study Grants upon transition to

Further, UCL alumni have gone on to excel at Monash University with Chamalka Perera achieving the award for the Most Outstanding Undergraduate Performance with a First Class in Bachelor of Mechatronics Engineering Honours at Monash University Malaysia in June 2020. UCL Alumni Framjee Hathy achieved the Best Business Graduate award in December 2019 followed by the Best Honours Graduate award in December 2020 at Monash University Malaysia.

Mr. Gihan Silva, Chief Executive Officer was delighted and stated, "It is momentous that UCL has been successful in garnering a total of 295 Monash Global Awards of Excellence and producing the Best Graduates at Monash University, which is a testament to its uncompromising commitment to achieving academic excellence and offering quality transnational higher education to discerning students in Sri Lanka."

Dr. Dhananjay Kulakarni, Dean of Academic Affairs stated, "The credit goes to the brilliant students and the highly committed, qualified and experienced UCL faculty including Monash University alumni, for collaborating towards these stupendous achievements. The PHD and Masters qualified UCL Faculty including Monash alumni is probably the best for a higher education provider of this magnitude in Sri Lanka. UCL lecturers are carefully selected and have attained strong track records in teaching as well as in research pertaining to their area of expertise. Our lecturers adopt innovative and interactive teaching and learning techniques to prepare them to excel in a world class university like Monash."

Monash University is the largest university in Australia, and a member of the Group of Eight – a prestigious alliance of leading Australian research intensive universities. Monash University is the only university among the Group of Eight to hold the "Triple Crown" accreditation for its business school. Globally, Monash University is ranked 55th according to the QS World University Rankings 2021 and 64th according to the Times Higher Education World University Rankings 2021. Monash University also holds the highest possible ranking of 5 in ten research disciplines, placing it as a world class university.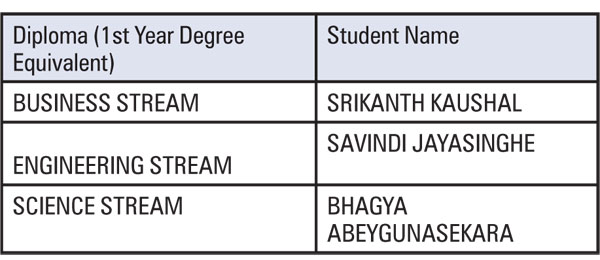 For more information on how to start your Monash journey in Sri Lanka and enrol for the Monash programmes, contact UCL on 0774 777 000 or log on to www.ucl.lk or visit our Instagram / Facebook pages Monash at UCL. You can also visit the state- of- the- art UCL Campus located at No. 503, Sri Jayewardenepura Mawatha, Sri Jayewardenepura.