Through Horlicks, Unilever empowers Scouts to learn more and do better
View(s):

01.04.2021 Colombo: Horlicks, a trusted brand committed to its core purpose of nurturing a nutritionally rich society, reiterates its brand promise of providing nourishment to Sri Lankan children, by entering into a partnership with the Sri Lanka Scout Association at the "Cub Scouting for Everyone" event that took place recently at Hilton Colombo under the patronage of the Honourable Minister of Education, Professor G. L. Peiris.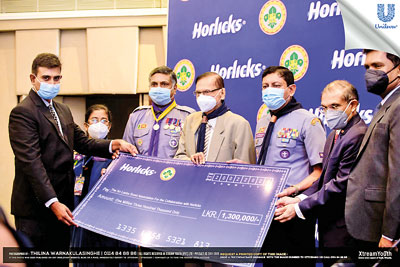 As a result of this partnership Unilever Horlicks' officially handed over the sponsorship cheque to the value of Rs. 1.3 million and 75,000 Horlicks products to be distributed amongst all scouts' island-wide to the Sri Lanka Scout Association at the event. Further, 16 scouts who received high results at the grade 5 Scholarship Examination were awarded vouchers by Unilever Horlicks in appreciation of their achievement. The guests present at Hilton Colombo at the launch event were also handed Horlicks gift hampers. Dr. Sujeewa Gunaratne, Senior Regulatory Advisor for nutrition of Unilever Sri Lanka conducted a Nutrition session via zoom for all attendees who were present both in person and connected virtually.
Horlicks believes that every child has the right to have the right education, nutrition and skill development in their childhood. In driving this belief, Horlicks aims to reach out to their audience more purposefully with a commitment to amplify the curriculum of the scouts by sponsoring the monthly "Scout World TV Programme" by the Scouts Association on channel ITN and other partner media through this partnership. In addition, Unilever, Horlicks will be awarding complementary gifts and Horlicks hampers to 10 winners of the quiz competition in each episode of the TV Programme.
Milinda Weerasinghe, Category Lead – Nutrition, Unilever Sri Lanka- "Horlicks' rich range of beverage-based nutrition products have enjoyed a vibrant presence in the Sri Lanka Malted Food Drinks market segment. As this brand entered a new era of consumer relevance under heightened concern around health and nutrition, we are confident of the possibilities they present to unlock further trust and confidence among consumers. Owing to vital nutrients, both macro and micronutrients present in Horlicks we have recognised the salience of driving consumer accessibility and affordability, to remain committed to the brands' core purpose of nurturing a nutritionally rich society by entering into this partnership that would benefit scouts across Sri Lanka".
Mrs. M C Wathsala Wijewickrama, Asst Chief Commissioner (Cub Scout)- "This is the Inauguration Ceremony of the Cub Scouting for Everyone event and through this we aim to develop cub scouting in Sri Lanka by increasing the current number of cub scouts which is at 24,000 to 32,000 during this year. As mentioned by the Honourable Minister of Education, Professor G. L. Peiris in his speech today, all these changes in a life of a student should happen during his small age, and that is what we are doing in this movement through education and various other activities to develop children's attitudes, skills and knowledge".