Are you after A/L? Want to be a Doctor or an Engineer?
View(s):

After completion of A/L exams, now Sri Lankan students have the opportunity to gain a world recognised degree in Medicine, Engineering, Management, Marine and Maritime with REC Campus. Passionate in grooming Sri Lanka's next generation with capabilities to take the country into a new era of knowledge and skills based, REC Campus has always dedicated providing foreign educational opportunities in Russia, Belarus, Latvia, Australia and UK during the past 24 years.

Do not let COVID 19 pandemic ruin your dream of becoming a professional in the industry. All the students are now in dilemma thinking about the higher education and most of them do not know that these golden opportunities await them. According to the current education system in Sri Lanka only a few number of students get the eligibility to enter a state university and others have the only option of enrolling a private university. Do you know that studying in a foreign country may cost the same? Yes. Now you can study abroad with the lowest cost and gain a world recognised degree in various study fields.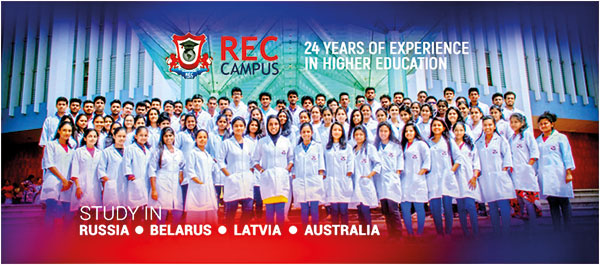 Study in Europe Universities
Riga Technical University
Latvian Maritime Academy
Turiba University
Riga Stradins University
Study programmes
Engineering
Management
Tourism and Hospitality
Medicine
Marine and Maritime
Architecture
RIGA official Information and Study Center in Colombo, under the umbrella of REC Campus, is the authorised institution in Sri Lanka that recruits Sri Lankan students to Latvia which is in North Central Europe on the Baltic Sea for the most affordable cost starting from Rs.270,000 per semester, giving the best possible standardised education in Europe. Any student, who has got 3 simple passes in any stream for Advanced Level examination, can apply for the universities in Latvia. Students now can apply with pending results as well and IELTS is not required as students can face the online English Language test conducted by the university.
Free Introductory course in English and Mathematics is offered for the students who are weak in the subjects and now students get the opportunity to study the first semester in Sri Lanka with the supervision of Riga Technical University without any additional cost and then enter the university for the second semester. Entering the university directly without studying in Sri Lanka is also an available alternative for the students if they are willing. Furthermore, the meticulous attention catering to each individual student by the university inculcates the substance of the study programmes and hones the skills necessary for success.
Students get the Schengen Visa where they can travel around the Schengen countries and they also can work part time to cover their living expenses. ERASMUS Scholarship scheme gives them the opportunity to experience different cultures by studying in another Schengen country which has tied up with the university.
Study Medicine/Dentistry in Russia and Belarus
SLMC recognised state medical universities in these countries offer Sri Lankan students a world recognised medical degree for an affordable cost.
Russian Medical Universities
Tver State Medical University
People's Friendship University
Piragov Russian National Research Medical University
I.M.Sechenov First Moscow State Medical University
Belarusian Medical Universities
Grodno State Medical University
Latvian Medical Universities
REC Campus is the only official representative of Tver State Medical University, and the official partner for Grodno State Medical University for having a permanent Russian/Belarusian and Sri Lankan staff to assist Sri Lankan students and take care of them during the study period. The staff can communicate in Russian, English, Sinhala and Tamil and they provide their maximum support 24/7 with much dedication.
REC is in collaboration with above mentioned world renowned universities and has helped thousands of students to reap the highest return on their investment in education. Those who have gained the minimum qualifications (Medicine – 2 Credit passes and 1 Simple Pass) are eligible to study Medicine or Dentistry and priority is given to the students who have the best results. Pre Medical University Programs or Foundation Programmes are not accepted by SLMC – Sri Lanka Medical Council.
Preparation for ERPM(Sri Lanka), USMLE (USA), AMC(Australia), PLAB(UK) by REC opens the doors to explore the limitless opportunities around the world as a medical practitioner and also the recognition of the medical degree given by these universities, makes the pathways broader to work globally.
When selecting a foreign university, one has to be assured with the recognition, affordability, facilities, the demand for the degree and the security. The collaborated Medical Partner universities are recognised by the SLMC, WHO and globally. There is no hidden cost and students can gain a world recognised degree for a lower cost. It provides unlimited student support including documentation process, Educational Loan facilities, Direct University Admission, Visa arrangements, Accommodation, Airport Pickup and Transportation and host of other services that gives a relief for the parents who needs assurance with the child's Future Education.Most important thing is the continuous assistance given by REC Campus even after the graduation. All the students, parents and graduates highly appreciate our services rendered to students during their studies.
Study in Australia
AVSS (Australian Visa and Student Services) under the umbrella of REC Campus guides Sri Lankan students to enter world recognised universities in Australia. AVSS branches are located in 6 countries – Australia, Sri Lanka, Thailand, Myanmar, Vietnam and Malaysia. It is the official representative of leading Australian universities and colleges in Sri Lanka. It exclusively deals with the provision of guidance and assistance for students seeking to study and it guides and assists the students in each step from course options, fees, scholarships, credit exemption, application process, student visa application, arrival and ongoing support making their education journey as seamless as possible.
Vocational Education in Sri Lanka
REC Campus has been accredited by TVEC – Tertiary and Vocational Education Commission in Sri Lanka and has launched HND courses in Quantity Surveying, Maritime and Logistics Management of NVQ level 4,5 & 6. Courses are conducted by a qualified, senior academic staff and the study programmes are blended both online and classroom sessions in evenings and weekends. FREE English Language programme is offered for all the applicants and worldwide
job opportunities available after successful completion.
Join the FREE webinar on 8th of April at 7.00pm via ZOOM to get more information.
Call now for webinar registration
Hotline – 0711 – 10 10 10
Visit – REC Campus, No:181, High Level Road, Nugegoda
Web – www.reccampus.com