The making of young university ambassadors
By Meleeza Rathnayake
View(s):
With the aim of expanding the National Sustainable Development Goals (SDGs) campaign to 20 international universities by the end of this year, the G17 University Ambassadors Consortium (UAC) was launched in mid-January via Zoom.
G17 University Ambassadors Consortium is a global undergraduate platform initiated by the Road to Rights youth organization as part of the national SDGs Campaign dedicated to empowering students on SDGs.
The G17 UAC Sri Lankan Chapter has 215 undergraduates from 11 Universities across Sri Lanka. There are 17 University Ambassadors and one coordinator for each University.
"The ultimate vision is to be achieved through these 17 young individuals who will be advocating for their assigned goal by playing the role of an Ambassador at their respective universities. They will be working on discovering possible solutions to unaddressed local as well as global issues, through research based approaches," said founder of Road to Rights, Ashan Perera.
The first phase of the project will be done in Sri Lanka as the largest undergraduate platform dedicated to make SDGs a reality through its four pillars: Capacity Building, Leadership, Policy Advocacy and Action.
Road to Rights was established in 2009 in Sri Lanka and aims to bring youth and communities together to ensure peace and development through innovative and creative projects while educating them on their rights and responsibilities and on sustainable development.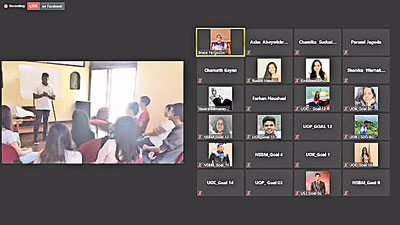 Participating in the launch were Hawa M. Diallo of the Chief Civil Society Unite Outreach Division, Department of Global Communications, United Nations (UN), New York, Founder of Reforms through Education and Advisory at the Road to Rights, Bruce Ferguson, founder Youth of India and Joint Secretary Gandhi Mandela Foundation, Sailesh Singhal, founder and CEO of Institute of Future Creations and Co- Founder of the Fashion Alliance of Circular Education, Prof. Pract Robert Meeder, CEO and founder My World Mexico and Director at UNMGCY, Karol Arambula, Senior Lecturer, Department of Business Economics, University of Sri Jayewardenepura, Dr.Janaka Fernando, founder of Road to Rights, Ashan Perera, National Coordinator, Yasara Ramanayake, the Executive Committee of the G17 UAC and the SDG Ambassadors and coordinators of the universities across the country.
Ashan envisions a well-trained and SDG equipped set of young change makers to serve the needs of the university community and build a knowledge driven, innovative, research-oriented and solution-oriented set of future leaders.
At present, G17 is active in 11 state and non-state universities including the Universities of Colombo, Kelaniya, Sri Jayewardenepura, Moratuwa, Ruhuna, Peradeniya, Uva Wellassa, Rajarata, Sabaragamuwa and the National School of Business Management and Northampton Central campus of Colombo.
"Engaging young people in programmes such as the G17 has a big impact on their personal development, their empowerment, as well as giving them an opportunity to address crucial gaps in their community," said National Coordinator, Yasara Ramanayake.
Follow the G17 University Ambassador Consortium's social media handles @r2runiac on facebook, @g17uac on Instagram and Twitter for more updates on their upcoming events and programmes.