SLAF 'Digital Eagle' soars at anniversary show
View(s):

During its 72nd anniversary celebrations, the Sri Lanka Air Force (SLAF) revealed one of its recent acquisitions – the portable drone jammer.

By acquiring this weapon from a supplier in the United Kingdom, the SLAF is keeping pace with the newer threats–particularly to VIPs–posed by Unmanned Aerial Vehicles (UAVs) and drones.

It can be assembled and activated within three minutes, and this Counter UAS system as it is called, has an effective range of 1,500 metres. The Digital Eagle operates on two lithium batteries and hence is easily transportable.

The expansion of the commercial drone market has led to an increase in moves to exploit readily available UAV technology to compromise national security and attack sensitive targets. The cost of each unit is said to average between UK Sterling Pounds 8,200 to 9,000.

The portable drone jammer can neutralise a drone or UAV by locking and blocking operation and transmission, with the option to land immediately or return to the point of take-off.

In January last year the United States used an airborne drone to kill Iranian Major General Quasim Soleimani in Baghdad. Ahamed Jabbar, a Hamas leader, was killed by a drone attack at the Baghdad International Airport.

In another instance, Venezuelan leader, Nicolas Maduro escaped when a UAV loaded with explosives was blasted when he was addressing a news conference. He escaped unhurt.
---
Protest in Male over new Govt. decree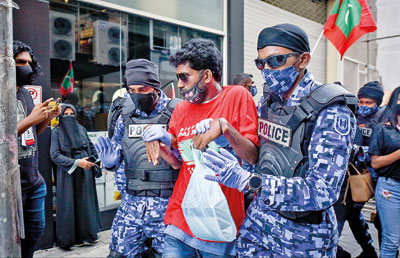 Friday's scene at the Maldivian capital of Male where people protested against a new government decree preventing more than five people from assembling in public places.
The archipelago's Police are now well equipped with modern gear. In addition, the United States Security Forces Assistant Brigade (SFAB) is now training National Security Service members
in the island of Mafushi. There are 14 instructors who are carrying out a one-month combat
training programme.
---
Minister claims highway could cost billions more if branched off from sacred ordained tree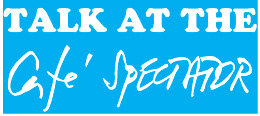 A debate has reignited over the status of the rare and endemic "Crudia Zeylanica" tree that was found during the construction of the Kadawatha to Meerigama stretch of the Central Expressway after Highways Minister Johnston Fernando claimed taxpayers would have to pay "billions more" to construct the expressway while avoiding the tree.
Initially, it was claimed this was the sole surviving such tree in the country but authorities later clarified there were several other such trees.
Environmentalists had strongly opposed cutting down the tree or relocating it to make room for the expressway. A group of monks even "ordained" the tree in an attempt to protect it.
"It takes Rs. 6.7 billion to construct 82 kilometres of the expressway, but we have been given an estimate that it will take Rs 8.6 billion to complete it while avoiding the ordained tree. I have not taken a decision on it yet," Minister Fernando claimed, while speaking on the subject on Thursday.
---
Customs to seize Islamic books
Customs will seize "Islamic religious books" brought into Sri Lanka by passengers arriving at the Bandaranaike International Airport (BIA).
Customs Deputy Director W. H. G .G. Kusala had directed airport customs officials that such books will only be released with the approval of the Defence Ministry.
Customs officials said the move was intended to prevent terrorism-related material from being brought into the country.
---
COVID Ministry Sec. hit for a six
Dr. Amal Harsha de Silva, Secretary to the State Ministry of Primary Health Services, Pandemics and COVID-19 Prevention, coming under the mandate of State Minister Dr. Sudarshini Fernandopulle was transferred this week to one under the Agriculture Ministry.
Dr. de Silva told the Sunday Times on Friday afternoon that he believed his transfer was due to a former cricketer getting his vaccination.
---
Hats off to thirteen retired career diplomats
Thirteen career diplomats who had retired at different stages are to be felicitated tomorrow at the Foreign ministry's main conference hall.
According to Foreign Secretary Jayanath Colombage this is to "honour their fruitful journey" and their contributions "as public officials."
The diplomats are Kshenuka Seneviratne, A. A. Jawad, Esala Weerakoon, E. R. M. Perera, M. M. Jafeer, Sumith Nakandala, C. A. H. M. Wijeratne, S. S. Ganegama Arachchi, V. Krishnamoorthy, T. Raveenthran, A. L. Ratnapala, P. Selvaraj and R. D. Rajapaksa.
Two of them will participate at the ceremony online.
---
Wigneswaran applies again for registration of his party
After the Election Commission rejected the application to register his new political party last year due to a lack of documentation, Tamil Makkal Kootani (TMK) leader and former Northern Provincial Council Chief Minister C. V. Wigneswaran filed a fresh application to register his political party this year.
His fresh application was filed as the Election Commission announced that the process of registering new political parties had resumed this year.
With talks in political circles of Provincial Council elections being held shortly, Northern political parties are doing the groundwork to select candidates for their parties.
The party of the former Chief Minister is planning to contest alone in the upcoming provincial polls with fresh faces–a move other Tamil nationalist parties fear would split the votes.
---
Kilinochchi District PS to track down missing street
When the Kilinochchi District Pachilaipalli Pradeshiya Sabha Regional Development Coordination Committee meeting was held on Wednesday, a villager came up with a strange complaint.
The man lives at the nearby village of Indirapuram. He told the meeting that an access road in his village where he used to play a traditional 'Kilithattu' game with his friends had "disappeared" in recent years.
He said that due to the 'missing street', most of the families in his village were accessing the main street through private lands.
He requested the Divisional Secretary (DS) to take steps to find the 'missing street'. The DS accepted his complaint and assured him they would track down the missing track.
---
Cabinet Spokesman and SLPP MP in war of words over Government's popularity
Cabinet Spokesman Keheliya Rambukwella and Galle District Sri Lanka Podujana Peramuna (SLPP) Parliamentarian Chandima Weerakkody are engaged in a war of words over the media regarding a statement made by Mr Weerakkody regarding the Government's popularity.
The spat began after Mr Weerakkody told journalists on February 28 that he had concerns over the conduct of the Government. He warned that people were disgusted with the SLPP at grassroots levels and claimed the people would reject it if it did not correct its ways.
When questioned over the comments, Mr Rambukwella told a media briefing in Kandy "the people have not rejected the SLPP, but they seem to have rejected him (Mr Weerakkody)."
Mr Weerakkody hit back at a media briefing in Galle yesterday. He likened the Cabinet Spokesman's pronouncements to Greek mathematician Archimedes running through the streets naked shouting 'Eureka.'
"He says I was rejected by the people. I was placed fourth out of seven MPs elected to Parliament from the Galle district," the MP said, adding that he made his earlier comments with the aim of directing the Government back on the correct path.
"If we continue this way believing what he (Mr Rambukwella) said is true, then our Government will face many more challenges," he added.
---
Tamil diaspora groups intercept messages from SL missions
In two leading capitals Tamil diaspora groups have successfully intercepted messages sent out by a leading Sri Lankan diplomatic mission through two different personalities.
Among the correspondence that has come into their hands is a request asking Sri Lankans domiciled in the country concerned to write to 47 member countries to protest against the United Nations Human Rights Council (UNHRC) resolution.
Of course, there is nothing wrong in the exercise. The mission concerned could have easily carried out the task, which is a part of its responsibility.
However, one slip has begun showing. That is a link to a television programme where a top bureaucrat is being criticised by a former Sri Lankan diplomat who had also served in the UNHRC.