Standing tall both architecturally and spiritually
By Lakshman Welikala
150TH ANNIVERSARY OF ALL SAINTS CHURCH, GALLE
View(s):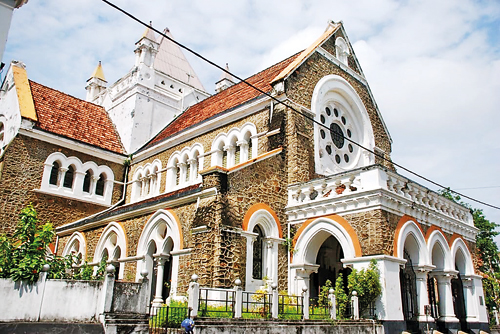 A familiar landmark within the Galle Fort, All Saints Church was built in 1868 under the guidance of  the second Bishop of Colombo Bishop Claughton and the dynamic leadership of Rev. Dr. George Justus Schrader, later Archdeacon of Colombo.The construction was completed in 1871, with its consecration taking place on February 21,1871. It has been recorded in the register that 480 civil and 45 military personnel were present at the service of consecration and that the day's collection amounted to 105 pounds, 10 shillings and 4 pence.
The church was built in Victorian Gothic Revival style but modified to suit the local conditions with arches in local kabuk and lime mortar strong enough to last many more years.The heavy pews with Jewish emblems of the Star of David are all done in Burma teak. The beautiful tall stained glass windows are another feature of the church.
The 150th anniversary celebrations took place on Sunday, February 21 under the guidance of the Archdeacon of Galle, Ven. John Marshall.The Service of Thanksgiving was celebrated by Bishop of Colombo, Rt. Rev.Dushantha Rodrigo and Bishop of Kurunegala, Rt. Rev.Keerthisiri  Fernando who  in the sermon traced the  history of Christians in Sri Lanka and the values of Saints as the church was named.
Bishop of Galle, Rt. Rev. Raymond Wickremasinghe together with religious leaders of all religions and Christian denominations in Galle too graced the occasion along with past clergy who had served in the church and officers of Government Departments and Police.Although celebrations were limited due to the ongoing pandemic, the congregation mingled with the clergy after the service  recalling  the past  and sharing the joyous occasion.
I first stepped into this church in 1949  with my parents when my father, late Rev. E. O. P. Welikala was appointed as the vicar. I thank God for allowing me to worship and serve in various capacities in this Church for more than five decades and  pray that this beautiful church will serve many more Christians for generations to come.