Bhagavad Gita live lectures online by Sunandaji
View(s):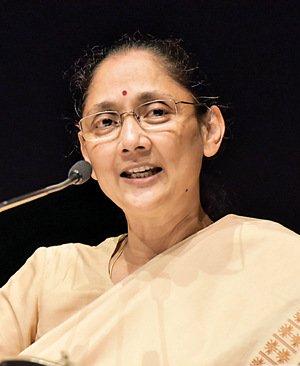 Bhagavad Gita is a manual of life. It enunciates the ancient philosophy of Vedanta. Vedanta presents the eternal and universal principles of life and living which transcend the barriers of race and religion, caste and creed. These principles equip one with a strong intellect to meet the challenges of the world at all levels – official, social, and domestic. Thus one enjoys the rare combination of outer success and inner peace.
Chapter III of the Gita enunciates the practical techniques which brings about success. Success is an effect; right action is the cause. The three ingredients to right action are concentration, consistency, cooperation. The chapter also explains the impediments to right action and the guidelines to overcome them.
Sunandaji, daughter and disciple of Swami Parthasarathy, the world renowned Vedanta philosopher will be delivering discourses on Chapter 3 of the Bhagavad Gita from Thursday, March 11 to Sunday 14 – SLST 5.30 p.m. – 6.45 p.m.  Sunandaji has been studying and researching on Vedanta for over three decades and her clear and powerful presentation of the Bhagavad Gita in contemporary thought has been acclaimed in India and abroad. She has also addressed prestigious corporate organisations and universities worldwide on the practical application of Vedanta in daily life.
The Kanapathy Chetty Selvanathan Charitable Trust is the primary sponsor of the annual Bhagavad Gita discourses. This year the lectures will be live online, offering a unique opportunity for people from all over Sri Lanka to join.  The lectures are free of charge and all are welcome. Prior registration is required. Register at vdnt.org/KarmaYoga
For further details visit www.vedantacolombo.org or email/call info@vedantacolombo.org / 0762796113.