Scholar-politician spent a contented life
By Nadia Fazlulhaq
View(s):
A Sinhala scholar, author and lyricist, known for his literary bent, the veteran Haputale politician, W.J.M. Lokubandara, a former Speaker of Parliament, had wanted his last rites to be an example to others, his family says.
He died from the coronavirus disease at the age of 80 at the Infectious Diseases Hospital last week, and was cremated at Kotikawatte crematorium.
Son Udith Lokubandara told the Sunday Times, that his father had asked that roads not be closed for his funeral cortege.
"My funeral should be an exemplary one for other politicians. This was something appachchi repeatedly used to say during the last years of his life. This was a parting he wanted. In fact my father has told the nurse at IDH that he has lived a contented life as a Buddhist adding that 'mata yanna puluwan' [I'm ready to go].''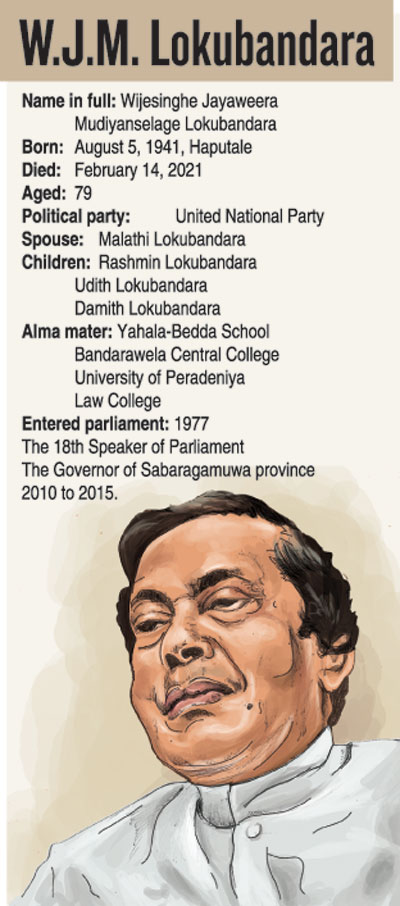 The cause of death in the report issued by the Director General of Health Services was COVID pneumonia and other underlying health conditions aggravated by the virus.
Born in 1941 and educated in Yahalabedda Vidyalaya in Haputale and Central College, Bandarawela, where he passed his Advanced Levels and got selected to follow an arts degree at the University of Peradeniya. During this time he enrolled at Law College.
He entered Parliament in 1977 from the United National Party and served until 2010.
He had served as Minister of Education, Higher and Tertiary Education; Justice; Buddha Sasana; Indigenous Medicine; Mass Media and Information and Cultural Affairs, during the tenure of former Presidents J.R. Jayewardene, R. Premadasa and D.B. Wijetunga. He became the first elected opposition member as a Speaker and served as the Speaker of the Parliament from 2004 to 2010.
"He was elected as the Speaker in a secret ballot and he led by one vote. He absolutely loved his role as a Speaker; it was like his dream job to not be confined to one party but making sure his fellow politicians continue to uphold democracy and continue to serve the public," his son said.
After he retired from politics, he was appointed as the Governor of Sabaragamuwa province from 2010 to 2015.
He obtained an M.Phil from Peradeniya University and a PhD from Kelaniya University. He also had an external degree in arts from the University of London.
A father of three sons, Rashmin, Udith and Damith Lokubandara, Mr Lokubandara, spent his last years at home in Nugegoda with his wife, Malathi and in the company of grandchildren.
"Since retiring from politics, my father dedicated his life to reading and researching on various areas of Buddhism and worked closely with the clergy," said Mr. Lokubandara.
Former Speaker Karu Jayasuriya said: "Lokubandara's knowledge in Buddhism and Sinhala literary work was incomparable. The word Ayubowan when welcoming was introduced to the administrative field and the society. The herbal porridge (kola kenda) was widely promoted while he was the Minister of Indigenous Medicine.''
Mr. Jayasuriya said Mr Lokubandara maintained the dignity of the Parliament as a Speaker.
"Wijemu" is no more and thousands were not able to pay their last respects, said Parliamentarian John Seneviratne.
"It is very unfortunate that he passed away under these pandemic circumstances and [we were] unable to bring his body to Parliament for the final state honours, because he was a victim of COVID-19. A memorial will take place to show our respects to the former Speaker and good friend. The welcoming Ayubowan, the down-to earth politician will be sadly missed," he said.
A memorial service for W.J.M. Lokubandara tomorrow

A special Dhamma sermon in the memory of Mr. Lokubandara will be held tomorrow (Februrary 22) at 3.00 p.m. at the Parliament premises.

The Dhamma sermon will be conducted by the Most Venerable prelate Aggramaha Panditha Mahanayaka Thrikunamalaye Ananda, who is the Chief Incumbent of the  Vajiraramaya in Bambalapitiya.