On a sticky wicket
View(s):

My dear Imran Khan,

I thought of writing to you to welcome you to our shores not only because you will be the first leader to arrive in Paradise since the coronavirus pandemic enveloped the world one year ago – but also because your visit appears to have generated so much controversy even before you set foot here.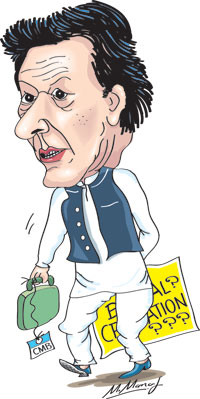 Imran, you can rest assured that there is no threat from the coronavirus here. Yes, there are hundreds of cases reported, and a few succumbing to the illness every day, but we are repeatedly told there is no 'community transmission'. If you are still worried, we can always get Udayanga to escort you around.
You will know that although you are visiting as Pakistan's PM, we had heard of you long before that. We admired you as a cricketer, even when you played against us. Why, the first time you visited us was as a cricketer with the Pakistan national team and that was some 45 years ago!
We watched with admiration as you went on to become Pakistan's captain. We saw you lead your country to that World Cup win in Melbourne at the age of 40, top scoring for your team and taking the last English wicket to fall. Your feats inspired us to our own World Cup win just four years later.
You have always been a supporter of our cricket and we have heard the story of how you advised our Captain Cool, Arjuna, to bat first in the final against Australia in your hometown, Lahore. Arjuna had already decided to bowl first and he decided to stick to that plan and the rest, as they say, is history.
Having admired you all these years, we should be welcoming you readily and making you feel at home here. It is therefore surprising that there should be so much controversy about your visit, even before it has begun. However, as a politician, you will know that politics overrides everything.
One community will be happy about your visit because their coronavirus victims are to be allowed a burial because of that. All these months we were told that this is risky, until Mahinda maama suddenly told us just a few days ago that it was not so. Ah, what just a visit by you can achieve!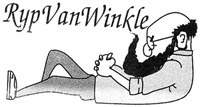 Although Mahinda maama said this, it hasn't still happened. In fact, our Cabinet spokesman has said that Mahinda maama was only expressing his 'personal' opinion. There was a time when Mahinda maama's personal opinion was what mattered, but I am not sure whether that is still the case.
So, can you do all of us a favour, Imran, and ask Mahinda maama when you meet him whether he can confirm this? Now they say that it still has to be approved by a committee and that is surprising because, in Paradise, committees usually do what politicians want – and not the other way around.
We also know that you were interested in addressing our Parliament. We did invite your 'friend' and the leader of your neighbouring country, Modi, to address us and he did.  We were looking forward to hearing what you had to say because you also have a reputation for making controversial statements.
Now they say your address to our Parliament has been cancelled. They say it is because of concerns about the coronavirus. We are all puzzled about that because, according to what our health authorities tell us, all our infections are linked to the Peliyagoda Fish Market. You are not going there, are you?
Some say the speech was cancelled because our chaps were worried you could raise the Kashmir issue in our Parliament and that will anger India. We annoyed them recently by not giving them part of the Colombo Port and we don't want to annoy Modi anymore. I am sure you will understand, Imran.
Others say that our chaps were worried that you could talk about how one community was targeted for discrimination after the Easter attacks. Still, being who you are, I am sure you will find an opportunity to speak at some event while you are in Paradise – and you could then say what you have to say.
You shouldn't be too disappointed about not being invited to address our Parliament. It is a dangerous place to be in – and that is not because of the coronavirus either. If you say something that someone doesn't like, they could pour water on your chair or throw water mixed with chillie-powder at you!
Despite all this, we hope you have an enjoyable time in Paradise, Imran. It will be great to see you as a stateman because for most of us, what your name still conjures up is visions of a flamboyant young cricketer with long hair and shirt half open, who mesmerised us with his fast bowling!
Yours truly,
Punchi Putha
PS: Now that your speech to our Parliament has been cancelled, maybe you can find some time to speak to Arjuna. You know what it takes to go from World Cup winning captain to successful politician. Our chap desperately needs that advice now – and this time, I'm sure he will listen to you!