Howzat Aluthgamage! Aravinda, Sanga back in fray
cricket
View(s):
It was like a slap in the face of fellow Cabinet Minister Mahindananda Aluthgamage. Sports Minister Namal Rajapaksa has appointed Aravinda de Silva and Kumar Sangakkara in the new, high-profile four-member Cricket Technical Advisory Committee.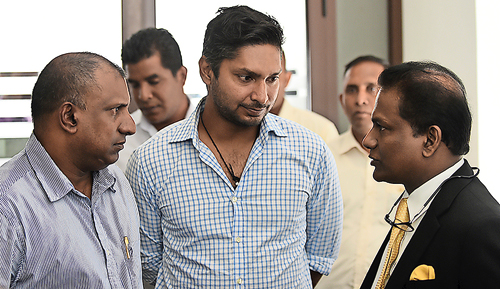 Others in the committee are the respected Roshan Mahanama and legendary spinner Muttiah Muralidaran. They will also function as the Cricket Committee of Sri Lanka Cricket (SLC), a decision the Board took on the Minister's insistence.
In June, Aluthgamage, who was the Sports Minister in 2011, publicly claimed Sri Lanka had 'sold' the World Cup final played in Mumbai with India. While he didn't name anyone, it was clear the former Sports Minister was hitting out at selectors headed by Aravinda de Silva. Sangakkara was captain at the time.
Aravinda and Sangakkara both demanded an independent inquiry following the wild allegations. The local investigators 'dropped' the case over lack of evidence and the Anti-Corruption Unit (ACU) of the International Cricket Council (ICC) found no evidence to merit an investigation. However, State prosecutors are yet to give their opinion on whether to conclude or continue with the case.
Their appointment to a high-profile committee to advise the Minister on all cricket-related matters, therefore, is an indication that the Government does not buy Aluthgamage's accusations. The new committees are significant at a time when the game has taken a sharp downward turn. They will oversee all cricket-related matters, advising and making plans to restructure cricket at the grass-roots level.
"We will look at all cricketing matters and devise plans to improve the standard of the game," de Silva told the Sunday Times. "We will look at restructuring the game both at First class and grass-root level. We will prepare a short, medium and short term plan to improve the standard of the game."
He had distanced himself from cricket administration since 2017, having previously functioned as Chief Selector and Vice-President of SLC.
Sangakkara, who had a brief stint as selector, was not involved with cricket here while Mahanama stepped down as an ICC Match Referee a few years ago and has been a vocal critic of the cricket administration. He previously refused to be involved, citing politics and corruption. Muralidaran retired as the highest wicket-taker in Test cricket. He remains committed to coaching and sharing the vast experience he gained in the Indian Premier League.