World tourism begins baby steps again after trillion-dollar losses
By Wasantha Ramanayake
Hotels need that magic 50pc level to stay viable
View(s):
Sri Lanka reopened its borders to international tourists, some 550 international holiday-makers have entered the country – but uncertainty dogs the sector.
Sri Lanka Tourism Development Authority Director-General Dhammika Wijesinghe said on Friday that the country had received 435 Ukrainian tourists, with the remainder being mostly from Germany.
Ms Wijesinghe said "a lot of inquiries are coming" from abroad and is confident the trend would continue despite daily rising numbers of COVID-19 cases in the country's main markets, Britain and Germany.
"We receive more than 10 daily inquiries from countries such as Germany, Russia, Spain and India," with most people wanting 10-nights stays, Residence Manager Niroshan Jayakody of Hotel Insight said. The Ahangama hotel is a Sri Lanka Tourism Development Authority-approved Certified Safe and Secure Level beach resort.
"We are welcoming our first tourist on February 7 after several months – a Spanish visitor arriving for a 14-day holiday," he said.
Mr. Jayakody explained that Sri Lanka Tourism Development Authority (SLTDA) guidelines stipulate hotels cannot accommodate Sri Lankans and residents at the same time as overseas travellers.
As long as the hotel was at least half-full of foreign travellers this arrangement was financially viable but with a lower occupancy rate the hotel would have to turn to local tourists, Mr. Jayakody said.
A tourist booking a room for a 14-night stay must pay for three PCR tests, or for two PCR tests for a five-night stay, along with the COVID-19 insurance premium of $US12 when applying for an online visa, the hotel manager explained.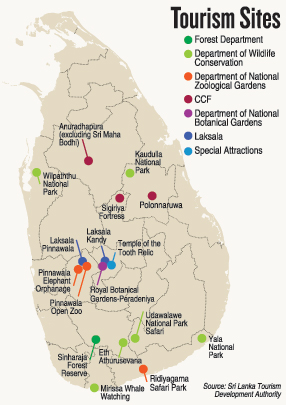 On arrival at the airport, the tourist would be picked up either by a vehicle sent from the hotel or by a certified Destination Management Company (DMC) following health guidelines, and brought to the hotel.
"If the tourist tested negative, he could make excursions to 14 SLTDA-approved sites while remaining in a bio bubble, without mixing with locals," Mr. Jayakody said.
A tourist staying more than 14 days could at the end of that period move freely around the country using private transport.
"Tourists, on arrival at the hotel, would be subjected to a PCR test," he said. A positive case would be isolated and monitored by the hotel doctor. That tourist would be transferred to a private hospital for treatment only on the instructions of the doctor.
Mr. Jayakody said there was no minimum number of days required for a stay, or restrictive quarantine. Guests can make use of all the facilities at the hotel.
Following the first wave of the pandemic, hotels were closed and all temporary and contractual staff laid off.
"If only the government permitted 100 per cent occupancy the hotel could hire more staff," he pointed out. He currently plans to employ 30 staff split into two shifts.
According to SLTDA there are 46 Safe and Secure Certified Level 1 Hotels where tourists should stay during an initial stay of up to 14 days, although there no minimum period of stay.

Sri Lanka Institute of National Guide Lecturers President Mahesh Priyadharshana said members are ready to lead tours provided they are given a fair guide fee, COVID-19 insurance and 14-day quarantine facilities.
He alleged that the Sri Lanka Association of Inbound Tour Operators (SLAITO), representing some of the Destination Management Companies (DMCs) or travel agents, were not receptive to these conditions, saying the tourists the guide lecturers bring are low-budget travellers.
Dr. Priyadharshana alleged SLAITO had, in the past, paid the lowest guide fee in the region.
He said that during a pilot project, Russian-speaking National Guide Lecturers had been given an allowance of Rs. 150,000 plus COVID-19 insurance and quarantine facilities for 14 days.
Dr. Priyadharshana said that national and chauffeur guides had been given a one-off payment of Rs. 20,000 and Rs. 15,000 respectively last year by the Sri Lanka Tourism Development Authority but had been without any income for the past 10 months.
National Guides had asked for a special loan facility to tide them over but had been rebuffed on grounds that they did not have any form of security such as a fixed salary or employment provident fund.
Dr. Priyadharshana underscored the necessity of medical insurance as guides work directly with tourists.
Rasith Gunaratna, co-owner of Different Discovery, a family-run DMC mainly catering to Danish tourists, said colleagues in Denmark had informed his company that people in Denmark would be fully vaccinated by the end of March and were predicting a "travel boom".
"If our country is safe to welcome tourists by that time we could capture that market," he said confidently. "Our infrastructure is ready, and we would definitely consider the concerns of the guides in a favourable light," he added. He said the insurance and guide fee were reasonable demands that should be met.
"Opening is a must," said Colombo University Tourism Professor Dr. Suranga de Silva, while emphasising it was important to protect local people.
He pointed out that countries such as Thailand, the Maldives, Vietnam and Myanmar were opening up their borders to tourists.
He was  also of the view that the country was rightly open to markets such as Russia and Germany. "The Russian vaccine has 100 percent protection, and the Russians will start visiting countries soon after they are vaccinated," he said.
Asked whether greater numbers of arrival could be expected soon, he said since many countries in Europe had begun inoculating their citizens, positive sentiments about the safety of travel were spreading.
Tourism hit much worse than global financial crisis of  2009
"Even as the news of a vaccine boosts traveller confidence there is still a long road to recovery. It is ever clearer that tourism is one of the most affected sectors by this unprecedented crisis," UN World Tourism Organisation (UNWTO) Secretary-General Zurab Pololikashvili said recently.

Restrictions on travel, low consumer confidence and a global struggle to contain the COVID-19 virus all contributed to the worst year on record in the history of tourism.

The loss of $US935 billion in export revenues from international tourism is more than ten times the losses from the global financial crisis of 2009, the latest data from UNWTO shows. The number of international tourists dropped by 900 million during the first ten months of 2020 compared with the same period in 2019.

UNWTO predicts global tourism has returned to levels of 30 years ago. This massive drop in tourism due to the pandemic could result in an economic loss of $US two trillion in world GDP.
Purse-strings will soon  loosen, tourist predicts

Seasoned adventure traveller Angus from Edinburgh, Scotland, who has visited Sri Lanka on three occasions, believes pent-up desire for international travel, coupled with unspent travel budgets, will transform the currently struggling sector in a few months.

"Things will be more certain in a couple of months but currently it is very uncertain," he acknowledged, but added: "There will be surge in tourism once things are open up. While many are suffering financially, many others have been unable to spend and will be keen to travel."

Angus has just completed a spell of kite surfing in Kalpitiya and a cycling round-trip and might return for more kite surfing next winter.