"They keep saying they will take our lands"
By Namini Wijedasa
Thalangama residents live in fear of losing their homes overnight to a highway // The road also crosses parts of the Thalangama wetland
View(s):
The Central Environmental Authority (CEA) must direct the Road Development Authority (RDA) to avoid the Thalangama wetland when building the proposed elevated highway from Rajagiriya to Athurugiriya, the Attorney General strongly advised this week.
The 10.4km stretch of highway is the second phase of a 17.3km project from the New Kelani Bridge in Orugodawatte to Athurugiriya. More than 3km will across the Averihena Tank and surrounding paddy fields which are part of the Thalangama wetland.
Since 2007, the wetland and its surroundings are gazetted as an Environmental Protection Area (EPA) under the National Environmental Act (NEA) owing to its "ecological, hydrological and historical importance". The CEA sought the AG's advice on whether the gazette could be revised.
Any steps taken by the CEA to recommend to the Minister a revision or amendment to the order that declares the Thalangama wetland as an EPA – thereby allowing a new "permitted use" such as the construction of an elevated highway – would be a violation of the NEA, the AG responded this week.
This means the CEA cannot advise the Minister to de-gazette the wetland in order to allow the road to run through. The AG noted also that the order declaring the Thalangama wetland as an EPA is the subject matter of two cases before the Court of Appeal, where petitioners are seeking orders against the CEA to ensure strict implementation of the same.
"Therefore, any steps taken by CEA to revise or amend the said Order made by the Minister and render nugatory the protection afforded to the Thalangama wetland as an EPA may attract adverse judicial orders," the AG warns. He advises the CEA to direct the RDA, which is the project proponent, to consider an alternative trace which would avoid the Thalangama EPA in constructing the proposed four-lane elevated highway.
The RDA has already placed markers. However, the highway is a prescribed project under the NEA and the project proponent is therefore mandatorily required to obtain CEA approval. Also, when an area is declared an EPA, the only activities permitted are paddy cultivation, fishing, nature trails, construction of security posts and towers for bird observation.
The decision to declare the Thalangama wetland as an EPA was also pursuant to a Cabinet decision taken under a national policy to safeguard several wetlands. The Cabinet memorandum that describes this policy notes that any activity within or adjacent to such EPAs must be carried out without any adverse impact to the environment. This is in accordance with the National Wetland Policy and NEA.
There are indications, however, that the Environment Minister Mahinda Amaraweera may de-gazette the Thalangama wetland, taking away its EPA status. This will spell agony for residents in the area, including farmers.
But the proposed road is also causing heartache for families who have houses along the trace far away from the wetland. This week, they protested that they were in darkness over the RDA's plans and were anxious about what will become of their homes and businesses. The authorities have held no meetings to explain "what is going on". They merely turned up and painted yellow crosses or planted stakes to mark out the route.
As it stands, the road will cut across a vast variety of homes. Some are ancestral properties. Others are newly-built. One obtained building approval as recently as 2015.
"We checked the street lines when we were building," said one resident. He did not wish to be named. "We also got approvals from the local authorities. If they had told us at that stage that a road was being planned, we wouldn't have constructed the house."
People have not been shown a map of the trace and are gleaning information from social media and other sources. They pray that the RDA will shift the route so it goes across less populated areas.
They first got an inkling of the project some years ago when officials turned up and said a road was to be built. Then it died down before being resurrected about two years ago. Whoever comes to "survey" their properties don't seek permission to enter and rarely identify themselves.
"In late December, surveyors turned up three times saying all the previous surveys are defunct, they have been given a new centre-line to consider and that they were asked to survey a 30m section," the resident continued. "But although they marked a centre-line, they said that, too, might be shifted later."
"We all have different experiences," he said, pointing to others who met the Sunday Times. "All of us have been told different things. No firm word, no documentation. Also, they come to our properties during the COVID-19 pandemic but when we go to their project office to request information, they don't let us go in citing the virus."
The uncertainty is killing, they say. This week, Cabinet granted approval for the road. "Before they do that, isn't it courtesy for them to consult us?" an older homeowner asked. He, too, was fearful of giving his name.
D Ajith Kumara is 55-years-old and it's the second time he is being displaced by development. His property on the main road in Battaramulla is 24 perches in extent. His house was built in 1988 and he runs a vehicle repair shop on the same property.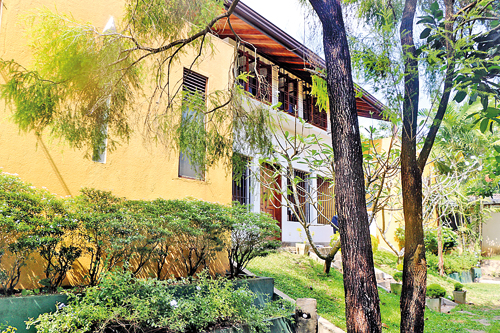 "We used to live in Borella, where the Sambodhi Temple is now located on Gregory's Road," he narrated. "We had 40 perches. Our land was taken by the UDA and they shifted us here. The front of our property will go for this new road. That is my vehicle repair shop. How do we earn a living?"
N Hettiarachchi is losing the two-storey building she shares with other siblings. Six shops inside have been given on rent. Like others, she complains that no information is given and that, even if paid compensation, the rates offered by the Government will be much lower than the property's commercial value.
Dilsiri Welikala is a 38-year-old entrepreneur who gave up a corporate career to invest and build tourism in the north. He inherited his land from his father and with his earnings, he constructed his house. It is set in a lush green, landscaped garden.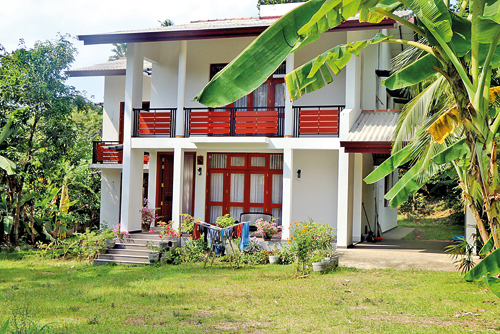 "When I do business, I faced a lot of corruption and bureaucracy," he said. "But the day they take the only thing you have for yourself, which is your home that you worked hard for, your retirement… then you really think whether it is worth investing time and effort in Sri Lanka. Maybe it's better to live in another country where it's more stable and there is justice."
Dilsiri completed his house as recently as 2013. His neighbour finished his only two years ago. There are a few more in the area built even after that. "In terms of confidence in this country, I have lost it," he said, sadly. "I understand that development must happen. But there has to be a just system if they want to acquire a property. We hear a lot of stories of people not getting the right compensation."
"And these are stressful for us, especially now, when nobody is helping us in terms of our business," he said.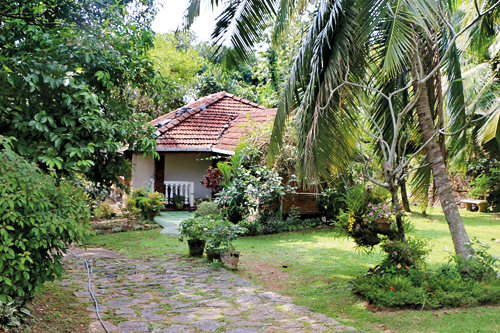 One female resident, voice quivering, said she wants fairness. Nobody has told them anything, she said, echoing the others. Not even the Grama Niladhari in her area knows. "They keep saying they will take our lands," she said. "We don't like to give. These are ancestral properties. How can we move from our communities to some other place and start anew?"
"If they insist we must go, at least ensure that we get the price these properties are commercially valued at," she added. "We don't want to live on rent. We should be able to buy a house, ready for us to live in. Please, just be fair."
It has not yet been officially informed how many properties will be acquired to build the elevated highway. Bids for the project will close on February 5. But the Request for Proposals was only issued to handpicked parties.