Shift to online compelled by viral paralysis of services
By S Rubatheesan
View(s):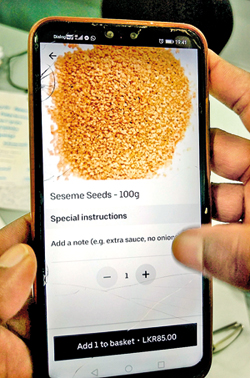 Digitalisation has gained traction in Sri Lanka partly as a result of the coronavirus pandemic that has now lingered for more than a year. Start-ups and e-commerce platforms have emerged to fulfil needs ranging from deliveries of services to groceries.
Even the public sector began delivering limited services online.
Education moved online, although issues like not having money to pay for data, not having devices or wireless connections are widespread.
Some service providers that had been using technologies adapted quickly to emerging opportunities.
PickMe, which offers transport and food delivery services, also adopted new strategies in early March last year. Within days, the company ran a pilot project to deliver groceries and gas cylinders during a lockdown.
Mevan Pieris, former head of operations of PickMe Food, told the Sunday Times that the 'trigger point' was a personal experience when gas ran out in his household. A gas delivery service was launched and 1,000 gas cylinders were delivered in a single day.
"It was a coincidence. The two state entities, Litro Gas and Sathosa were very proactive and came on board in our pilot project to serve the public.''
Other companies and start-ups followed, offering services.
Enosh Praveen, founder of Arteculate Asia, a digital journalism platform, launched a niche project early this month after nearly a decade-long career in the start-up business involving designing similar platforms for digital marketing. The new platform is dedicated to tech-related news and insights in Asia.
"During the first wave, we were busy with digital marketing projects as print media had to shrink operations significantly. Without any other typical engagements such as going out for board briefings, event coverages and discussions, we were able to focus on these projects alone," Enosh said while stressing that the start-up environment gave youngsters flexible working hours and a chance to work from home.
On the other hand, he said, many other start-ups which offer various services and goods struggled with financial difficulties caused by the pandemic.
"Some of those start-ups had to terminate their operations, or were sold to much bigger corporates.''
Due to the pandemic, most of the in-person training, workshops and discussions have moved online.
Workshops have become webinars, while group discussions and board meetings moved to cloud-based tools such as Zoom or Microsoft Teams.
On Wednesday, a series of e-ITEC (Indian Technical and Economic Cooperation) training courses for Sri Lanka Police conducted by India began online.
The course content has been tailored to fullfil the requirement of the Sri Lanka Police and designed in a way where they can have a formal interaction with the Indian Police to share and learn from each other's experiences, a statement from the Indian High Commission in Colombo, said.
To support new tech start-ups, the Information Communication Technology Agency (ICTA) launched an initiative called "Spiralation''.
Small and medium enterprises also turned towards information technology for continuity.
A survey, "Digital Tools in Crisis and Recovery – Small and Medium Business", commissioned by Facebook in 13 countries including Sri Lanka, shows that 42% Sri Lankan SMEs reported that they started using or increased their overall use of social media platforms since the pandemic, and 47% of them started using online messaging apps. Another 20% used online payment platforms.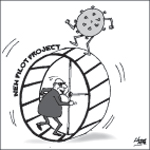 According to the Sri Lanka Association of Software and Service Companies (SLASSCOM), many Sri Lankan IT companies accept the challenge of transforming the work environment, quite literally overnight in many cases.
SLASSCOM also liaised with companies to provide and connect them with support that they needed to keep their operations going.
Companies such as Calcey Technologies, a software product engineering company, support Britain's NHS and food delivery to frontline healthcare workers in the UK, according to SLASSCOM.
Stax Inc, another global management consulting firm in Colombo, also switched to the remote working model in a weekend.
Cybersecurity professional, Asela Waidyalankara, told the Sunday Times that the pandemic forced people to go online even to buy groceries. This forced leading chains to cope with increasing demand for e-commerce.
"As a result, start-ups seized the opportunity by adopting new strategies to serve their respective customer bases by delivering groceries and other necessary services," Mr Asela said, pointing out that customer behaviour also changed.
For many other small start-ups, access to capital has become important because they have limited budgets, Asela said.