March-past for a few as virus shutters Feb 4 show
By Kasun Warakapitiya
View(s):
Fewer guests, muted celebrations and no public – that's how next Thursday's 73rd Independence Day commemoration will be held at Independence Square in the shadow of COVID.
The Ministry of Home Affairs, which is hosting the event, has planned to reduce guests by half, with seats arranged one meter apart. Invitations have been sent only to diplomats and dignitaries.
Even though guest numbers will be halved, costs will rise by half due to the expense of maintaining COVID-19 protocols, Home Affairs Additional Secretary K.G. Dharmathilaka said.
Everyone's temperatures will be taken and antigen tests administered if necessary, he said.
"The general public and schoolchildren will not be invited to observe the event in order to limit the spread of the pandemic," Mr. Dharmathilaka said.
Members of the police and armed forces taking part in the Independence Day parade have been quartered separately for some time to prevent possible infection.
Army Commander General Shavendra Silva said the ceremonies will be carried out as fully as possible given the importance of the day.
"Seventy-three years ago, our ancestors earned independence through hardships; it was not given to us on a gold platter. We should be proud about our independence," General Silva said.
He said the celebrations would showcase the nation's capability to handle a pandemic situation.
General Silva said the squadrons taking part in the parade have been practising at regiment camps while being sequestered.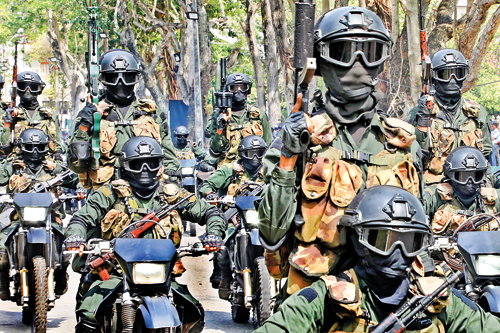 "We made sure they didn't mix with others and advised them to maintain social distancing. Yesterday onwards (Saturday) the squadrons taking part in the event have been holding rehearsals at Torrington Square," he said.
Random PCR and antigen tests will be carried out among those in the parade.
Although schoolchildren are not participating in numbers a group has been chosen to sing the national anthem and recite Jaya Mangala Gatha. These students have also been asked to isolate themselves until the celebrations are over.
"If there is any complication, a back-up team is reserved to carry out their task," the army commander said.
While the number of dignitaries will be limited "the arrangements for parliamentarians are more flexible according to the requirement and the situation", General Silva said.
The dress rehearsal will be on Tuesday and the timed rehearsal on Wednesday.
The Director-General of Government Information, Nalaka Kaluwewa, said it was a priority that journalists covering the event do not contract or spread coronavirus. All will have to undergo PCR tests.