Appreciations
View(s):

To those Lake House days  as "twin journalists"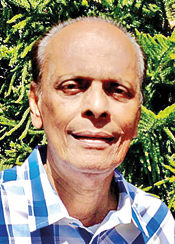 Philip Fernando
The passing away of my good friend and Lake House colleague Philip Fernando (former Deputy Editor – Daily News & Sunday Observer) in California was indeed sad news after the 2021 new year was born. Philip and I were contemporaries at the Peradeniya University and graduated with an Economics Honours Degree before joining Lake House. My memories of Philip go back to the days when both of us jointly covered news for the Daily News together.
We were often referred to as "twin journalists". Our usual haunts on Wednesdays were the homes of Ministers P.B.G. Kalugalle and Maithripala Senanayake for Cabinet meeting scoops. Minister Kalugalle would entertain us with Jaffna mangoes before the conversation began.
Some evenings were spent at parties hosted by diplomats, by invitation of course. One other source for our news was Sravasti, the hostel for parliamentarians. Lake House Editorial boss Esmond Wickremesinghe and I attended Philip's wedding together in Kalutara. Esmond attended my wedding too skipping a Reuters Conference in London.
The two of us covered the Colombo international conference during the time of the Indo-China war and were stationed at the Galle Face Hotel to get news regarding the conference from the diplomats staying there.
When we put up a voucher for our expenses at the hotel, Editor Cecil Graham was rather reluctant to approve it because of the amount involved and wanted us to get MD Esmond to sanction it. Esmond laughed and jokingly said to us, "Were the two of you drinking all 24 hours", and signed it saying, "You deserve it for the wonderful coverage you have done." Those were the days of good journalism and the rewards that went with it.
In 1977, Philip and his family migrated to US and settled in Torrance, California.  He put his writing ability to good use in his second career.  He had a successful career as a city planner for various California cities and retired at 65 from the Southern California Air Quality Management District (AQMD).
Philip was a good conversationalist and liked by his contacts for his wit and humour. When the News Editor of the Daily News at that time Harold Pieris was occasionally short of a good lead story for the next day, Philip and I came to his rescue and provided one. My last meeting with Philip was several years ago when he visited me in Toronto after my heart surgery.
Philip is survived by his loving wife, Celine Fernando, two sons Ranil (Noely) and Mahen (Thilini) and three daughters, Anne Samarawickrama (Prasanna), Melisa Gunawardena (Sanjay), and Marlie Abrahams (Andrew) along with eight grandchildren.
You had a good innings at the wicket my good friend. May your soul rest in eternal peace.
Siva Sivapragasam
---
A line of women and men were raised or touched by her quiet dignity
 K. H. Hassan
"…she lived with no other thought / Than to love and be loved…"  -Edgar Allan Poe-
It was a weekday morning in 1952. Thirteen-year-old Khair was readying for school. Her mother was readying for the hospital. Before leaving, she tells Khair: "Look after the children".
Khairul Hidaya Hassan (née Mohamed), called Khairoon, Khair and KH, passed away peacefully on Saturday, November 21, 2020. She had six younger siblings between two and 10 when she was thrust into the role of mother at 13 after that fateful day in 1952. She lived her entire life through her mother's last words, "looking after" everyone. Returning from school, she cooked, fed, and bathed her siblings. After putting them to bed, she stayed up late doing her homework – a little girl grieving her mother, abandoning childhood so that her siblings could have theirs. To those six little children, she was mother; she was protector; she was the world. To their late father, A. F. Mohamed (circa 1905-1973), Proprietor, Shums Stores & Qamar Stores, Pettah), Khair was solace, his eldest child who held the young family together.
As the family grew and their father expired, the responsibility she took on amplified. During her widowed sister's iddah (mourning period), Khair travelled to Avissawella every other day, shuttling back and forth in a bus in the midst of teaching at Fathima Muslim Ladies' College, Colombo 12. She was the first to appear in joy and sorrow, sickness and health, birth and death. When three of her sisters moved abroad to work as English teachers ("5 Mohamed teacher sisters"), Khair was again parent or "Mummy" to her nieces and nephews. From school enrolment to first day of school to parents' meetings to sports meets to bruises to broken bones, Mummy was there for it all. A niece warmly reminisces a Grade 1 speech on her mother, where she had said: "I have two mothers: one is Umma (mother) and the other Mummy".
While raising a dozen children by herself was a tall task, Khair fed them with love, patience, and grace. Never a disciplinarian, the children knew Mummy had reached the length of her twelvefold patience with their perpetual mischief, when a smooth but exquisite pinch (aka the gaali shimindi) came their way. She heard their grievances, listening to each, planting seeds of goodwill and patch-working contrasting tempers. To Mummy, they were all hers, and every rite of passage of each child was a significant event in her life. Every Eid, all the "children" would receive their salaam, hug, pernaal money, and clothes from Mummy's very special hands.
Every Ramadan, she would visit friends and family with a bottle of her delightful homemade mango chutney. The barakah (blessing) of Mummy's dining table was such that anyone who called at any time of the day (including her favourite stray felines) would leave with a full meal and a fuller heart. Her only savings were of sadaqa (charity): she gave to all of all that she had without thought or expectation. When she was hospitalized months before her death, her concern lay with the other patients in the ward, frequently sharing her meals with them. The day she passed away, she had invited her landlady for lunch.
Mummy was the Keeper of Stories, narrating them beautifully. As a child, I would inundate her with questions: "What was my grandmother like?". Perhaps Mummy had answered "What was my mother like?" decades ago from her young siblings. There is no surviving photograph of our grandmother. Those seven children grew up motherless with hazy images of her; the following generation without grandparents. To a family displaced by death, Mummy was mother and grandmother; she was family and history.
Mummy was a beautiful mixture of worldliness and innocence. She led a rich life serving others and often "falling" into adventure. Once, during severe floods, Mummy, returning from the pharmacy, accidentally stepped into an open drain submerged in water. Fortunately, someone had seen a waving arm, pulling it up to find our drenched 4'10" Mummy. At Fathima College (1960-1989) and Ilma International Girls' School, Colombo 05 (1991-2002), Mummy was known as a sweet teacher and gentle human being, never known to have raised her voice, a charming smile adorning her face.
She gave enduring spirit to her name, being and becoming Khairul Hidaya or 'best guidance'; the guardian of family ties and friendship in Galle, where she was born, and in Colombo, where she raised her siblings, her niblings and herself.
It is painful to refer to her in past tense. A gifted needle-worker, she crocheted the family together during her lifetime, and in her death she stitches us together in shared grief. Scattered images of Mummy linger: the sparkle in her green eyes that had seen too much but were still tender, whenever she spoke of her family; that warm pleasant face lit up in a smile when her niblings teased her; that soft faint voice asking after our health; the unexpected punch of calm, clever humour; her worn hands rummaging through her historic handbag looking for the latest missing object. Her loss is irreparable.
Prophet Muhammad says: "Heaven lies at the feet of your mother" – this family's heaven lies at Mummy's. She is survived by her beloved daughter Muthrika, her granddaughters, great-granddaughters, her cherished brother and sisters, a legion of niblings, and a line of women and men loved, raised or touched by the quiet dignity that was Khairul Hidaya Hassan.
May all her prayers and hopes, voiced and silent, for this world and the hereafter, come true. May Allah grant her the highest abode in Jannatul Firdaus and unite us in the Gardens of Paradise. Aameen.
 Tasneem Hamead
---
The man who was larger than life and so down to earth is no more
Christopher Weeratunga
The hotelier Christopher Weeratunga (74), passed away on January 1, in Sydney, Australia.
It is almost 50 years ago that I met young Christopher at the hostel (Sefton House) of the Ceylon Hotel School in October 1967. We were the 2nd batch of student intake to the Ceylon Hotel School, an institute at the heart of the hospitality industry, so important for the fast-developing tourism sector in then Ceylon. Young students from Jaffna to Dondra converged on Colombo to make their dreams come true in the hotel industry. Christopher, who studied at St. Aloysius Galle, hailed from a respectable family in Baddegama down South.
At the end of the first academic year, Christopher and another student were good enough to win scholarships offered by the Lebanese government to further studies at the Hotel School in Beirut, Lebanon. On completion of his studies in Lebanon, Christopher took up a position at the luxury Intercontinental Hotel in Geneva and this is where I bumped into him again on my way to Hamburg, West Germany. While in Switzerland, he was one of the few Sri Lankans who graduated in Hotel management from the world-renowned Ecole Hoteliere in Lausanne, the picturesque city by the Lake Geneva. By now, Christopher was equally fluent in French, German and English, a proficiency so important when working in European hotels. We drifted apart as it is not unusual in the hotel industry to work in different countries to gain international experience.
Back home, tourism had taken off in Sri Lanka with the construction of several 5-star hotels. As a true Sri Lankan, he returned home in 1974 and held several key positions in the hospitality industry until 1991 when he migrated with his young family to Sydney, Australia. I too brought my family to Australia the following year thus re-establishing a friendship with a man so Sri Lankan even whilst living Down Under. He worked in several organisations in Sydney before retiring.
His family was his one and only obsession. He with his wife, Upeksha have brought up three wonderful and responsible sons. Their children were educated to meet the current socio environment based on Buddhist principles. He adored his grandchildren.
Christopher was very talented in areas beyond his profession. If anyone had a problem electrical or mechanical, he was the 'go to guy' among our friends. His love for playing the tabla exemplifies how he enjoyed Sinhala music. Not that he did not enjoy Hindi and French classics either. There was never a dull moment when Christopher took the microphone at 'home parties'. He entertained us all in the same way he did so many friends around the world. His love for music was such, that in retirement, he joined the New South Wales Seniors' Club of Sri Lankans to be an entertainer.
The man who was larger than life and so down to earth is no more but will remain in our memories for many years to come.
May he attain Nibbana.
 Ranjith Samaranayake
---
Simple lady, unassuming and warm hearted
Agnes Soma Kumarihamy
It was one of the saddest news when I heard that Agnes Akka is no more with us. She was a gem of a lady, whom I came to know and had a very close relationship with having met her as the most loved wife and companion of one of my first cousins, D. L. O. Mendis (or Goi Aiyya to us and all the youngsters of the related families).
She was a very simple lady, unassuming and warm hearted. Whenever I visited the couple in Kandy, she did not allow me and my wife Malini to return without staying two or three days in their beautiful home entertaining us to the utmost. That was a quality she cultivated, and displayed magnificently well, to whoever visited their home.
For Goi Aiyya, Agnes Akka was a blessing. She cared and looked after him not only as a wife and companion, but more a mother and sister. In short, she looked after him indeed being his guardian angel.
She was a dedicated member of the Editorial Board of the Buddhist Encyclopedia of the Ceylon University, Peradeniya. As a student, I observed she was such a disciplined, honest and hard-working lady always with a very pleasant smile on her face. In appearance, she was a beauty, like a great Kandyan Kumarihamy whose attraction did not miss the University populace, male or female alike so that she was a popular personality among them. Actually, she was known as Agnes Soma Kumarihamy. As a cousin sister, I miss her immensely.
 Namel Weeramuni
---
He was one of a kind 
Allen Eustace Gunawardena
An ode to a father and grandfather on his 24th death anniversary—January 27, 2021
Time has flown by so fast
Since you departed more than two decades have past
Our thatha and seeya was one of a kind
Men like him are truly hard
to find
He exemplified a life full of honesty and civility
His honours and successes were tempered with humility
His love for amma and archi were so strong
It's why their marriage endured 54 years long
His love for literature and poetry was so immense
He wrote "Poems of Sri Lanka"" and "Path to Freedom" that made great sense
He was filled with compassion and kindness
Witnessed by many people he touched all around us
Your ever sorrowful
daughter and grandson
---