Political, civil salvoes target youth 'discipline' via 'military training' idea
By Nadia Fazlulhaq
View(s):
Two former military men were at loggerheads this week, after one's statement on introducing military training for youth above 18 years old caused a stir in the political arena and confusion among people.
Public Security Minister retired Rear Admiral Sarath Weerasekara earlier this week announced that he would be presenting a proposal to Parliament on compulsory 'military training' for all above 18 years to create a more disciplined society.
Opposition lawmaker and Field Marshal Sarath Fonseka told Parliament that such a plan to train those between 18 and 26 years old, could cost Rs 75 billion. He asked if the government has the funds.
"To train a soldier for six months it costs 750,000 rupees. Can the government bear such a cost at a time like this?" the former army commander asked.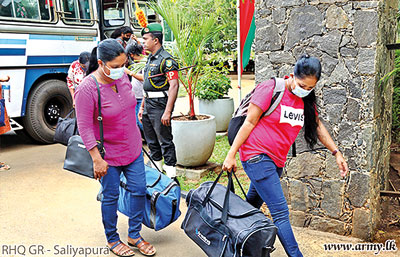 Another opposition lawmaker Imthiaz Bakir Markar charged that the government is aiming to groom the youth to bow and follow orders.
"To create law abiding children, there are already existing programmes such as the Scout and Guide Movements, the National Cadet Corps. These can be strengthened and supported," he said.
Mr Weerasekara told the Sunday Times that he was still consulting experts in all areas ranging from youth affairs, education, psychology, criminal studies, to understand the best training the youth would need.
"As the Minister of Public Security I am appalled at the level of child abuse, and brutal homicides. Apart from that, reckless and irresponsible driving and disobeying road rules is reported on a daily basis. People need to be taught how to be law abiding citizens, with knowledge about the country's laws," he said citing examples from Singapore.
He said what he meant was training provided in military bases because they are ideal venues.
"It is only at military bases that such large numbers of people can be accommodated. There are no plans for weapons training with focus on self-confidence and leadership skills similar to the compulsory leadership training for undergraduates. Self defence can be taught for female trainees," he said adding that all these are being discussed.
A senior lecturer in peace and conflict, democracy and governance at the Peradeniya University's Sociology Department, Dr. Dhammika Herath, said military training lacks critical thinking and questioning skills which are essential in a civil society.
"As we are not at war, there is no need for full-fledged military training as there is no immediate threat. If the Government plans to create law abiding citizens, training should start young by including in study material about laws of the country or making cadeting compulsory to make the youth physically fit and disciplined. Students, who are unable to undergo compulsory cadeting, should be given a choice like first aid training," Dr. Herath suggested.
"The crime rates are high because people are burdened by external factors such as unemployment, poverty. Compulsory military training in advanced democracies are a success because the people do not have an impact by these pressures," he said.