Orchids snatched from forests to satisfy shutdown-driven craze
By Kasun Warakapitiya
Sellers tap social media to spruik endangered native blooms
View(s):
Endemic wild orchid plants are being pillaged from forests following a social media-driven craze for the flowers especially after people turned to gardening to relieve the tedium of COVID-9 lockdowns.
Among the orchid plants being offered on the internet and surreptitiously on roadsides are the Vesak flower orchid (Dendrobium maccarthiae), wanaraja or jewel orchid (Anoetochilus regalis), sanda raja (Zeuxine regia) and iru raja (Zeuxine regina silvae), which grow in forests and cannot be found anywhere else in the world.
The threatened South Asian wild foxtail orchid plant (Rhynchostylis retusa), locally named gurulu raja, is also popular. The foxtail plant is on the verge of extinction in India due to biopiracy and experts fear the same could happen here.
Most of the orchid species are endemic to the country or this region, and although they are protected by the Fauna and Flora Protection Ordinance they are being extracted from the wild by villagers and sold secretly.
Demand for the blooms skyrocketed after photographs of plants were posted on social media. Foxtail plants are on offer for Rs. 500-750.
The Sunday Times contacted some people selling wild orchids on social media and found that most use false names.
One seller, going by the name of Sanu Nehansa, posted on Facebook that she had young plants as well as flowering plants for Rs. 500. She said she could courier plants to customers if they deposited money in an account. The post was later removed.
As many as 57 of the 183 orchid species found in Sri Lanka are endemic to this country and their unique flowers are eagerly sought by orchid collectors, scientists and commercial exotic plant sellers, biodiversity expert Dr. Suranjan Fernando said.
The endemic orchids have diversified to survive in varying specific environments and are pollinated by specific insects, he said. Orchids growing in forests create their own ecosystem as they feed off specific bacteria while insects and other creatures benefit from the plants.
"In times past, villagers used herbs and plants from the jungle for medicine and even took a small portion of the orchids to plant near their homes, but now people have started to damage the environment by removing complete orchid plants from the wild," Dr. Fernando said.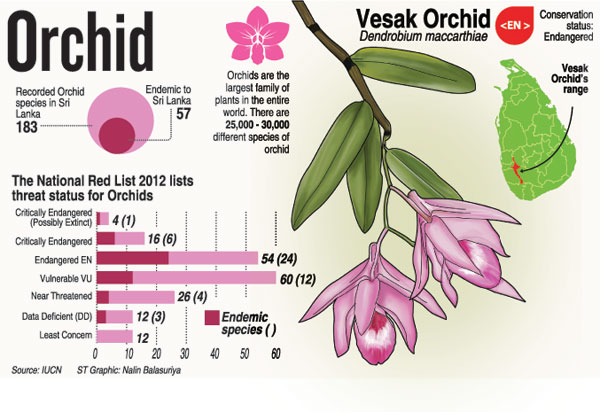 Use of vehicles means orchids can be transported in bulk, further threatening species survival.
With online sales hotting up during the COVID shutdown illicit sellers have not bothered to grow plants for the market but are uprooting them from forests as fast as they can to meet demand.
The Sunday Times learned that collectors pay Rs. 100-200 a plant to local villagers and sell them at high profits. Flowering orchids are more readily spotted and identified, which make them easy pickings for villagers on the hunt.
This threatens regrowth, especially as some orchids grow only in selected areas, as example being foxtails, which are found only in eastern-central areas such as the Uwa Province and Ampara, Dr. Fernando said.
Most villagers, lacking education, are unaware that the plants are protected and endemic and listed in the Fauna and Flora Protection Ordinance, he said; even wildlife and forestry officers and park wardens lacked knowledge.
The Sunday Times encountered a former forestry officer on social media who unhesitatingly promised to provide a protected orchid for Rs. 750. He said he was a collector. He also offered to contact someone who sells plants on a mass scale if that were required.
Dr. Fernando explained how loopholes in the law were exploited. Although it is legally punishable to transport protected plants, action cannot be taken if a protected plant naturally grows in a garden.
"The law is created in a way that bans the removal of protected plants from their natural environment, so people who sell wild exotics store the plants in their garden claiming the plants naturally grow in their garden," he said.
Dr. Fernando said the illicit orchid trade was abetted by people from overseas who collect pollen, seed and tissue samples to grow endemic Sri Lankan plants in their countries for commercial sale or create products such as perfumes to be sold around the world.
Dr. Fernando said if any country were creating a product using Sri Lankan endemic plants the government should demand  royalty.
He suggested that forestry and wildlife officers, along with police and customs officers, be educated on the theft of orchid species and learn to foil the practice.
"Orchids have unique properties. Botanical gardens and universities should propagate wild plants to be re-introduced to the wild as well as create varieties for gardens," Dr. Fernando said. If demand is met legally there would be no need to steal wild plants."
Acting Forests Conservator-General Dr. K.M.A. Bandara said he would immediately look into the matter and take action against Forest Department officers if any were involved in rackets. He was aware of minor incidents of orchid theft but did not know about large-scale theft.
The Director-General of the Wildlife Department, M.G.C. Sooriyabandara, said his office was aware of wild plants and animals being sold through social media and that from time to time officers were deployed to search the internet and raid individuals who engaged in such business.
"We will take legal action against any person if they steal plants from the wild. We will take action regardless of if they are government officials," he declared. He declined to say whether wildlife officials were trained to combat such rackets.
Virus shuts down forests HQ

The head office of the Forest Department is to be temporarily closed as three staff members have tested positive for COVID-19.

Acting Conservator-General Dr. K.M.A. Bandara said he decided to temporarily close the head office on Thursday and further moves would follow discussion with the Ministry of Wildlife and Forest Conservation.