Is Sri Lanka not inviting trouble with open arms, asks expert
By Kumudini Hettiarachchi, Ruqyyaha Deane & Meleeza Rathnayake
President, College of Community Physicians of Sri Lanka, Dr. Nihal Abeysinghe questions Sri Lanka's decision to open up for tourism, while stressing the urgency to review country's COVID combat strategy
View(s):
Strong calls are going out to the health authorities to review the strategies used to combat COVID-19 in Sri Lanka without trying to 'mix and match' them to fit plans drawn up without taking the ground reality into consideration.
"The review should not be conducted internally by the Health Ministry but should include knowledgeable external experts as also the World Health Organisation (WHO)," said the President of the College of Community Physicians of Sri Lanka, Dr. Nihal Abeysinghe, stressing that the review needs to be done "right now".
Dr. Abeysinghe and others have been raising this urgent need of a review at all health fora that they attend.
He said that nearly 10 months after the COVID-19 pandemic hit Sri Lanka, a review is "mandatory". This is a public health requirement to see whether the country is on the right track.
"Is the Health Ministry reluctant to conduct a transparent review because it has to fit plans into pre-made decisions such as not having a full lockdown but just isolating police areas, grama sevaka divisions or even streets in keeping with the thinking that the country needs to be opened up economically at any cost," he queried.
Comparing the periods of the two waves, the first wave which came in March and the second in October 2020, Dr. Abeysinghe said that the authorities followed all necessary precautions including a 'lockdown' in keeping with public health principles during the former period. While several countries (such as Australia, Thailand, Vietnam and Taiwan) are still sticking to the same principles and strategies, Sri Lanka has veered away and is following an incomprehensible path in the second wave. Limited 'lockdowns' in the Western Province have not worked as people travel around frequently.
Restoring economic activity has come through tourism. The WHO has advised that a country should be opened to tourists from other countries which have similar COVID-19 transmission levels, he says, pointing out that contrarily, Sri Lanka initiated a pilot project to get tourists from Ukraine where there is community transmission.
"The airports, meanwhile, were opened on Thursday for other tourists. Why should this country open the floodgates for different and most likely more virulent new variants of the virus? Is Sri Lanka not inviting trouble with open arms," he asked.
This is as other experts said that Sri Lanka seems to be in trouble with regard to its COVID-19 management and hiding its head in the sand hoping that the pandemic will go away. The number of people struck down by COVID-19 is on the rise and there is "obvious" community spread for any sensible person to see.
There is also "fatigue" among the public with regard to adhering to the health precautions including hand-hygiene, face-mask wearing, keeping a 1-metre distance in public places and avoiding public gatherings.
Strange and not keeping with reality, is how some explained the decisions made by the authorities, pointing out that when a blanket decision is made that there would be no 'lockdown', everyone becomes 'Yes men or women' without looking at the ground situation realistically.
Pointing out that with the Minuwangoda cluster starting off with more than 1,000 people being affected and the Peliyagoda cluster with 400 but rising, it was no secret that community spread began in October-November last year, they said that it was then that the Western Province or at least the Gampaha district should have been put under 'lockdown'.
The COVID-19 numbers are creeping up and Sri Lanka should look into the highly likely possibility of a major burden on all health sector activities and facilities such as contact tracing, quarantining, isolation and hospitalization.
"We just need a super-spreader event like Peliyagoda to tip the balance and send Sri Lanka down the slippery slope into a disastrous situation of no return," warned a senior medical expert, asking why a simple logarithmic assessment from the numbers of people who test positive is not being carried out to get an idea of the general numbers infected.
Meanwhile, the Government Medical Officers' Association (GMOA) warning that COVID-19 is spreading rapidly across the world, suggested that in Sri Lanka the virus can be controlled if travel restrictions are imposed promptly and the public is made aware of the dangers.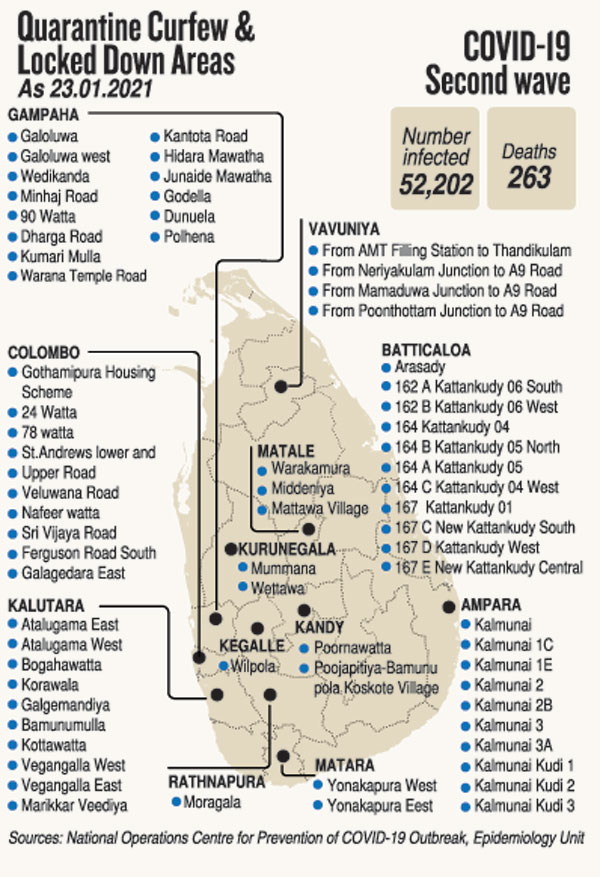 Bridge construction site isolated

With 12 workers of the 'New Bridge Construction Project over the Kelani River' testing positive for COVID-19 this week, the construction site has been isolated, a ground level health worker said.

While the infected workers have been taken to the Puanani intermediate care centre in Batticaloa, the other workers (about 200) are quarantined at the construction site itself, it is learnt, with contact tracing identifying around 30 first contacts as at Friday evening.

The new bridge construction project falls under the Road Development Authority (RDA) and is being funded by JICA (the Japan International Cooperation Agency).

---

Vaccines: Follow due process, urges expert forum

In view of Sri Lanka preparing to get the vaccines against COVID-19 into the country, the Vaccine and Infectious Diseases Forum has reiterated that it is essential to get the approval of the National Medicines Regulatory Authority (NMRA) before any vaccine is used in the country, even if it is imported by the government.

In a strong statement issued early this week, the Forum says that for such approval, a local agent will have to apply for registration and as far as we understand, so far no such PROPERLY completed application has been received by the NMRA from any vaccine manufacturer.

Giving the normal protocols followed, the Forum explains that usually the World Health Organization (WHO) through its Department of Regulation and Prequalification provides advice on the acceptability of vaccines considered for human use. This is known as vaccine prequalification (PQ). The global spread of COVID-19 has created unprecedented urgency for the WHO to act beyond the regular process of vaccine approval. As a result, it has developed a time limited Emergency Use Listing (EUL) Procedure to expedite the limited use of vaccines for most deserving communities.

Explaining that Sri Lanka's drug regulatory laws do not have provisions for EUL, the Forum states that what should be done is to give registration for a limited period or waive registration on a batch-to-batch basis. The WHO pre-qualification will help the NMRA in the local registration process. When this is not available, it is essential that the NMRA follow "due process" in very carefully examining the data submitted. It is learnt that the NMRA is ready to do so in the most efficient manner due to the need of the hour.

"Different manufacturers have different claims about their vaccines. The most credible evidence about the safety and efficacy would be what they publish specially about their Phase 3 data in peer-reviewed journals," it says, reiterating that to date, only one vaccine, Pfizer BioNTech has received WHO EUL.

The Forum says: "WHO in its EUL process also considers approvals received by stringent authorities like the FDA (Food and Drug Administration) of the USA and MHRA (Medicines and Healthcare product Regulatory Agency) of the UK. Only vaccines that have undergone Phase 2 or Phase 3 trials with authorization from a relevant national regulatory authority can submit their proposal for PQ or EUL approval.

"However, individual countries could use the vaccine, using an Emergency Use Listing (EUL) Procedure after being approved by the local national regulatory authority (NRA). That approval should be given by the NRA after evaluating the safety and efficacy data of the Phase 3 trial."

Here is an insight into what vaccines have been given emergency use listing by the NRAs of different countries, as given by the Forum:

Pfizer vaccine – USA, UK, EU, Canada, Argentina, Chile, Costa Rica, Ecuador, Mexico, Panama, Jordan, Kuwait, Bahrain, Saudi Arabia, Singapore, Switzerland and Israel. In addition, the WHO has approved it for emergency use.

Moderna vaccines – USA, Canada, UK, EU, Israel, Switzerland and South Korea.

AstraZeneca vaccine – UK, Argentina, Mexico and Pakistan.

Indian Covaxin from Bharat Biotech and Covishield from the Serum Institute – the Drug Controller General of India has given approval for emergency use. Covaxin is yet to publish its completed Phase 3 data.

Chinese Sinopharm and Sinovac – Sinopharm has received limited approval in China and UAE and Sinovac has received limited approval in China and Indonesia.

Russian Gamaleya's Sputnik-V – approval for early use in Russia and emergency use in Belarus and Argentina.

According to the Forum:

"With regard to the Sputnik-V vaccine, a doubt has been created over the Phase I and 2 studies published in the journal 'Lancet'. The Russian authorities failed to submit original data for review on request. However, on December 11, 2020, Russia declared that they had given two doses to 1.5 million people but failed to say how many were from Russia and how many from the rest of the world.

"A recent independent study from UAE, suggested that the efficacy of the Sinopharm vaccine is about 84%. But in Peru, the Phase 3 trial with the Sinopharm vaccine has been abandoned due to severe side-effects.

Data from Brazil suggest that Sinovac vaccine has only an efficacy of 50%.

"Meanwhile, countries such as Morocco, Bahrain and UAE have shown their willingness to buy the Sinopharm vaccine for emergency use.

High income countries have already made agreements with Pfizer, Moderna and AstraZeneca vaccines. Some are planning to buy Sinopharm or Sinovac, while Russia claims that there are over a dozen countries who have agreed to buy their vaccine."

---

Rising numbers, but can control situation : Dr. Herath

In the second wave of COVID-19, there are 52,202 positive cases, with 263 deaths, Deputy Director-General of Public Health Services I, Dr. Hemantha Herath told a media briefing broadcast from the National Operations Centre for Prevention of COVID-19 Outbreak at Rajagiriya. These figures were up to Friday.

Usually, the Monday, Wednesday and Friday media conferences on COVID-19 are held at the Health Promotion Bureau, Kynsey Road, with the physical presence of a small number of journalists, but in a sudden change, Friday's briefing was held at the National Operations Centre.

Dr. Herath said that currently, 9,309 people are receiving treatment at dedicated hospitals and intermediate care centres. Twenty-nine ICU beds are occupied but 120 more beds are available if needed.

"There has been an increase in the number of patients in the last few days. It is something we should accept but we can control the situation. During the last few days, cases have been reported in different places of the country. Some are not connected to clusters. There was an increase in travel during the festive season and thereby we expected an increase in the cases. People should act responsibly and restrict unnecessary travel," he added.
Community spread and need for testing
Test, test and test and detect the positives and trace their contacts and isolate, quarantine or hospitalize them. A strategy to implement this course of action efficiently and without delay is critical.
This was the strong chant of numerous people including the Government Medical Officers' Association (GMOA) who urged that testing be expanded so that more people who are infected can be detected, followed by isolation to bring the situation under control.
Referring to the much contested and much denied issue whether there is community spread in Sri Lanka, the President of the College of Community Physicians Dr. Nihal Abeysinghe who is a former Chief Epidemiologist with 21 years of experience in this country alone, said that when large numbers of infected people emerge from the community, the public invariably considers that there is community spread. This is as the World Health Organization (WHO) definition of community transmission is the inability to trace infected people to a particular cluster of infections.
"According to the Epidemiology Unit of the Health Ministry almost all cases are linked to a cluster. Whether such a deduction is based on investigation or not, we do not know but what we do know is that case numbers are on the rise. There could be community spread in highly-populated areas but not in the rural areas which are more sparsely populated," he said.
The Secretary of the Public Health Inspectors' (PHIs') Union, M. Balasooriya pointed out that the infection is spreading, while explaining that till recently COVID-19 was detected mostly in the Western Province. Now, "in a vast spread", infections are popping up in other provinces such as the North Central Province (Anuradhapura and Polonnaruwa), the Northern Province (Vavuniya) and the Sabaragamuwa Province (Kegalle).
"We suspected this would occur in January and February as a repercussion of the festive season. That is what we see now," he said, stressing that they believe that community spread of COVID-19 has begun. There are unexpected deaths in homes and also positive cases for whom they cannot identify the exposure or trace the contacts.
Mr. Balasooriya strongly urged that the public should be informed that the virus is in the community and that they should adhere strictly to all precautions.
He confirmed that many cases (he did not know the numbers) have been reported from among the police and army in the past few days. This has to be expected as they are exposed to the virus as they work among the people.
Both Dr. Abeysinghe and Mr. Balasooriya also expressed concern that the over-burdened health system may give way.
Dr. Abeysinghe said that across the board, healthcare staff including those in public health have been under a heavy load since the pandemic began. They would be exhausted and the authorities should pay serious attention to this aspect.
Echoing similar views, Mr. Balasooriya said that if this situation continues, the country may also run out of quarantine centres, intermediate care centres and hospital facilities.
"Tourists are arriving now and 50 hotels have been dedicated to them. Many locals including guides, hotel staff, their family members and these tourists go on boat-rides and other adventures. All these people are connected. If by chance one falls ill, all these people will be in danger. So, we should be ready. Not only hotels, we also need to prepare hospitals too," he said.
When asked how Sri Lanka should meet these challenges, he said that during the first wave the authorities took good decisions and they were followed. But it has not happened during the second wave. The second wave is believed to have been set off through some Ukranian crew members, which means that there have been leaks.
"It shouldn't have happened that way. All should follow the same procedures and decisions taken by the health authorities. We see that different ministers and secretaries of different departments, make different decisions," said Mr. Balasooriya, citing the case of cinemas.
He pointed out that the health authorities have advised that the cinemas should not be allowed to open but there are a few cinemas that are functioning at the moment with permission. When this happens it becomes hard to control a situation like this. This should be stopped. Everyone should follow the Quarantine and Prevention of Diseases Ordinance and only the Health Minister and the Director-General of Health Services should have the authority to take decisions connected to the ordinance.
When asked about testing capacity, Mr. Balasooriya said that the PHIs have no issues with the numbers. A total of 1,500,000 tests have been performed so far. However, their concern was the delay in informing the results to the relevant parties when tests are done in the private sector. This was a problem because a positive person remained in society and this could lead to a spread of the virus.
"In general too, sometimes there could be a delay depending on the machine capacity and the number of samples collected. It could take 2-3 days for the results," he said.
Meanwhile, a representative of the Government Medical Laboratory Technologists Ravi Kumudesh said that there is a problem with RT-PCR testing in the country.
He said that when Sri Lanka began doing RT-PCR tests, it did not have the right reagents and equipment. There was a significant number at state institutions but when selecting reagents, there were no specifications or norms. This was due to the emergency situation.
"However, it has been a year now and we see that the country is still having 'research use only reagents' and 'research use equipment'. To overcome this, a technical guideline should be issued to all laboratories," he added.
'Increasing trend in testing'

There is an "increasing" trend in the number of RT-PCR tests being carried out in the country, assured the Health Ministry's Deputy Director General of Laboratory Services, Dr. Sudath Dharmaratne, pointing out that around 14,000 tests are done daily.

To queries from the Sunday Times whether there had been a decrease in RT-PCR testing which is essential to detect people who are infected by COVID-19, he cited the following numbers from the 30 laboratories conducting the tests:

· November 2020 – around 350,000 tests

· December 2020 – around 400,000 tests

"People should take all health precautions to avoid contracting COVID-19 through hand hygiene, face-mask wearing and social distancing," he added.

Dr. Jayaruwan Bandara who is in charge of the laboratory of the Bandaranaike International Airport (BIA), Katunayake, said that around two weeks ago there was a problem with the supply chain of reagents but now that has been solved and reorganized.

"We wanted to finish our test kits, so we ordered a new batch and we got it. There is no problem at the moment," he said, adding that there was no drop in testing at his laboratory.

Dr. Bandara said that whatever samples are sent, they test. Usually they receive over 2,000 samples from all over the country including Hambantota and Moneragala, apart from samples from repatriation flights. The lab capacity is around 2,000 to 2,500 daily. One day, they tested 3,000 samples."

"We completed 100,000 tests within 4-5 months. The other 34 laboratories completed only around 100,000 tests in eight months. The BIA lab issues the test results very fast in 2-3 hours whereas other labs take around 4-6 hours. If ever there is a problem regarding reports, we get second samples from those institutes and re-issue the tests," he added.