Looking back on the Year of Corona
View(s):

On this final weekend of 2020, I have been spending a fair bit of time seated in my favourite old haansi putuwa, looking back on the events and activities of the year that is soon to end.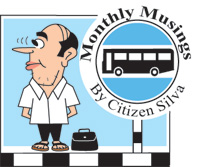 For all of us wherever we may be, this has indeed been a year like no other. A tiny microscopic organism, the coronavirus, brought human activity to an almost complete standstill this year, forcing us ignorant and complacent human beings to drastically change the way we live and interact. No more are hundreds of aeroplanes flying in the stratosphere every day and discharging ozone-destroying Nitrogen Oxides and Water Vapour into it. Many income generating activities – from garment factories in India to restaurants and cafes in small town Australia, from retail stores in Spain to service industries in Singapore – came to a grinding halt, resulting in massive job losses and higher than ever unemployment figures in nations all over the world. Those working in tourism, professional sports and the entertainment industry, those dependent on daily earnings like Three-wheeler and Uber drivers, were left with no work and no income.
This coronavirus' effect on the health of the world's population has been terrible. Not only have vast numbers of people died from COVID disease but many more have been afflicted and had to be hospitalised as a result of the life-threatening disease — recovering only because of expensive and intensive care by overworked medical and nursing staff. Interestingly, fatality rates have been higher in many of the so-called 'developed countries' when compared to the 'developing countries' – and this discrepancy cannot be glibly explained (as some have attempted to do) by claiming that "Third World Counties don't keep proper statistics."
And we still do not know what aftereffects those who have recovered from serious Covid illness will suffer during the rest of their lives.
Not having experienced such a devastating pandemic in their own lifetimes, government leaders all over the planet have had to manage as best they could with inadequate knowledge and limited resources. Some, of course, chose to mismanage the situation – either because they did not understand the seriousness of the pandemic or because they chose to ignore it, prioritising electioneering, twittering and golfing over looking after the health of their people.
Our own leaders, having admirably controlled the initial attack of the coronavirus with decisive action and military efficiency, then lost their hard-won ground by dropping their guard and allowing the greed of certain commercial establishments to over-ride the health of the nation.
Regulations were relaxed and those who could bend the rules did so, without enforcing proper testing or proper quarantining, under the direct supervision of Public Health Inspectors, of their local and imported staff. Making money and fulfilling output quotas appeared to have been more important than the health of the workers and the safety of the nation. From suffering just 13 deaths due to COVID during the first wave of the pandemic, the second "garment factory wave" has resulted in the total number of cases now being over 37,000 and our death toll climbing to over 180 – with still no end in sight!
But I venture to suggest that this Year of Corona has made us all realise what really matters in our lives. It is not being able to fly business class to go shopping in Singapore or to have lots of cash to consume more food or drink or clothes or luxuries — or afford a posher-looking house — than the next person.
Ultimately, what we all want is to be contented. In my view, what really matters for all of us human beings, whether we be eight or eighty, is having Enough Food (for our Need and not our Greed)
Physical and Mental Health Connectedness to our family and friends A clean and safe environment As for myself, as I woke up this morning and realised that I am still alive and have (so far) not picked up the coronavirus, I recalled the words of Marcus Aurelius:
"When you arise in the morning, think of what a precious privilege it is to be alive — to breathe, to think, to enjoy, to love."
And quoting these words, may I take this opportunity to wish all my readers:
May the new year 2021 be for you all a Safe Year – and a Year of Contentment.