Grieving family says trainee pilot flew away never to return
View(s):

Young trainee Shalinda Vimukthi Amarakoon needed 10 more hours of flying to qualify as a pilot officer of the Sri Lanka Air Force when he crashed off Kantale.

He had already finished 84 flight sessions and there were only four more to be completed. After 50 hours of flying the trainees are allowed to fly alone, under supervision.

Last Tuesday, 15 minutes after he took off from the China-bay base in Trincomalee in the Chinese built trainer aircraft bought in 2018, the 23-year-old lost contact.

"He lost contact with the airbase and shortly afterwards he crash-landed close to a stream in Sooriyapura, Kantale,'' a senior Air Force officer said.

An Air Force team is investigating.

Shalinda, who studied at Kegalle Vidyalaya was eligible to enter the Rajarata University after following the maths stream, but he chose to be a cadet officer.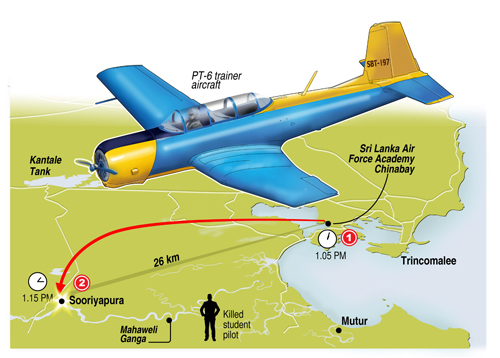 Having joined on January 27, 2019 as a cadet officer, he had six months' training at Diyatalawa, and was following a pilot training course at Trincomalee before the fatal crash.
Udara Avanthi said Shalinda was their only brother. "Mother called him 'kurulla' because of her affection for him. His childhood dream was to be a pilot. Even before he had ever seen a pilot, he said he would be a pilot one day. We allowed him to fulfill his desire. He was our hero. He flew away never to come again.''
She said the last contact with him was on Sunday in a video call. "That day he spoke with mother, sister and I. My mother asked him if we will be able to see him for Christmas, and that it would be like seeing a Christmas star after 300 years,'' she said.
"That day he made us all laugh. We didn't know that he was talking to us for the last time. We feel he is still with us. He is very innocent. He never hurts anybody. When he comes home all his friends come to see him and enjoy a chat with him. He helped everyone. He was a senior among the trainees. He was our hero, but left us all.''
Text and Pix by Pradeep Kumara Dharmaratna