Congested 'wattes' and high-rise apartments worry CMC health officials
By Kumudini Hettiarachchi, Ruqyyaha Deane & MeleezaRathnayake
Dutch ambassador gives flowers for frontline health workers
View(s):
The need of the hour is to break the vicious circle of the COVID-19 spread in congested areas of the city, underscored the top health official of the Colombo Municipal Council (CMC), pointing out that there is no widespread surge of cases now and containment efforts have paid off.
"The cases have become static and it seems that we reached the peak unless we get new clusters.We found 15 cases from '60-watte' at Torrington on Thursday," said the CMC's Chief Medical Officer (Public Health Department), Dr. RuwanWijayamuni, in an interview oft interrupted by telephone calls and people putting their heads into his office to bring to his notice this or that issue.
A few colourful bouquets of gerberas are on a settee in his office, while in a corridor there are boxes with more flowers piled high – they are courtesy of the Dutch Ambassador Tanja Gonggrijp, sent to Mayor Rosy Senanayake,to be distributed to frontline health workers who have toiled since October to bring the virus under control.
Seated at his desk, Dr. Wijayamuni takes us for a walk through the city of Colombo through his words, to show the battle they have been waging for more than a month.
Learning from the first wave of COVID-19 which had thrown up some cases at the '60-watte', he said that they did random RT-PCR testing after finding one first-line contact from the original clusters of Minuwangoda-Peliyagoda there in the second wave. This uncovered 15 cases from 150 samples taken, which meant that 10% of those tested are positive and was "significant".
This has been followed quickly by 150 Rapid Antigen Tests (to catch those who are highly infectious) and 150 RT-PCR tests ("to make doubly sure") and also Antibody Tests to see whether people have got the virus and recovered which would give an indication of herd immunity.
"This will show us the extent of spread in this watte. Then we will decide whether we should go in for a lockdown of two incubation periods (28 days)," he said.
This has been the lockdown strategy in the second wave – not locking down the whole country for a long period but going in for two or three incubation period lockdowns in specific areas to contain the virus, the Sunday Times learns.
Dr. Wijayamuni said that this strategy has been successful and they have gone for a lockdown for three incubation periods (six weeks) in north Colombo including Modera and Sirisara Uyana.
This lockdown and exit strategy in the second wave has been planned by the Presidential Task Force on COVID-19, the Epidemiology Unit and the University of Sri Jayewardenepura based on scientific methodology. The Antibody Test will show whether people have recovered from COVID-19 and if there is herd immunity. If there is herd immunity, the lockdown areas may be unlocked.
He explains the two indicators as:
n  From the Rapid Antigen Test, the extreme shedders of the virus can be identified. If there is a high percentage of these people, the area needs to be kept locked down
n  With the RT-PCR tests (depending on the cycles needed), positive people in the latter part of the infection and are not a danger to the rest of the population can be found, while the Antibody Tests will tell us of the population proportion with antibodies and what the level of herd immunity is in the area
Tracing the pathway of the second wave (starting with Minuwangoda), Dr. Wijayamuni says that upto October 22, Colombo city did not have a single COVID-19 case. They found the dockyard cluster at that time, with positives being detected from Grandpassin north Colombo. This was followed by "lots" of positives being identified at the Peliyagodafish market after they cordoned it off and did RT-PCR tests on around 1,100 people. Of the 700 who tested positive there, 435 were from Colombo.
"This is because historically the stall owners and human resource suppliers of the St. John's fish market in Colombo have been from north and central Colombo. It was this same group which went to Peliyagoda when the fish market was moved," he says, pointing out that these were "imported" cases to the Colombo Municipality area which had been free of COVID-19 from April 30 during the first wave.
With the detection of the 435 cases, began rigorous first-line contact tracing and RT-PCR testing. "What we found was that for each positive case, we could find another 4 more positive patients through their contacts (1:4 ratio), making around 1,600 cases. Another cluster developed from the Borella Police Station, beginning with constables in the chummery who had gone to the fish market," he said.
The Borella Medical Officer of Health (MOH) focused on the quarters behind the police station and screening found 105 cases, while more contacts from the fish market came from Dematagoda, Wanathamulla, Mattakkuliya, Modera, Bloemendhal, Kotahena West, Jinthupitiya, Kochchikadenorth and Slave Island.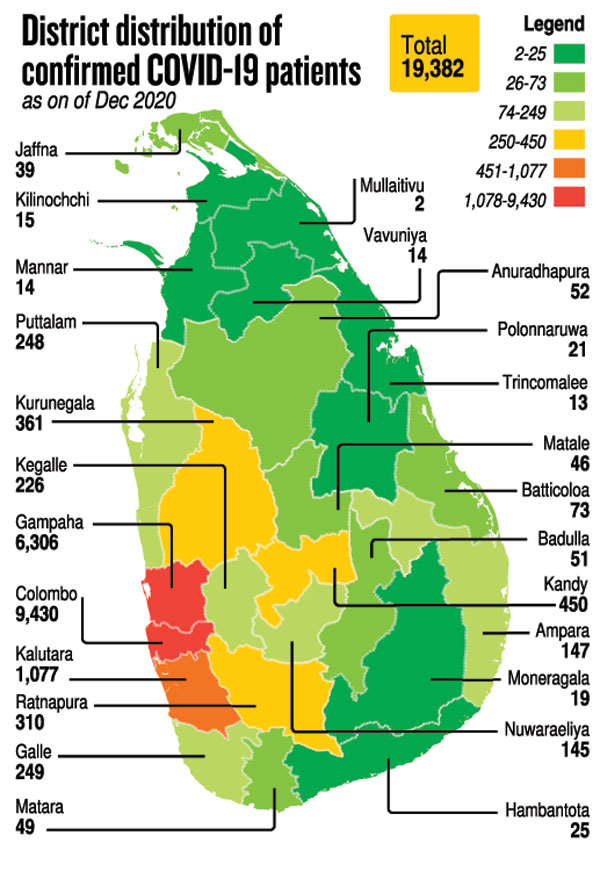 High-rises in Colombo city have been causing major headaches for Dr. Ruwan Wijayamuni and his team.

There are two categories of high-rises dotting the cityscape – the apartment blocks in areas such as Cinnamon Gardens, Galle Face and Union Place and the densely-populated flats in Modera and Mattakkuliya.

In the first category, the residents living in spacious apartments have transponders which restrict their movement and access only to the floor on which they live, says Dr. Wijayamuni sketching images of the second category of lower-income flats where there are 15 homes on either side on each floor, with each home having about 10 people in them.

These people had been living in horizontal structures in congested areas earlier, but now they are in vertical structures – with better living conditions with toilets for each home and an individual water and electric supply – still densely populated.

"The population densityis high with around 1,500-2,000 people living in one block and a high chance of the virus spreading. These people's lifestyles have not changed much and there is a lot of interaction among them. Usually a block has two lifts but only one works. Then there is a communal staircase where they meet each other, chat, do not wear masks etc," he added.

---

Safety & efficacy of traditional 'peni' under scrutiny

With claims by an individual from Kegalle, Dhammika Bandara, that he had "found a cure" in the form of a traditional peniya (syrup) for COVID-19, a 10-member committee comprising eminent medical and ayurveda personalities was set up this week to determine its scientific validity, to ensure its safety and efficacy.

This was hailed as a "golden opportunity" for Sri Lanka, which has a rich history of traditional medicine, to establish a water-tight and acceptable mechanism to evaluate this alternative system of medicine.

So far, the chemical compounds in this traditional syrup have been kept a secret from the public, with speculation rife that two of the five ingredients are sadikka (nutmeg) and bee's honey.

The committee is liaising with the Department of Ayurveda and the Indigenous Medicine Ministry and it is understood that for the purpose of the research, the prescription has been revealed to the department.This prescription is being evaluated by an expert committee consisting of ayurveda scholars and a senior scientist.

The 10-member committee, meanwhile, would determine whether this traditional syrup has shown some efficacy against the COVID-19 viral infection and can be validated through scientific methodology, using stringent protocols, securing ethics approval for a clinical trial which would include getting informed consent from participants, proper collection of data, proper data analysis and reportage of any adverse event in any person given the syrup.

Once the methodology for a clinical trial is worked out, the research proposal would go to a recognised Ethics Review Committee (ERC – which has secured internationally-recognised SIDCER approval). If passed by the ERC, the study would be implemented, under strict supervision, in an institution which is treating COVID-19 positives.

"If the safety and efficacy of the syrup can be validated, it can be used in the wider community and would join the armoury against COVID-19," a source said.

---

1,830 in prison cluster; 2 deaths

The prison COVID-19 cluster is 1,830, said Prisons Commissioner (Administration and Rehabilitation), Chandana Ekanayake, adding that 1,275 were active cases (all males and one staff member). Around 555 have recovered.

The Department of Government Information stated that two deaths were reported from this cluster.

---

Small clusters outside WP

With regard to COVID-19 cases being reported beyond the city of Colombo, Public Health Inspectors' (PHIs') Union Secretary M. Balasooriya said that small clusters are appearing from Kurunegala (10 cases were reported on Wednesday), Kandy (Kandy General Hospital), Akurana, Kalmunai, Chilaw, Kegalle, Ruwanwella and Hatton.

He said that the situation in Atalugama close to Bandaragama (Kalutara district) which is in lockdown is "bad" with 300 of 400 tested on Wednesday, turning positive. There was an incident where a positive person created a problem and spat on the PHIs, while he was being taken to hospital. This led to the driver and PHIs having to be quarantined.

"It is regrettable that the people in this area are not adhering to preventive measures which is leading to a spread of the virus and making this cluster grow," Mr. Balasooriya said.

When asked why there were no public announcements about some lockdowns, he said that those were small areas such as zones and Grama Seva divisions.

Referring to crowds gathering to collect the Rs. 5,000 and badumalu, Mr. Balasooriya said that under a new system, the PHIs will collect information with regard to families in home quarantine and the relevant divisional secretariat will deliver the badumalu to these families through the respective Grama Sevakas.

Meanwhile, the PHIs in Beruwela who were on strike have gone back to work on Tuesday. This follows an assurance by the Health Ministry that the MOH with whom they were facing issues would leave the area on annual transfer at the end of the year.

---

No date for airport opening

There is a plan to open the Bandaranaike International Airport, Katunayake, and Mattala Rajapaksa International Airport for tourist arrivals in a month, said Airport and Aviation Services Limited (AASL) Chairman, Major General (Retd) G.A. Chandrasiri.

No date has been set yet. The Task Force which is looking into tourism is working out the modalities, he added.

---

The numbers which tell their own tale and the need to give the city's low-income people a better deal

Colombo has a population of around 650,000 of whom little more than 50% (around 350,000) live in low-income settlements of wattes or high-rises, mainly in north and central Colombo, Borella, Dematagoda, Wanathamulla, etc.

"Twenty percent of the city's population is over 55 years of age and many of them are from low-income families," says Dr. Ruwan Wijayamuni, explaining that they have co-morbidities.

He believes that they face the "worst" of both worlds, rich and poor. In the poor world, they face malnutrition, inequities, no funds to buy supplies, low levels of education and no proper occupations. From the rich world, they have similar diseases affecting the affluent class like obesity and non-communicable diseases (NCDs) due to a high carbohydrate and fatty food diet without much protein. This is why they have a high chance of catching the virus.

"We have to break this vicious circle with socio-cultural inputs because just building them houses has not served its purpose as these houses are fairly small. Even when a house is given to a family, extended family also moves in," he says.

In a 650-sq.ft.house, there are sometimes more than 10 people living on a shift basis – some inside and others in the corridor. This is a tragedy and the government wants to build more houses for them but then there's no revolving fund, he adds.

---

No exponential growth of cases indicated through ramped up RT-PCR testing

Showing the Sunday Times a graph on his mobile, Dr. Ruwan Wijayamuni says that they ramped up RT-PCR testing to see whether with an increasing number of tests, there would be a rise in COVID-19 cases. But it did not happen and there was no exponential growth of cases.

The modus operandi as soon as a case was reported was for the Public Health Inspectors (PHIs) to do rigorous first-line contact tracing with the support of the army and the State Intelligence Service (SIS). They then subjected them to RT-PCR testing and positives were sent into intermediate care centres or hospitals and non-positives kept in home quarantine.

This was followed by random sampling,as vigilance is of utmost importance, says Dr. Wijayamuni:

n  High-risk groups such as the nattamies (which led to the closure of the Manning market after 125 of 400 tested positive) and bus, taxi and trishaw drivers. Cases began popping up after October 22.

n  People at high risk locations such as economically active 4th and 5th Cross Streets, where crowds gather from different parts of the country, to make wholesale purchases like onions and potatoes. "They could also take the virus to other districts."

As of Friday morning, there have been 7,326 cases (from the beginning of COVID-19 in the country) in Colombo city. The first wave had only 132 in the city and 7,194 cases in the second wave. These were from north Colombo (2,147); central Colombo (3,142); and Borella (1,183), while there were a few from other areas. The cases in these areas have been contained, except for a few in Wanathamulla and Dematagoda.

"We have saved east and west Colombo and Pamankada from infections, with only very small numbers being reported in Wellawatte (110 over the whole period only from Kokila and Vincent Roads)," he added.