Lockdown strategy based on scientific criteria: Ministry
By Kumudini Hettiarachchi, Ruqyyaha Deane & Meleeza Rathnayake
A few hotspots in the east with concern over Akkaraipattu marketplace
View(s):
A strong strategy based on scientific criteria on locking and unlocking areas was finalised this week by the Health Ministry, the Sunday Times learns.
"The final decision whether to lockdown or not, based on the Health Ministry strategy can then be made by higher authorities. This strategy will ensure that we don't need to lockdown the whole country but target only areas affected by high numbers of COVID-19 positive cases," said Deputy Director-General (Public Health Service I), Dr. Hemantha Herath from the ministry's COVID-19 Operations Room on Thursday.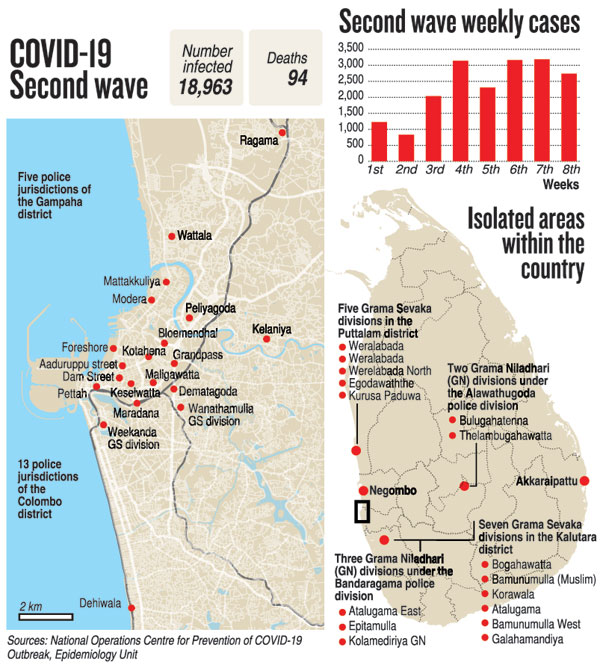 He said that then life and economic activity can go on as usual, with all safety precautions, in these areas. Locked down areas (done so to prevent people being endangered due to the spread of the virus), meanwhile, could gradually be unlocked when the numbers decrease.
When looking around the world too, the protocol when COVID-19 cases mushroom, is to 'go hard, go fast and lockdown an area to cause a circuit-breaker to disrupt the spread of the virus', it is understood.
Dr. Herath reiterated the plea that people should take into their hands the commitment to prevent the spread of COVID-19, whether in a lockdown area or not. They must restrict their movement, unless absolutely essential, while wearing face masks, performing hand hygiene and keeping a metre-distance from others in public places and scrupulously avoiding touching their eyes, nose and mouth.
"Don't go for parties or gatherings and avoid funerals unless absolutely essential," he said, stressing that those who are authorised to keep the supply lines open in lockdown areas should take extra precautions to ensure that they do not take the virus from those areas to other parts of the country.
Looking at the ground situation, Dr. Herath said that the Minuwangoda and Katunayake clusters have gone down, as also the Peliyagoda fish market cluster but the infection that has spread to the Colombo city area is only reducing "rather slowly". Wattala, Negombo and Atalugama are reporting two-digit numbers of cases, while there are also some enclosed clusters from a few workplaces.
Some hotspots seemed to be developing in Akkaraipattu, Kalmunai and Sainthamaruthu, all linked to the Colombo area with a grave concern being a marketplace where a large number of people had gathered in Akkaraipattu, he added.
A strategy challenge the ministry was facing was:
 While the ministry is ramping up RT-PCR testing (around 10,000 at least per day), it should be performed in a productive manner based on epidemiological guidance to carry out proper random sampling around the country. This should run strongly parallel and very importantly with testing to reduce the caseload of numbers in the community (on contacts traced of identified positive cases). This would ensure that people with infections are not roaming around in society, spreading the disease.
The death toll from COVID-19 hit 107 as of last morning, as Sri Lanka passed the 100th death on Friday.

Here are the other data given by Health Promotion Bureau Director Dr. Palitha Karunapema:

20,025 COVID-19 cases from the first and second waves as at 2 p.m. on Friday.
5,703 are receiving treatment currently.
There are 60 hospitals designated to treat COVID-19 patients.
13,286 RT-PCR tests had been conducted on Thursday.

Referring to speculation that state hospitals were charging a fee for the arrangements to cremate those who are COVID-19 positive, Dr. Karunapema said that there was no such charge.

Dr. Hemantha Herath added that hospitals have been provided guidelines on what needs to be done when a COVID-19 death takes place. There is no fee charged. However, as it is an emotional moment for relatives, they may be getting undertakers to provide coffins at a fee.

---

PHIs withdraw from work in Beruwela

Trouble is brewing in the Beruwela area with the Public Health Inspectors (PHIs) pulling back from their duties, alleging difficulties over working with the Medical Officer of Health (MOH) there.

This was as another issue which arose in the Gampaha district over the lack of facilities during their long working hours had been resolved. The proposed trade union action has been shelved, said PHIs' Union Secretary M. Balasooriya.

Confusion over deaths

With many complaints from people that there is confusion and chaos when a person dies outside a hospital, the PHIs' Union which is dealing with these issues at ground level said that there are delays in releasing bodies as certain procedures have to be followed, according to a circular issued by the Health Ministry.

This is due to RT-PCR tests having to be done and the results taking time to be released, said Mr. Balasooriya, pointing out that normally a test result comes within a day, but when there is a rush at the laboratories it takes about 48 hours.

He said that under the circular:

n  If a death occurs at home or hospital and there has been contact with COVID-19, RT-PCR tests have to be compulsorily conducted on the body and the family members. Firstly, the family has to inform the Grama Sevaka (GS) of the area as well as the Coroner/Inquirer into Sudden Deaths about the death. The GS, in turn, will inform the area's MOH and PHI in writing.

n  Then the MOH or the PHI will visit the home of the deceased and take his/her history – whether the deceased had any exposure to COVID-19, whether his/her home was under quarantine, whether he/she had any chronic diseases, whether any relatives were under quarantine and whether any relative had got infected with COVID-19 before. The PHI will then issue in writing what has to be done next. The family will send this document to the GS.

n  Thereafter, the GS would give instructions to the relatives and MOH/PHI as to what should be done. If the home-death has occurred in the Western Province, whether there has been COVID exposure or not, an RT-PCR test is compulsory for the deceased. The body covered in polythene will be taken in a 1990 ambulance by PPE-wearing personnel to hospital. The results of the test would be made known to the GS and if negative, the body will be released to the relatives. If positive, the body would be cremated under health staff supervision.

n  If the death has occurred outside the Western Province, the RT-PCR test is compulsory only if it is an elderly person or the deceased has had any chronic diseases or it is a young person with suspicions of being COVID-infected. The same as in the Western Province would apply to these categories.

n  If it is a sudden death (including accidents, suicides, etc) in the high-risk Western Province (with or without exposure to COVID-19), the body has to be subjected to an RT-PCR test.

Talking of numbers, Mr. Balasooriya said that even though the numbers in the Gampaha district are decreasing, those in the Colombo district are not waning. Some cases have also cropped up in Atalugama, a small area with a huge population, in the Kalutara district. This is due to people gathering together and also not adhering strictly to preventive measures.

He added that as people in the Kurunegala district were not adhering to the health guidelines, legal action was taken against around 50 people of whom around 30 were fined Rs. 10,000 each.

---

 

Rapid Antigen Tests in use in the field and major hospitals 

Around 50,000 Rapid Antigen Tests have been distributed among major hospitals as well as for testing in the field, said Dr. Hemantha Herath, adding that they were being used in the Colombo Municipal Council and Atalugama areas, as they give quick results within about 20 minutes.

The World Health Organization (WHO) donated 100,000 of 200,000 Rapid Antigen Test kits to the Health Ministry recently.

Consultant Microbiologist Dr. Bhagya Piyasiri of the Karapitiya Teaching Hospital said that Rapid Antigen Test kits help identify acute infections – the period when someone with COVID-19 is highly infectious.

Citing the case of a patient who came to the surgical ward, who was suspected of having COVID-19 as he had had symptoms a couple of days before, she said that the staff having taken all possible precautions as laid down in the detailed protocol of the hospital had performed an RT-PCR test.

"This showed low positivity as what happens is that when the sample is sent through the RT-PCR machine it multiplies the viral RNA to a detectable level. How many cycles (Ct value) it takes to detect the virus would indicate whether there is a 'low' or 'high' viral load in the patient. If it takes fewer cycles (low Ct value), the patient is considered a 'high' positive and as such, early in the infection, thereby being very infectious. If it takes many cycles (high Ct value), the patient is considered a 'low' positive," she said.

Dr. Piyasiri says that they followed it up with a Rapid Antigen Test (which came negative) and also an Antibody Test (which showed early antibodies). He had no symptoms and they deduced that he was in a convalescence stage, where the disease was resolving itself.

"We kept him for 24 hours in isolation till we informed the Regional Epidemiologist and MOH to ensure he went into home quarantine before we discharged him," she says, reiterating that the hospital uses all available resources, clinical expertise, epidemiology data and tests to prevent the spread of COVID-19, while treating patients.

---

Prison cluster dwindling & former CID Director now at NIID

The prison cluster is waning slowly, with less than 30 cases being reported per day, said Prisons Commissioner (Administration and Rehabilitation), Chandana Ekanayake, explaining that there were 821 in this cluster.

He confirmed that former Criminal Investigation Department (CID) Director SSP Shani Abeysekara has tested positive for COVID-19 at the Mahara prison. Mr. Abeysekara who was earlier at the Gallella treatment centre in the Polonnaruwa district was transferred on Friday night to the National Institute of Infectious Diseases (NIID).

The infected in the prison cluster comprises 616 males and 156 females and 49 staff members. A 79-year-old male serving a life sentence at the Mahara prison who was suffering from cancer and other illnesses had died at the Colombo North (Ragama) Teaching Hospital on November 22. An RT-PCR test after death had been positive.

This was while 113 inmates and 3 staff members have recovered.

---

 Six Infectious Diseases Hospitals (IDHs) being set up with WB fundsThe Kilinochchi Infectious Diseases Hospital (IDH), of the six proposed IDHs to be set up across the country, has been completed.

The other five are in Gothatuwa (new hospital), Hambantota (the old District General Hospital), Iranawila (the Treatment Hospital is being upgraded), Kandy (within the premises of the Kandy National Hospital) and one in the Eastern Province.

All six are being funded under Sri Lanka's 'COVID-19 Emergency Response and Health Systems Preparedness Project' set up with World Bank funds, said Director Dr. Jayasundara Bandara.

How part of the World Bank funds have been spent

The World Bank has provided a loan of US$ 128.6 million to the project under an agreement signed in April this year.

"Sri Lanka has so far got US$ 35 million of which US$ 22 million was transferred to our LKR account for medical and surgical items to be purchased under the UNICEF procurement system," says Dr. Bandara giving the breakdown on how these monies have been spent.

Rs. 1,263 million (Rs. 993m & Rs. 270m as retroactive finances) – procurements of goods, work and non-consultancies between January 1 and June 30 for hospitals and the Medical Supplies Division. These include modifications of many hospitals, the purchase of beds, mattresses and bed sheets, kitchenry items, washing machines and other medical equipment. The bills of suppliers not paid before were also settled.

Motorcycles for Public Health Inspectors (PHIs) and double cabs for Medical Officers of Health (MOHs) have been bought.
In the process of buying 60 ambulances.

n  Retroactive finances which are COVID-19 related bills the Sri Lankan government had paid before June 30 reimbursed to the Treasury using the World Bank funds. These bills are for emergency purchases such as drugs. These had included 40,000 RT-PCR kits (while a tender has been floated for another 200,000) and 150,000 Personal Protective Equipment – PPE (a tender has been floated for another 250,000).

Rs. 1,710 million(up to December 2020) – for building material and food, recreation & communication facilities (WiFi, Dialog/PEO TV, etc), cleaning and laundry for around 10,000 people in over 75 quarantine centres which are now being turned into intermediate care centres. The modifications to quarantine centres include the provision of electricity and water.

Rs. 1,233 million – for the modification of 30 hospitals including the Kilinochchi Hospital and an old hospital in Warakapola.

Dr. Bandara says that by the end of December, about US$ 42 million (around Rs. 7.7 billion at current rates) would have been withdrawn from the loan.

With regard to a grant of US$ 1.72 million provided by the World Bank in late June as the 'Pandemic Emergency Financing Facility', he said that it is specifically for procurements under the four areas of epidemiological surveillance, mental health, gender-based violence and risk communication.

Epidemiological surveillance – to implement the E-notification system for notifiable diseases including COVID-19, linking all hospitals with the MOH offices.

Mental health – improvements to the National Institutes of Mental Health in Angoda and Mulleriyawa and other psychiatric units and rehabilitation centres around the country. The mental health helpline (1926) will be upgraded.

Gender-based violence – for communication material under the 'Mithuru Piyasa' of the Family Health Bureau.

Risk communication – in a programme to be implemented by the Health Promotion Bureau.