DMT hotline to pacify customers
View(s):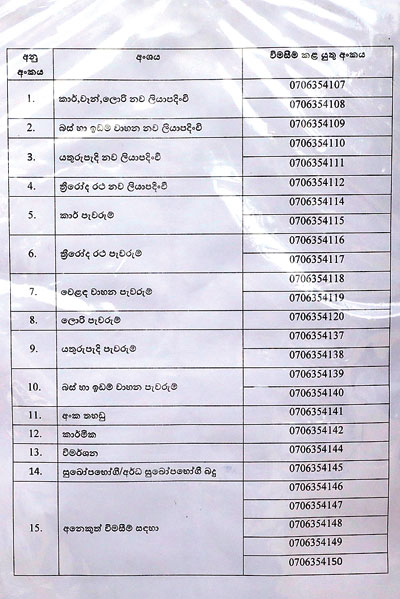 The Department of Motor Traffic (DMT) will set up a hotline connected to a call centre following a flood of complaints from frustrated motorists trying to get through on busy existing phone lines.
This week, the department introduced about 20 mobile phone numbers to allow people to make over-the phone appointments prior to arriving at the DMT headquarters, which reopened on Monday in Narahenpita with limited staff.
"By Wednesday, complaints started flooding in about the phone lines being busy, so we conducted trials with Sri Lanka Telecom to introduce a separate hotline number connected to a call centre facility to speed up the process," Motor Traffic Commissioner Sumith Alahakoon said.
Until the new hotline is up and running, call these numbers to make an appointment for new registrations and transfers:
Cars, vans, lorries: 0706354107 or 0706354108
Buses and land vehicles: 0706354109
Motorbikes: 0706354110-11
Three-wheelers: 0706354112
Car transfers: 0706354114-15
Three-wheeler transfers: 0706354116-17
Commercial vehicle transfers: 0706354118-19
Lorry transfers: 0706354120
Motorbike transfers: 0706354137-38
Buses and land vehicle transfers: 0706354139-40.
For appointments about number plates, call 0706354141.
For inquiries or complaints about technical matters, investigations, luxury/semi luxury taxes, call 0706354146-50.
Commissioner Alahakoon said the decision to re-open the Narahenpita office with limited staff was to help the public.
"There is a need to clear the backlog at the head office, especially on vehicle transfers," he said. It took two months to clear the previous backlog from the first COVID-19 country-wide lockdown."
Mr. Alahakoon said DMT district offices in Jaffna, Anuradhapura, Kurunegala, Gampaha, and Hambantota will continue dealing with services related to vehicle transfers.
According to the Ministry of Transport there were 367,303 new vehicle registrations, and 675,018 vehicle transfers. Last year, 313,644 new driving licences were issued.