Appreciations
View(s):

The light he lit will shine bright even in years to come

Dr. P.H.D.H. De Silva

The nation lost one of its brilliant sons when Dr. P.H.D.H. De Silva left us last week at the age of 93. An outstanding scientist, he had committed himself to the preservation of our heritage and maintaining our ecosystem through his pioneering studies of  the reptile and annelid kingdom. Though he was a prominent personality, he was very simple and endearing to those who came to know him. Yet, he held strong views on matters of concern to him and never hesitated to express them in many letters and articles published in newspapers.

He had a brilliant mind and was an internationally recognized scholar with a trove of publications and became the second Sri Lankan appointed to the prestigious position of Director of the National Museums.

He carried out extensive research in a variety of fields, from reptiles to fauna and the ecology of bees in Sri Lanka. He published extensively on these subjects and became a legendary herpetologist who was recognized internationally.

He hailed from Ambalangoda, completed his early education at Dharmasoka College and entered the University of Ceylon as a science student. On graduation, he was appointed as a lecturer in the Faculty of Science at the university. In due course, he went to the U.K. on a scholarship and obtained a Ph.D in "Taxonomic studies of Marine Annelids" for his research carried out under the renowned Prof. E.W. Knight-Jones of the Department of Zoology, University College of Swansea, Wales.

Dr. De. Silva was appointed as Assistant in Zoology in the Department of National Museums in 1951. He later functioned as an Assistant Director until he was appointed Director in 1965.

The Colombo National Museum will soon celebrate its 150th anniversary. What began as a collection of antiques in a dilapidated old building that housed the Royal Asiatic Society's (Sri Lanka branch) library has today become one of South Asia's best museums. The credit for establishing the Museum goes to Sir William Henry Gregory, the island's British Governor, a scholar of repute who realized the urgent need and despite financial constraints succeeded in establishing the Museum in a massive two-storeyed building in Colombo 7 where it still remains today.

The early administrators of the Museum were all Europeans. The first Sri Lankan to hold the post was Dr. P.E.P. Deraniyagala, an anthropologist of great repute.  Dr. P.H.D.H. De Silva became the Director in October 1965, heralding a new era in museum history. As an expert chronicler of artifacts, he arranged to exhibit all items, according to classification, thereby providing greater opportunities to access the Museum's information. He organized seminars and issued publications to educate schoolchildren and the public. The museum publication `Singithi' was especially meant for children.

The establishment of the Anuradhapura Rural Museum and Zoology Branch and the Natural History Section of the Museum are among his many achievements.

Dr. De Silva also took steps to instal an alarm system to provide security for the Kandyan throne. During one of my visits to see him at the Museum, he explained the reason relating a well-known story about the Museum's most prized possession, the throne of the last King of Ceylon Sri Wickrama Rajasinghe . The story revolved round an amusing incident involving a person of unsound mind. Apparently, this visitor, noticing that one could enter the throne's glass enclosure, went and sat on the throne, claiming that he was its rightful heir. He refused to budge from it until the police forcibly removed him and packed him off to the Angoda mental asylum.

When Dr. De Silva came to New York to catalogue Sri Lankan antiquities at the Natural History Museum, he resided in an apartment next to the Museum on Central Park West. There, I visited my cousin Hemasiri, whom I had looked up to as a role model while growing up. During those frequent visits, I became familiar with his work and his wife Chandra's delicious cooking.

He ensured that every nook and corner of this world-famous Museum were examined, including hundreds of items stored away in the Museum basement. He visited 140 institutions in 27 countries to gather information on antiques and archaeological treasures taken from Sri Lanka. Based on his arduous work, he published an invaluable catalogue of all such items belonging to Sri Lanka abroad in 1974 entitled: 'A Catalogue of Antiquities from Sri Lanka Abroad.' These included intricately carved cannon on wheels on display at the Amsterdam Museum. This artillery piece belonged to Leuke Dissawe (local Governor in the Kandyan Kingdom and a confidante of the King who was left behind to meet the British when they came to negotiate a treaty in 1800 when the King fled Kandy temporarily). A miniature model of this gun is on display at the National Museum, Colombo.

In 1977, on the 100th anniversary of the Museum, he also published a catalogue of holdings at the Museum (he listed that it had 93,647 antiques and archaeological treasures and 2603 anthropological models and that the number of coins had increased from 499 (in 1877) to 83,405 while the number of books and other publications had risen to over 500,000). When he finally retired, he left an indelible mark .

On his retirement from the Sri Lanka Museum, Dr. De Silva spent time working as an international consultant in Saudi Arabia and Libya enriching the museums in those countries and returned to Sri Lanka to spend his golden years continuing his research and writing at leisure.

He married Chandra Silva from Matale 66 years ago in October 1954. She was a tower of strength to her husband. She looked after his every need, providing him the freedom to spend long hours at work, carrying out extensive research, and working on his many publications. They have three sons, Ranil, Raj and Rukamal, two grandchildren and two greatgrandchildren.

Some bring a light so great to the world that even after they have gone, the light remains, and though Dr. De Silva is no more, his legacy will endure.

Nandasiri (Nandi) Jasentuliyana
---
To a 'fun person' who could laugh like no other!
Indy Perayerawar
Indy Perayerawar first came into my life when I married his lifelong friend Ralph in 2000. I had heard of him, but I didn't know that his long stint in UK made him change his well known name "Pera" to "Indy".
Ralph had told me that Indy has married a Scottish lady, Elma, and that he and Elma had spent a somewhat delayed honeymoon at his estate bungalow in Gampola.
Indy and Ralph had both been doing athletics and playing rugby at Royal College, and had become close inseparable friends ever since. Finally, when Indy retired from his job in UK, and bought a flat in Royal Park Condominium, it was the icing on the cake as far as their friendship went. Indy came ahead of Elma to Sri Lanka, and when I did meet her, I knew from day one, that we were on the same wavelength. Elma and I got on like a house on fire, and she was of invaluable help to me in the Cathedral English Classes, where week after week she taught the children of the minor staff of the Cathedral.
Elma also helped me in innumerable ways by being on the Board of Management of St Andrew's Home for Elders, for about six years.
I enjoyed visiting Indy, or inviting him home for a meal, for he was such a 'fun person' and laughed and laughed while relating a story. He had many anecdotes full of humour from his schooldays to the most recent stages of his life. By the time the punchline had arrived, Indy had burst into a hysterical laughing fit, and he laughed uncontrollably, so that at the best of times we could never gather what the real end of the story was.
Indy had no enemies, and took life 'on the bump'.  I have never heard him talk ill of anyone, even though they may have been unkind to him in the dim past. Many of his cricketing friends, who were now common friends, talked about that famous catch that he dropped in the Royal Thomian Match of 1960 (!!!)  Judging by Indy's reaction to these jibes, it was obvious that he didn't take life seriously, and as I said before, took life on the bump!
He went back to Elma to breathe his last on September 4 this year, and I was happy to hear from Elma, that he had quite a 'jolly' funeral. He would have been so happy at the funeral arrangements made by his daughter Shirani, who gave him the departure that he so wanted, with the Royal College song being played during his journey to the crematorium.
Dr.  Sriani Basnayake
---
Her work in school went beyond the walls of the classroom and normal school hours
ANNIE MARGUERITE GUNASEKERA (NEE BLAZÉ)
It is twenty years this year, since my mother Annie Marguerite Gunasekera, usually known as Marbit Gunasekera, passed away. This is the tribute paid to her at her funeral service, on September 8, 2000, by the late Mrs. Shanthi Peiris, former Principal of Methodist College -Nelun Chrisanthi Gunasekera
We have gathered here this afternoon to praise God and give thanks to Him for the life and service of Annie Marguerite Gunasekera, nee Blazé, and "Marbit" to most of us.  Although we shall no longer see Marbit with our physical eyes, her presence will always be visible to the eyes of our mind. Her memorial will remain with us forever, but very specially with Lakshman, Nelun and Rohan, whose lives she touched with such an outpouring of love, kindness and gentleness.
Twenty centuries ago, a certain woman broke an alabaster jar of costly ointment and used it to anoint the feet of our Lord.  It is recorded in the Bible that "the house was filled with the fragrance" of this precious perfume.  While Marbit was among us, the service she offered to her Lord was similar.  We saw her life outpoured in silent, humble, devoted service expecting no reward.  The fragrance of her service will continue to refresh us for years to come.
Marbit was the only child of her parents, Fred Blazé, Crown Proctor, Badulla, and Mrs. Nell Blazé.  She always considered Badulla to be her hometown.  She was a student at the Badulla Girls' High School, but to prepare for the University Entrance examination, she joined the Girls' High School, Kandy. Both schools belonged to the Methodist Mission. Girls' High School, Kandy found in Marguerite Blazé a truly brilliant student who excelled in her studies.  She was awarded the Gold Medal for English Essay twice during the two years she spent at High School. She then entered the University of Ceylon in Colombo, where she read English for her degree and passed the finals with 2nd Class Honours.
My memory takes me back to 1950 when I was in Form V – the S.S.C. Form – when three young Arts Graduates brimming with enthusiasm joined the tutorial staff of Methodist College. One of them was Marbit Blazé – the new English Teacher for the University Entrance Form.
From 1950 right up to her passing away two days ago (September 6, 2000), she maintained an unbroken link with the school.  From 1950 – 1962 she was a Teacher, from 1963 – 1987 she was Vice Principal, after retirement in 1987 she served as a part-time Teacher, and when finally, she gave up teaching she remained a very loyal member of the Old Girls' Association.  It must be mentioned that Mrs. Marbit  Gunasekera functioned as Acting Principal in 1967. For a full half century, she kept alive a close link with the school.  When I visited her at the Asiri hospital a few days ago, she spoke to me about the play that the school hoped to present and inquired after certain old girls.
She loved her students, and they, in turn, loved her and held her in high esteem.  Marbit was an excellent teacher of English. Her pupils adored her not merely for what she taught them in order to face public examinations, but also for the kind of person she was.  Her simple and modest life style, her sincerity, her high sense of integrity and devotion to duty were qualities greatly appreciated by her students, colleagues, and parents as well.
Her work in school took her beyond the walls of the classroom and beyond normal school hours.  She helped with Music and Singing, Drama, Oratory and Debating. She trained many a girl to take part in Inter-School contests where several of them won awards.  Year after year, the Prologues recited at the school prizegivings were composed by her.
Mrs. Gunasekera helped to maintain discipline, especially in the Upper Forms of the school.  Although her voice and ways were generally gentle, she did administer stern reproofs when they were necessary. We found in her a person of physical, mental and spiritual strength.  Even as she lay on her hospital bed, with a terminal illness, completely dependent on others, yet, in another sense, she was strong.
When she led the morning devotions for the Christians in this Church (Methodist Church, Kollupitiya), there were three themes she often used:
1. Praising God for His gifts to us.
The hymn she would choose for this theme would be:
"Let us with a gladsome mind
Praise the Lord for He is kind"
2. The one body with many members.
The hymn then would be:
"Christ from whom all blessings flow"
She would specially draw our attention to the following verse:
"Sweetly may we all agree,
Touched with loving sympathy:
Kindly for each other care;
Every member feels its share."
3. Service to those in need, and the hymn would be:
"Where cross the crowded ways of life."
Having listened to what I have said so far, perhaps you may imagine that Marbit was so involved in the school that her family and home were neglected. No. That is far from the truth. In no way did she neglect her duties at home.  Her husband Ben, the three children, and later her grandchildren, were all cared for very tenderly by her.  Lakshman, Nelun and Rohan were the three jewels in her crown.  She gave her all to them.  I may even say she sometimes did too much for them.  All three of them owe much to their dear mother for their present positions in life.  Her domestic helpers and their kith and kin received her care and attention, especially during times of sickness.  Then, there were the cats and the dogs she loved very dearly.  She would often carry home an injured cat or dog to nurse it.  During school vacations she would make a special trip by bus to school with food for the cats as the hostel was closed.
I wish to conclude my humble tribute to my dear friend and colleague by using a few verses from 1 Corinthians, Chapter 13, but substituting "Marbit" for the word "love".
'Marbit is patient and kind. Marbit is not jealous or boastful. She is not arrogant or rude. She does not rejoice at wrong, but rejoices in the right. Marbit bears all things, believes all things, hopes all things, endures all things.'
All praise and thanks be to God for giving us such a wonderful person as Marbit.
Shanthi Peiris
---
When times were good or rough Thaththi was always there for me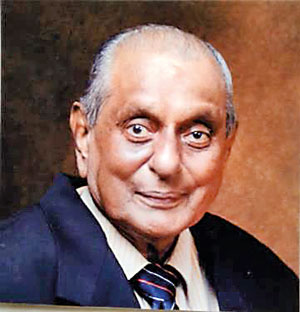 MARCELLINE COLIN OPATHA
My thaththi didn't tell me how to live
He lived and let me watch
He never looked for praises
But perfection – he  took it up a notch
He was never one to boast
He let his work do the talking
For the ones he loved the most
He did his part without slacking
His dreams were seldom spoken
His wants were very few
And most of the time his worries went
Unspoken too
Thaththi was there – a firm foundation
Through all my storms of life
A sturdy hand to hold on to
In times of stress and strife
A loving soul, I could turn to
When times were good or rough
A great blessing he was to me
A "gentle man" yet so tough.
Kshiara
---
Always a picture of elegance she was no ordinary doctor

Dr. Theodora Munasinghe
The death of Dr. Theodora Munasinghe brought to an end an exemplary life sincerely dedicated to the welfare of others and pursuit of  happiness through meditation and inner life transformation. She was no ordinary doctor. While remaining faithful and committed to her professional calling, she also explored alternate health systems and spiritual life (yoga and meditation), and travelled overseas to meet reputed yoga teachers.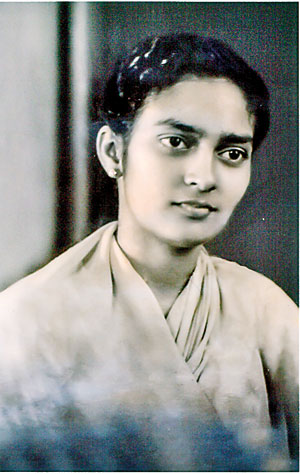 Dr. Munasinghe ('Dora') passed away peacefully on January 22, 2019 at her residence in Dehiwala. She was 94 years old. She was born on November 22, 1924.  She was my aunt (my mother Muriel Weeraratna's younger sister).
The daughter of Don Elaris Weerasiri and Nancy Weerasiri, her paternal grandfather was Don Theodoris Weerasiri, who ran a jewellery shop called 'Don Theodoris' in Chatham Street, Fort. The name 'Theodora' was given to my aunt in memory of her paternal grandfather.
Her maternal grandmother was Cecilia Thenuwara, a wealthy landowner who donated the land and built the temple widely known as 'Ode Pansala' later renamed Sri Lanka Maha Pirivena. It is presently situated at Vipulasena Mawatha, Maradana.  The Thenuwara and Weerasiri families were the chief dayakayas of the 'Ode Pansala' for a long time.
Theodora studied at St. Bridget's Convent, Colombo before entering the Colombo Medical Faculty and graduating in 1950 with an  MBBS 2nd Class Honours.  She also acquired a Diploma in Tropical Medicine & Hygiene (DTM&H) from the University of London in 1960. She served as a Doctor in Kurunegala, Avissawella, at the Castle Street Maternity Hospital, Lady Havelock, Lady Ridgeway and Durdans (short stint) hospitals and finally at the Colombo Municipal Council medical clinic.
Theodora married Douglas Munasinghe, a Chartered Accountant and Director (Finance), Associated Newspapers Ltd. in 1952. They had three sons Daljit, Priyaraj (P.L.) and Nissanka, all of whom attended S. Thomas' College, Mount Lavinia. Daljit and Nissanka both died in tragic circumstances.
Priyaraj, popularly known as 'P.L.' was the school head prefect. He excelled in sports and captained the S. Thomas' College Rugger Team (1975) that in July 1975, came from behind to beat the favourites Royal 8–3 to win the Michael Gunaratne Trophy. Priyaraj scored the two match-winning tries in this Royal Thomian encounter. He won school colours in both Rugger and Athletics and represented Sri Lanka at rugger as a schoolboy. He later played for Havelocks Sports Club.
Douglas and Dora commenced their wedded life in the early 1950s  in a house in Hendala, Wattala  and in the mid- 60s, moved to 'El Retiro', the refurbished ancestral home of  Douglas Munasinghe, on Galle Road, Dehiwala. It  had belonged to Douglas's father Mudliyar Rommel Munasinghe who was a senior administrator of the Dehiwala – Mount Lavinia Urban Council. He was the first Secretary of the Dehiwala – Galkissa Municipal Council.
Douglas passed away in 1978 at the age of 55 years in this house.
Aunty Dora's eldest son Daljit married Ruth in the early 1980s. They had two children, Badrajith (nicknamed 'Baji') and Tanya. Aunty was particularly fond of her grandson Baji, whom she took on a tour of Egypt. Daljit had another son Thilan from a second marriage to Geetha from Anuradhapura.
Priyaraj married lawyer Vajira Cabral in October 1980 and Aunty Dora hosted a splendid reception for the couple at 'El Retiro'. Aunty Dora looked the epitome of elegance and was undoubtedly the happiest mother on that day. Priyaraj now lives in Fiji as a CEO of a leading group of companies.  They have two children, Natasha and Prayaga, both of whom are now in Australia.
Aunty Dora stood out among her relatives and close friends. She was tall, slim and beautiful, always neatly dressed.  At the Medical College she was highly admired for her good looks and elegance. My mother used to tell me that whenever Aunty Dora arrived at a function, she had overheard excited young suitors saying to each other 'Dora has come. Behave'.  She was the most beautiful of the 12 children born to her parents.
She was our family doctor. She used to visit our residence regularly and was a great source of strength to us in many ways.
Upon retirement, Aunty Dora turned towards a spiritual life. She joined the Teachers' Travel Club, attended meditation retreats and travelled widely making several pilgrimages to India.
Aunty Dora used her skills as a writer occasionally writing letters to the Editor of newspapers to contribute to the public discourse.
The passing of Aunty Dora was a very sad loss to all of us.
May she attain the Supreme Bliss of Nirvana.
Senaka Weeraratna