Final rites of Ramanna Nikaya Chief Prelate today
View(s):

The final rites of the Chief Prelate of the Ramanna Nikaya, Ven Napana Premasiri Thera, will be held at the Bandaranaike National School Grounds in Warapitiya, Kundasale under State patronage today (22).

Issuing a condolence message, President Gotabhaya Rajapaksa said the demise of the thera was an irreparable loss to all Buddhists around the world. His service to the Buddha Sasana and the country was immense. He was a true disciple of the Buddha who followed in the footsteps of his Bhikku teachers and dedicated his entire ordained life to disseminate the Buddha Dhamma here and abroad, the President pointed out.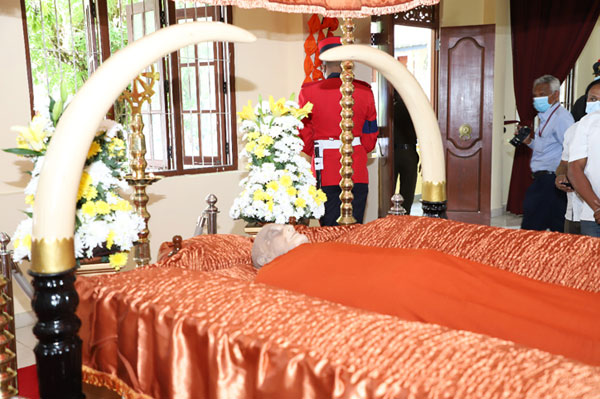 The remains of the late Chief Prelate were at the Hurikaduwa Vidyasagara Maha Pirivena, where a large number of people were able to pay their respects. The Thera passed away at the age of 98 while being treated at the Peradeniya Teaching Hospital.
Ven Napana Premasiri Thera was the 13th Mahanayaka of the Ramanna Nikaya. He was appointed as the Chief Prelate of the Sri Ramanna Maha Nikaya on September 3, 2012. Ven Premasiri Thera also held the position of Adhikarana Sangha Nayaka of Ramanna Maha Nikaya. Born on January 20, 1923 at Napana in Kandy, he entered the order on July 8, 1933 as Ven Napana Premasiri under the tutelage of Ven Theriphe Seelawansa. He received higher ordination in 1943.