Plant and earth barriers to help deter elephant intrusions
By Jayani Madawala
View(s):
With more than 170 elephant deaths and about 60 human deaths, reported so far this year, the ravages of the human-elephant conflict has gone unnoticed due to the many months of lockdown due to the coronavirus pandemic, environmentalists say.
Sajeewa Chamikara, environmentalist and director of the Environmental Conservation Trust, said the deadly conflict is mainly a result of habitat loss and fragmentation.
He said forests are being cleared by farmers and food and water sources of elephants are being eliminated. These are the main reasons for elephant invasions into human habitats.
"We should focus on habitat fragmentation to mitigate the conflict," he said.
The forests have been reduced due to large-scale development projects. As a result, the living condition of the elephants has been severely fragmented, Mr Chamikara said.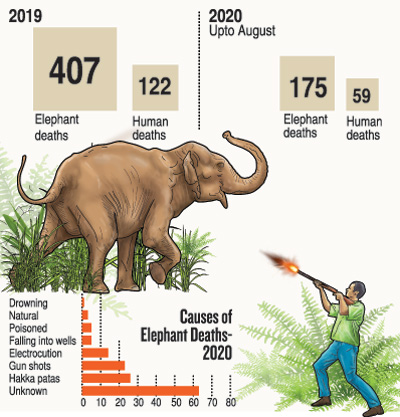 "Adding the protected areas into a network will be a good approach as it's been fragmented constantly.''
Large-scale cultivations such as sugar cane have resulted in natural habitat loss for the elephants, he said.
Invasive plants could potentially reduce the vegetation for elephants.
Plants such as guinea grass, lantanas, have spread in Lunugamvehera, Maduru Oya, Udawalawe National Park, Gal Oya and Maduru Oya sanctuaries. Elephants could be dispersing because of invasive plants in their habitats.
Another major reason is that protected areas are unable to ensure the sustainable conservation of these beings. The protected areas must be developed by improving habitat conditions.
Only then can the safety of elephants and humans be ensured.
"2019 is the year where the most number of human elephant conflict incidents have been reported," Mr Chamikara said.
People living in elephant dwelling areas should not send their cows to graze in the jungle, because it would make elephants come to the area where people live in search of food," Mr Chamikara said.
In the Maha season villagers cultivate and then during the Yala season there will be food for the elephants.
Now, the chena cultivation has changed to high-tech mixed mono cultivation.
Starting with sugar cane, corn has evolved. There is very little food for elephants in undisturbed forests. So the pattern has been disturbed and it also has an impact, Mr Chamikara said.
"As a remedy for the conflict, bio-fencing would be an animal-friendly, sustainable, cost effective tree planting programme. Bio fencing is a good cost effective and eco-friendly solution for this problem. Jute and peanuts are less favourable plants of elephants. They dislike even the smell of those plants. Also , a 'fence' of palmyra trees is starting to yield success. In bio fencing methods, such plants are grown closer to the electric fences, to discourage elephants from crossing the boundaries," he said.
According to the Wildlife Department, 59 people have been killed as of August this year, while 122 people were killed last year.
Also, 175 elephants were killed by August this year, while 407 elephants were killed last year.
Elephants have been found dead due to various reasons, including because of humans.
The use of 'hakka patas', poisonings, shootings, and also due to electrocution, along with natural causes.
Parami Vidyarathana, an environmentalist, said there is a slight decline of incidents this year compared with the previous year but the situation has not changed.
Mr Vidyarathna said elephant migration routes should be identified and managed.
Identifying corridors that account for the ecological needs help to prevent the human-elephant conflict by providing elephants additional routes for seasonal migration and assisting ranging behaviour for food and water.
"An elephant holding ground is seen as an option hence it was a trial and error experiment as it is being poorly managed by the authorities," he said.
State Minister of Wildlife Protection, Adoption of Safety Measures including the Construction of Electrical Fences and Trenches and Reforestation and Forest Resource Development, Wimalaweera Dissanayake, said the human-elephant conflict continues.
Electric fencing no longer works.
"We need to ensure the corridors are properly established so that not only elephants but other wildlife too are allowed to remain within their habitats," he said.
Bunds are being proposed as barrier to prevent elephants from crossing into cultivations. If the top surface of these bunds are paved they could also serve as roadways .
It is expected that a system of trenches, bunds and embankments will minimise or even help mitigate elephant raids,
This is being tried out in Ampara, Udawalawe and Galgamuwa, Mr Dissanayake said.