Portrait of a gracious lady
Yomal Senerath-Yapa writes on Sagarika Dissanayake's new book in Sinhala- Elena Jayawardene: Charithayaka Kathawak
View(s):
Elena Rupasinghe was the richest heiress in Ceylon of her time. At age 23, she would wed the man who went on to become Sri Lanka's first Executive President- J.R. Jayewardene- and could have become a society hostess who dominated Colombo's glittering receptions.
Instead, Elena chose relative obscurity. This, together with her graciousness, kindness, simplicity and generosity, would make her a much-loved First Lady and also the most publicity-shy.
Elena was a river that ran in shadow- and Sagarika Dissanayake's new book in Sinhala- Elena Jayawardene: Charithayaka Kathawak- coaxes out something of this demure debutante and gentle wife and mother.
Sagarika, currently attached to the Dinamina newspaper, was a former business editor of the Silumina and has completed 31 years in journalism. A graduate of the University of Kelaniya, she was a visiting lecturer in linguistics at the Sri Jayawardenepura University.
She has authored seven books including Punchi Kale Man, stories from her childhood, a guide to using western medicine and a guide to spices.
The author confesses to a mystique about Elena that pulled her and this slim volume is the product of mining many records and fast-dwindling personal memories.
Elena comes across as a very simple person despite the fabulous legacy of the Rupasinghes (her paternal family) and the Sooriyabandaras (her mother's side) with vast tracts of land stretching from Dehiwela to Cinnamon Gardens and from Colombo Fort to Kelaniya.
The personal recollections of family, neighbours and retainers are vivid, fond, candid and deeply touching, including those of her grandsons and daughter-in-law Charmaine Vanderkoon. The domestics' reminiscences- with faithfulness as well as the spice of the 'downstairs' gossip- are revealing.
Among other things there is ample evidence of the rift between Elena and Ravi (the Jayawardenes' only son) – a sad antipathy on his part which gets explained in several contexts.
Elena remains, as her favourite grandson Pradeep Jayewardene in his foreword says, an "example not only to all women, but to society in general- and politicians in particular".
Despite preferring a backseat, as First Lady, Elena worked quietly and resolutely. She gave away much of her ancestral land for the homeless and helped the poor.
It was she who founded the Women's Bureau of Sri Lanka and the Seva Vanitha Movement. Yet much more curious is how her political prescience helped her husband and indeed the UNP.
One anecdote has how J.R. and a UNP stalwart were discussing a possible new leader for the party- while driving to the family's seaside resort at Mirissa. Having sat through the ride listening, Elena for once made an interjection.
"Dickie, I never interfere with your politics- but I have a suggestion to make here. The leftists already clamour that UNP stands for the Unge Neiynge Pakshaya (Their Relatives' Party). If you get one of these gentlemen you consider- it will be taken as further proof that you are a party for the rich".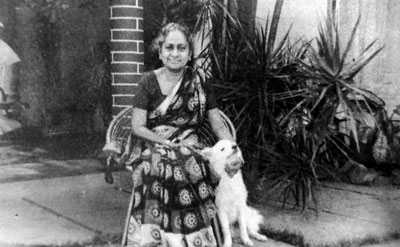 The name she then astutely suggested in their stead (and to which her husband wisely acquiesced) was that of R. Premadasa.
The portrait that gets painted is not of a dowager with a Pekingese but a maternal woman who loved the home and the hearth, who fulfilled her domestic role with great dutifulness and humility, even subduing a formidable intellect.
One feels tender-hearted reading grandsons Pradeep and Rukshan's ode to the grandmother who brought them up. So terrified was she that they would injure themselves with their escapades climbing trees and roofs at Braemar, Ward Place she would be constrained to slap them. "But I was aware even then that this hurt her soft delicate palm more than it would ever hurt us," says Rukshan.
Being tutored alone with British governesses in the schoolroom, Elena rarely opened up to anyone- but her heart readily did. This book whets the appetite for a fuller biography that would explore this extraordinary woman more.