Islandwide crackdown reveals network of illegal weapons, drugs and secret accounts
By Damith Wickremasekara
Operations launched under special unit set up under supervision of Senior DIG Deshabandu Tennakoon to intensify
View(s):
Crime Syndicates operating countrywide held over 100 illegal weapons, carried out drug sales and held secret bank accounts, a senior police official revealed yesterday.
Deshabandu Tennakoon, Senior Deputy Inspector General of police said this came to light after 400 members from 25 different groups were identified.
He said these operations will continue.
The operation which was in progress for the past eight months has resulted in the detection of more than nearly 300kgs of heroin, over four million kilos of cannabis and over 19 million litres of illicit liquor. Nearly 100 weapons including 64 locally made guns too have been recovered.
As part of operations against organised crime, illegally collected sand, soil and timber too have been recovered along with the vehicles used to excavate or transport them.
"Soon after President Gotabaya Rajapaksa was elected instructions were given to crack down on those involved in organised crime, drug trafficking and illegal weapons. The operation was launched with the coordination of the Defence Ministry," Senior DIG Tennakoon said, adding that a special operational unit was launched under his supervision.
"We appointed a police officer from each station to provide us information on organised crime and drug dealings. So far most of these operations were carried out by individual units. Now we get information from all these units as well," he added.
One of the key features of the operation was to trace the links of the gang members and find out their bank transactions and other dealings.
He said instructions were given  to keep a track on persons linked to criminal activities,  those who are regularly in and out of remand prisons and those with links to them.  

"There was clear evidence that people operating outside had close links with those inside prisons or in remand custody. Those inside prisons were involved in organising criminal activities such as murders, extorting money, robbing vehicles, forcibly occupying lands and trafficking drugs," he said.
He said during the operation, they were able to trace some officers in prisons and even in the Police maintaining links with criminals. "It is because we monitored them regularly that we were able to track down their links," he elaborated.
The Officers in Charge of police stations were given directions to arrest those persons who were identified.
Investigations revealed that as much Rs 2.6 billion were in circulation in the accounts of the organised criminals, while 81 vehicles used by criminals have been taken into custody.  Most of the money is believed to have been earned by sale of narcotics including Heroin.
A string of cases have been detected. In one, two suspects who were nabbed in Moragahahena area in Horana along with 1.2 kilograms of heroin  led to one of the chief suspect Kariyawasam Gamage Janaka Prasad alias Mervyn Jana. He was making arrangements to supply the drugs and in turn money was being deposited to his account. The monies earned had been shared among Mervyn Jana's wife, sister, his illegal wife, the domestic aide, a former bank officer and another associate.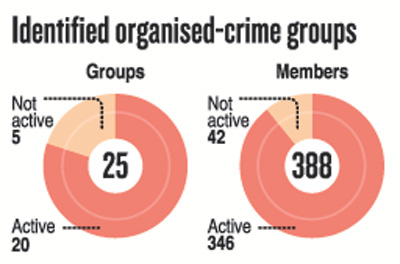 Transactions in accounts related to Mervyn Jana's 'drug dealings showed that Rs 725 million had been transacted in these accounts. But only Rs 3.9 million remained in the accounts while 31 accounts had been suspended.
Investigations also showed other high sums transacted among alleged drug dealers. But monies from some of these funds had been withdrawn. (Please see graphic for details on money transacted and the current amount in the accounts)
Investigations reveled that some of the bank accounts were operative for more than nine years.
The majority of the bank accounts were operative in Nugegoda, Mount Lavinia and the Gamapaha Police division areas.
Senior DIG Tennakoon said that one of the key features in the operation was to dismantle the network of those dealing with drugs and organised crime.
He said that the change in the method used to crack down on organised criminals and drug traffickers had helped to get detailed information of their networks.
"We have also instructed the police to continue  followup cases of major drug detections as they may be able to find out more information about major drug dealers," he said.
He said in one instance tracing back a drug distribution network  revealed that a person who buys 10 grams of heroin re-packets them into 40mg packets and sells them for Rs 100,000.
The operations are expected to intensify.