Eco Spindles restores beauty of Ruhunu Kataragama Maha Dewalaya environs, collecting 2,306 kg of plastic waste
View(s):

For thousands of Sri Lankans, the Ruhunu Kataragama Maha Dewalaya and surrounding areas are the gateway to spiritual practice. Exhibiting a deep care and concern for the environment and helping to keep the sacred site clean, Eco Spindles (Pvt) Ltd renowned for its pioneering pathways towards recycling plastic waste, organised a clean-up at the pilgrim site recently. Notably, this programme is an annual project initiated in 2014. Eco Spindles is a subsidiary of BPPL Holdings PLC.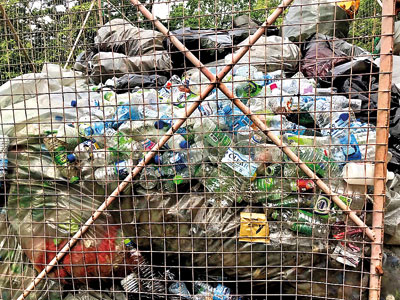 The programme which took place from July 21 to August 4, engaged more than 50 volunteers from the 'Soba Parisara Thurunu Samajaya', a local youth society, and other local communities who actively supported the clean-up efforts. Eco Spindles team members also participated helping to ensure the area was restored and completely in harmony with nature.
Due to Covid-19 and following social distancing regulations, a reduction in the number of pilgrims visiting the site was evident in comparison to previous years. However, the Eco Spindles team was able to efficiently collect 80,710 bottles, amounting to 2,306 kg of plastic waste
"Rooted in our company's values is environmental ethos and sustainable manufacturing by recycling plastic waste. Programmes such as this reinforce our commitment to reduce plastic pollution. We work to ensure that PET bottles collected never become waste but are recycled to re-enter the economy as components of value-added products. Thereby we lead the charge in impacting the environment in a positive manner and also contributing to a circular economy on a national scale," said Dr. Anush Amarasinghe, Managing Director/CEO BPPL Holdings PLC.
BPPL Holdings (www.bpplholdings.com), operating in Sri Lanka since 1986, is a pioneer in creating eco-friendly products and one of Asia's largest producers of cleaning tools. Eco Spindles (www.ecospindles.com) as part of the group leads the way in recycling plastic waste to produce textile polyester yarn for fabric and mono filaments for brush manufacturers. Beira Brush (Private) Ltd (www.beirabrush.com), another subsidiary of the group manufactures a range of brushware including professional and household cleaning tools exported worldwide.