The Trojan Women Popular play of the decade
View(s):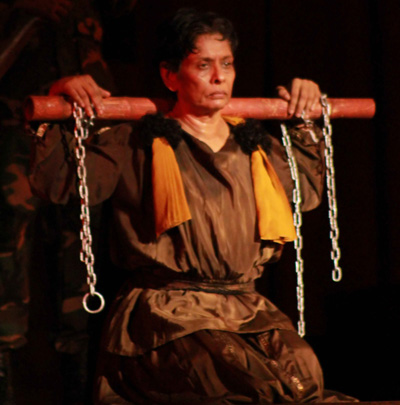 Dharmasiri Bandaranayake's award winning play "Torjan Kanthawo" or "The Trojan Women" will be staged at 3.30 p.m. and 6.30 p.m. on today, September 6 at the Elphinstone Theatre, Colombo 10.
Inspired by Euripedes' Grecian classic "Trojan Women", the play won 12 awards at the State Drama Festival in 1999. The play was considered as one of the most popular plays in the decade.
Featuring veteran actress Anoja Weerasinghe, Yashodha Wimaladharma, Meena Kumari, Charith Senanayake and a host of others – 'The Trojan Women'  is set in the background of the fall of Troy, with all it's attendant suffering of the families of the city's defeated leaders, in particular the old Trojan Queen Hecuba and the other royal women. Women were the most affected having to undergo untold hardships. Andromache's son Astyanax is taken from her and hurled to his death from the walls of Troy. Finally as Troy goes up in flames, Hecuba and the other Trojan women are carried off to the ships to face slavery in Greece.
All seats are box planned and tickets now available only at the theatre. This special show is organised by Jude Srimal.