We have a mission Even in Acting- Nita
By Susitha Fernando
Internationally awarded Nita Fernando of "Paangshu"
View(s):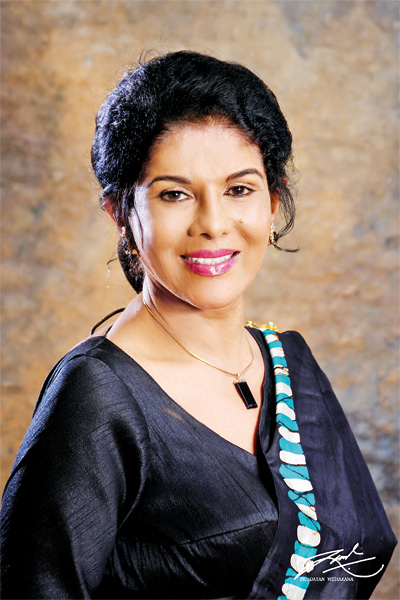 Versatile and international award winning actress Nita Fernando who acted in Prasanna Vithanage's 'Pawuru Walalu' (Walls Within) has come up with yet another unforgettable role of a courageous mother, a lower cast washerwoman who fights to find her abducted son in Visakesa Chandrasekaram's film 'Paangshu' (The Soil). She won Best Actress in the Foreign Language Films category at the 2019 Nice International Film Festival in France. The film is now being screened in cinemas.
Started in 1965, Nita was absent from cinema for about 20 years as she left for Canada with her husband. But during the rest of her vivid career she had a variety of roles in nearly 60 films from young innocent lover, adulterous wife, women's activists to an elderly mother which she acted with equal tenacity and versatility. While new generation actresses have a lot to learn from Nita, she will continue to be a legend in Sri Lankan cinema.
Hailing from Western coastal fishing village of Katuneriya, Nita studied at Holy Family convent in Wennapuwa. Acting was part of her life and she was the main star in all the plays enacted at her school.
"I love acting so much my mother told me that once I acted even as a toddler. Having seen a beggar woman carrying a burnt child who could hardly walk, I would fall exactly like that child and plead for help," says Nita with a smile.
At the convent there was no single stage play without Nita. "I even used to go to the convent on holidays like Saturdays and entertain the nuns with my solo performances on the stage,". The first public performance by Nita outside school stage was Panthalian Kurukularachchi's  play 'Narabilla' in which she played the main role.
Coming from a family of teachers where both Nita's parents and even her grandparents were teachers, Nita initially planned to be a dancing teacher. She studied dancing at an art school in the village.
Her destiny changed when one of her relations, Gerard Fernando introduced her to W. S. Tampoe the owner of the R.T. Studio, a production house in Wellampitiya and had by then started producing films. Mr. Tampoe, the father of Robin Tampoe assured that Nita would have a role in his next film 'Landaka Mahima'. This was in 1965.
"I did not have any idea about publicity or what response my acting received in media. I acted and there were premiere and we used go for them. I only wanted to act," says Nita. "I was travelling from Katuneriya and my mother escorted me wherever I went. Nita continued to do three more films 'Pickpocket', 'Ruhunu Kumari', and 'Layata Laya' with R. T. Studios.
No sooner Nita's film career started, her mother asked her to stop acting as she found it hard to follow her wherever she went. "I was stubborn and said that if I was not allowed to act I would jump into the well," said Nita with a giggle. "However my father loved me a lot and he gave me approval to continue acting,".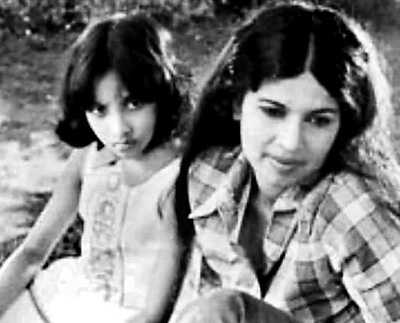 "Because of acting I even lost my first boyfriend. He was a good musician and wanted me to stop acting but I insisted that I need to act. You know how I ended it. I told him 'Aney Mata Yannama One. Muhude inne eka maluwa nemeine' (I really want to go. It's not just one fish in the sea). However he still continues to be one of my best friends" she said.
Meeting popular filmmaker K. A. W. Perera in 1970 and acting for his 'Lasanda' was one of the turning points of Nita's journey. Having seen her acting filmmaker Titus Tutawatte gave her the lead role in 'Mangala'.  Subair Markeen's 'Hadawath Neththo' was another important film for Nita who played a role of a Buddhist nun.
"I was blessed to play the role of Buddhist nun twice in my acting career. First it was in 'Lasanda' and the second was 'Hadawath Neththo'. Religion cannot bring about divisions in art," says Nita, a pious Christian who goes to church almost every day.
Nita's big breakthrough came in 1975 with Wijaya Dharmasri's 'Duhul Malak' which was completely different from other film stories. Nita played the role of a married woman who was caught up between the love of her husband (Tony Ranasinghe) and a lover (Ravindra Randeniya). From 1965 to 1975 Nita had played a role in more than 40 films and she was one of the most sought actresses then.
By that time Nita was married to Aelian Perera, a legal officer attached to the Insurance Corporation. She had to take the hardest decision of her life, to leave cinema and go to Canada with her husband.
"I was in the peak of my acting career. I had to say no to 13 films and refuse signing agreements. Aelian used to say this celluloid life will not last forever and there will be a time I would have to quit it,". Even though Aelian has talked about leaving the country, Nita had never thought it would happen. "I could not watch most of the films I acted because I had left by the time they were released in cinemas here."
"Anyway I owe a lot to Aelian. He was like my father, brother and my best friend. It was he who taught me lot of things in my life. It was he who taught me to dress nicely, associate with people and how to socialise," says Nita. "Though Aelian was also from Chilaw, he belonged to a different social level as he was boarded and studied at St Joseph's College, in Colombo throughout his life and lived in Colombo".
The couple left for Montreal, in Canada and Aelian had got a scholarship and then a job as a legal officer at an insurance company. "I got a job at a hospital and I went with great difficulty. Almost every week I wanted to come back to Sri Lanka. However Aelian promised me that he would take me back to Sri Lanka and cinema with dignity and same way he brought me back again as a producer of Sooriyakantha in 1981. Then I went back to Canada again after shooting" Nita said.
The couple returned in late 1990s to produce "Pawaru Walalu' directed by Prasanna Vithanage. The film won the biggest international recognition for Nita for her role as Violet. She won the Best Actress Award at the 1998 Singapore International Film Festival.
"That was my second comeback to the cinema industry and it was after 18 years. Prasanna told me that I am responsible for the film and he insisted that I should be in Sri Lanka for the film" says Nita.
Before coming to Sri Lanka to play the role of Violet Nita had to work hard. "Prasanna said Violet, widowed woman with grown up children could not be a woman who is well-fed and lived a luxurious life in Canada. She has to be a mother who had undergone a hard time for her children. So I got ready for that character. I started dieting and had to bring down weight until collarbone could be visible. Having returned to Sri Lanka, when I first met Prasanna he said that my look was ok for the role of Violet. I had changed myself so much the make-up artiste did not have to do many changes to my appearance," Nita says with sense of satisfaction about her dedication to acting.
Just as Violet in 'Pawuru Walalu', Nita had to make lot of sacrifices to play the role of Babanona in 'Paangshu'. "I am usually dedicated to what I do and I never bothered about other facilities whenever I go for a film. If you don't have the dedication it will be difficult to become an actress ".
"I didn't know much about Visakesa but what I heard was he was someone who would do things differently. When he introduced the character of Babanona, a washerwoman whose son is abducted by paramilitary I realised it was different from the characters we regularly get in cinema,".
The most powerful and poignant final shot of 'Paangshu' is Nita, a hydrophobic, swimming to the deep of the lake with a gun on her chest. Nita had to fight with her own fears and learn swimming.
"When a copy of the script was given to me Visakesa asked whether I could swim and I responded him in negative. In fact I am terrified of water. But Visa said that a washerwoman has to be able to swim because he life is in water. I told him that I will try my best and started practicing from the following day itself," However Nita took lessons for about six months but still could not learn it.
"As soon as I put my face on water I could not breathe and I was dead scared of this experience. Finally I told Visa that I cannot do this role as I cannot learn to swim and I asked him to take someone else. Then he suggested whether I could try backstroke. And I was wondering how I could swim backstroke when I cannot swim free style. But then I realised I could swim backstroke because I don't have to face water when I swim backstroke," said Nita proud of her achievement.
"The character of Babanona is special to me because my own mother had undergone the agony of a mother when her son is abducted during 1971 insurrection. My own brother who was in the university at that time had been taken by the police and my mother too ran after the police jeep just as Babanona did in the film. I could remember my mother daily going to see him at Welikada prison.  Fortunately unlike 'Babanona' we got Malli back as shooting of youth by police had been stopped by then. Also the character of a washerwoman I did reminding about Julie Akka, our Redi Nenda whom I had encountered in my village when I was young.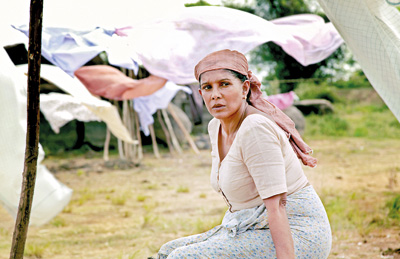 Two more films Nita played and co-produced are yet to be released. Nilantha Hapanweera's 'Theja', a story about women's rights activist in a free-trade zone and Sanjaya Nirmal's 'Swara' is about life and rights of AIDS victims. Both these film are about human rights, activism and social service.
"Whatever we do we should have a mission and we should have a responsibility towards our society. Instead of getting on to political platforms, we should be able to think, what service we could do to this world. We have a responsibility even with our acting and we must try to give something to society," said Nita .