Simply lyrical and straight from the heart
By Ruqyyaha Deane
Intent on a career as a singer/songwriter, Dinil wants to make music that will help listeners escape reality
View(s):
Simple, emotional and relatable – that's how the young singer-songwriter who prefers to be known just as  Dinil describes his music and true to that, his latest single 'Better Half' with its soft, melodic notes and romantic lyrics feels like a gentle wave of emotions washing over you.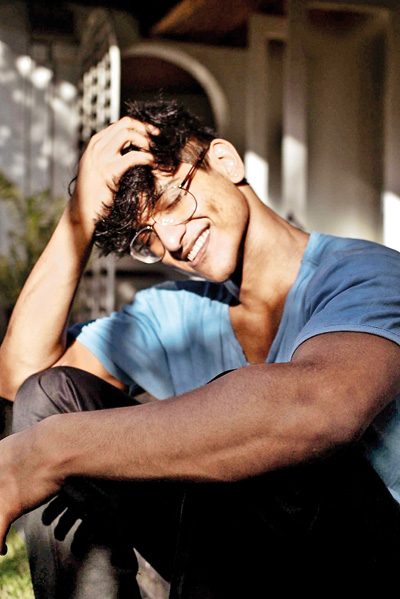 Music was an escape from reality for this 20-year-old and he immediately fell in love with songwriting as he could then express things in a way he simply couldn't verbally. "I try not to over-complicate my songs, and I always put 100% of my emotions into the song," Dinil tells us.
A product of  S. Thomas' College, Mount Lavinia, Dinil likes exploring many different interests and passions, but it was music that caught his attention and held it. He's also quite enthusiastic about staying healthy, being fit and experimenting in the kitchen. A lover of music since he was a child, surprisingly, he was quite terrible at it, he says. "I had a cousin who used to visit my family all the time when I was around 13, and he used to bring his guitar and sing and I was always fascinated by how good he was, so I asked him to teach me the basics." He continued teaching himself through YouTube tutorials and other resources.
From then onwards, Dinil built his confidence to release his music though he like any young artist had doubts whether he was good enough for the tough competitive industry.
The first song he wrote, 'Hooked' holds a special place in Dinil's heart. "It started my journey as an artist, it's a really fun song overall, production was minimal on it and it is really catchy in my opinion."
Since then he has released 'Ain't worth my time' which was deeper in terms of lyrics and most recently 'Better Half' which draws from a personal experience of someone close to Dinil.
Singing or songwriting? "I can't really pick one over the other, both are just as important to me," he confesses as they both do completely different things for him with the latter making him feel euphoric while the other is more therapeutic.
Drawing from musical greats of the modern era, he tells us that his biggest influence is Ed Sheeran. "He made me fall in love with songwriting and telling stories through song," Dinil shares adding that he also loves how Sheeran can connect to every one of his listeners on a personal level. Recently, Dinil has been influenced by Bazzi.
Intent on a career as a singer/songwriter Dinil tells us that he wants to make more music that people can relate to and listen to when they want an escape from reality. "I just want to make sure I can get my music heard across the world."
Listen to 'Better Half' by visiting songwhip.com/dinil/better-half which will redirect you to the streaming platform of your choice.