Getting into the shape of things
By Paramie Jayakody
View(s):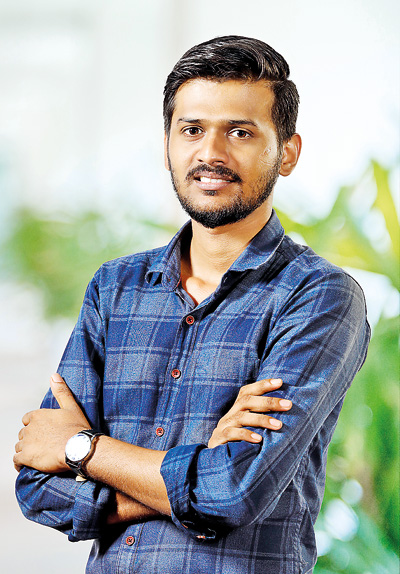 An artist's work is never done, but their creations bring joy to all those who interact with them. We had the pleasure of speaking to one such artist, Nuwan Chamika, whose unique drawing style captivated our eyes.
Nuwan is an illustrator and graphic designer living in Galle. Part of a family of eight, Nuwan completed his A/Ls, at Mahinda College and went on to pursue a bachelor of Visual Arts at the University of visual and Performing Arts, before starting out as a freelance illustrator and designer.
Studying at the university of visual and performing arts, Nuwan was in the Visual Communication Design Department. There, he dabbledin many kinds of art, advertising, graphic design, painting, sculpture and more. His study of great artists inspired him to start his own and their work helped him to improve his own skill and knowledge.
While he had a passion for drawing since his childhood, the foray into digital drawing started in his university days.
"I do illustration and portrait using many different types of styles. And I most prefer to work with shapes," Nuwan explained to us. "However, the internet has so many professional digital artists that just blow my mind. A lot of artists influenced me when I was struggling to find my own style."
Nuwan mentioned one of his notable inspirations as Pablo Lobato, an Argentinian illustrator. "I think his techniques in painting inspired me most to learn how to make portraits in such a unique style," he says.
Nuwan counts himself lucky to have a family that always supported him and his friends encouraged him to follow his passion. He also mentioned that his university lecturers were very supportive in his endeavours as well.
Nuwan told us about how he had released his first set of artwork 4 years ago on social media. While he was appreciated, he describes the reaction as very 'normal'. However, he recalls the stark difference when he put out his new collection of illustrator portraits a few weeks ago and the response was completely different. "I can't comprehend how much they love it. I didn't think I would get such a response at all. It was a great pleasure," he says. "I want to say thank you to everyone who messaged, called, or commented on my art."
Nuwan also noted that part of the reason why he had time on his hands was due to the pandemic that forced the country into lockdown earlier this year. Spending time at home and getting some peace and quiet helped him to dig a little bit deeper, he said.
Speaking of the future, Nuwan feels he has a lot to improve and hopes to get better with time. But he does have plans to hold his own exhibition.
For all those budding artists and designers out there, Nuwan notes that the most important thing is you need to have a passion for what you do and it's very important to stay up to date with new techniques and styles. Keep watching the trends, and always try to broaden your horizons and experiment. "It will change you as an artist," he adds.