VISIT EDLOCATE "STUDY ABROAD DAY 2020" ON SATURDAY 22nd AUGUST IN COLOMBO
View(s):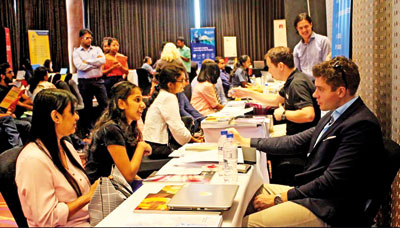 Meet Edlocate Counsellors at Longdon Room,
Taj-Samudra, from 11am to 5pm and arrange to enrol in Australian, New Zealand, Canadian, UK, Ireland, Malaysian & Vietnam universities in January/ February 2021 
Having missed sitting the Cambridge & Edexcel London Advanced Level examinations in May this year, you do not have to waste one more year re-sitting the exam. With the examination boards released predicted AL results; we will enrol you to universities of your choice in 7 countries to read for your Bachelor degree. If the results are insufficient for direct entry, we will enrol you to the bachelor degree course through a university accepted pathway program like a Foundation/ Diploma etc. Those seeking postgraduate studies – especially Masters by course work, too are invited to explore options open to enrol during this period.
At present the disciplines that have great demand career wise, are in Health Sciences (Immunology/ Nanotechnology in medicine, Molecular Biology & Genetics, Medical & Laboratory Science, Neuroscience, Microbiology) Agriculture Science, Engineering, IT & Computing, Material Sciences, Chemistry, Mathematics, Nursing, Teaching etc. The entry requirements for courses including level of English proficiency differ across universities/ countries & even courses. There are courses of selected universities that are accredited by professional bodies associated with the discipline in countries for recognition to practice. Some degree courses have wider recognition than the others by employers. Some universities offer students greater access to industry for certain disciplines due to their close relationship with industry giants who have set up their global outfits in such countries. These universities offer students internship in such business establishments as part of their courses. Some countries offer students to legally work during their studentship. Universities offer handsome scholarships to high achieving students which we can assist to secure. Universities in Malaysia & Vietnam offer facility to part study and transfer to main campus in Australia/ UK saving a fair amount of money. There are significant differences when it comes to obtaining student visa for students & their immediate family members. There are post study opportunities available in some countries to get much valued work experience after completion of studies. Some countries offer opportunities for those who wish to live and work to do so having completed studies. These are some of the details one needs to know before selecting to study overseas. The decision of what is the best career to embark in, to match your aspirations and capabilities are of paramount importance at the first instance. Having selected the career, you need to then decide on the course, where to study, what university to enrol in, what should be the pathway to follow. The parents should know the financial implications when taking the decision and how to avoid any hardships to themselves or their children.
These are issues that need to be given high priority.That is the very reason we invite you and your parents to meet educated, well trained, experienced counsellors of Edlocate at this event to have initial discussions.
Once you have the basic details you can thereafter meet the assigned counsellor of ours any number of times in our offices and work with their guidance until the enrolment is completed & the visa is issued. All these services are offered by Edlocate free of any professional fee being charged.
Over the past 20 yearsEdlocate has helped many thousands of students to realize their study abroad dream. Our partnership with them does not end once they leave our shores. We continuously support them with any issues related to the course of studies.We help our students to obtain English proficiency through IELTS/ PTE/ OET guidance required to enrol, on line delivery of such guidance, student visa extensions, visa for immediate family members & even post study visa requirements through our associate companies at extremely favourable fees structures.
The current plight of the world heavily impacted on studying overseas especially in the second half of 2020. However students who enrolled in courses delivered on line are quite satisfied with the course deliveryand what is more, they are happy having saved their living expenses while studying in the comfort of their own home. However, this situation is not going to last and you should not postpone taking decisions as international students will be able to commence on campus studies in 2021.
We have taken all health safety precautions at this event and we invite you to visit us and obtain preliminary information through our panel of counsellors and university representatives.
Please register for the event by calling us on 0771770361.