Webinar on " Thinking on your feet – is that the NEW Normal?"
View(s):

With the world we live in today being very different to what we knew before and many companies being challenged to consider the impact and disruption to their businesses due to the Covid 19 Pandemic, measures and best practices to be put in place to achieve goals and long-term strategies in the "new normal " has become an essential factor.

With plenty of uncertainty with volatility remaining high, ACCA (The Association of Chartered Certified Accountants) Sri Lanka together with professional accounting bodies in Sri Lanka – AAT, CASL, CMA, CIMA will hold a Webinar on "Thinking on your feet – is that the NEW Normal". The Webinar is scheduled for the 22nd July 2020, commencing from 3pm to 4pm. This is an initiative of CA Sri Lanka and the above webinar is the third seminar in the series.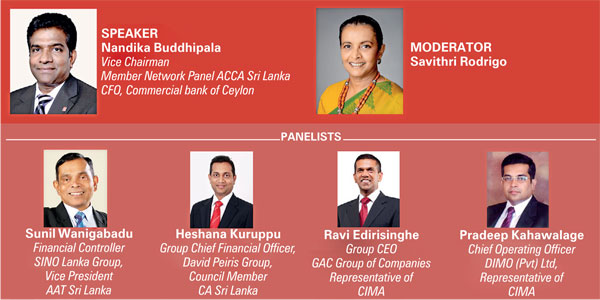 The Keynote speaker for the webinar will be Mr. Nandika Buddhipala, Vice Chairman, Member Network Panel, ACCA Sri Lanka and Chief Financial Officer, Commercial Bank of Ceylon.
In his presentation, Mr. Buddiplala will touch on multiple scenarios on the drawing board and mapping the way forward with astute and judicious decision making to maximize on prospects. An organizations flexibility and agility adding to a formula that uses innovative tool kits in its eco system of diversity and inclusiveness that will ensure short term survival and pave the way for long term sustainability will also be discussed.
The keynote address will be followed by a panel discussion that will have panelists who are key decision makers and opinion leaders from the finance and accounting industry representing professional accounting bodies in Sri Lanka. They will comprise of Mr. Sunil Wanigabadu Vice President of AAT Sri Lanka and Financial Controller – SINO Lanka Group, Mr. Heshana Kuruppu, Group Chief Financial Officer, David Peiris Group, and Council Member of, CA Sri Lanka, Mr. Ravi Edirisinghe, Group CEO, GAC Group of Companies representing CIMA, and Mr. Pradeep Kahawalage, COO of DIMO (Pvt) Ltd representing CMA Sri Lanka.
The Panelists will sent through their paces by moderator Savithri Rodrigo on a range of salient topics that will include businesses being equipped to think on their feet,  key lessons that businesses have learned during these times, what aspects would be vital to ensure business continuity, what would be the changed fundamentals to be put in place to ensure short term continuity of business, how keyed in are accountancy professionals into the concept of innovation being the backbone of business sustainability in changing times, how can the accountancy professionals align themselves to ensure optimization of the organisation's competencies, skills and worth, the vital role and inclusion of technology into business and organisation operations, .prompting structural changes in operations in order to move ahead and what building blocks need to be established in an organisation now in order to meet short term goals.