Head Start Your Medical Career right after O/Levels & A/Levels
View(s):
60% Scholarships on Pre-Medical Programme
Medical Careers in Australia | UK | Canada | New Zealand | Europe
Becoming a Medical Practitioner is/maybe the most popular career goal that many have. Future doctors nurture their passion for helping others before applying for a Medical school. Medicine is also a versatile field that can be studied anywhere in the world, so you have a variety of choices at your disposal. However, since it's a decision that might change your life, it needs to be well planned in advance.
A lot of Sri-Lankan students wish to graduate early to achieve their careers at a younger age and these students are more likely to take decisions right after completing O/Levels & A/Levels. Now what type of questions would an O/Level or A/Level student with fewer grades likely to have in mind?
1.  I want to start my career in Medicine as soon as possible, If so, how exactly to achieve it.
2.  I can't waste 2 years training for A-Levels, how do I register right after O/Levels?
3.  I don't have CCS / CCD the minimum AL results, how do I study medicine with SSS or less grades?
The dilemma of "What options do I have?" is often stagnated since a lot of Sri-Lankan parents and students aren't aware on the solutions or alternatives for the above "Trending Confusions". The solutions are convenient to understand. Students now have the chance of entering to worldwide recognized Medical Universities through the completion of a "Pre-Medical or Foundation Program".
IMC Education, the leading medical education pathway provider and the Largest Medical University Placement Centre in Sri Lanka, offers an ideal program for students after their O/Levels and A/Levels to join with the,
1. Foundation in Science (Pre-Medical Program) – Vitebsk State Medical University, Republic of Belarus. (After O-Level Results or Low A-Level Results)
1 Year Foundation In Science (Pre-Medical Program)
The only MEDICAL DEGREE with a TRIPLE QUALIFICATION.
Vitebsk State Medical University (VSMU) is one of the most distinguished medical institutions in the Republic of Belarus and considered to be one of the European Leader in Medical Education and Research. VSMU is one of the first state universities in the world to award a "TRIPLE QUALIFICATION" for students who enter directly to 1st year of the Degree with A-Level results of CCD/CCS or after completion of the 1 Year Foundation in Science Program (FIS)  with less A-Level result. While students are studying for the 6-year Doctor of Medicine (MD) program at VSMU, at the completion of 4th year, student will be awarded a BSc (Hons) Biomedical Science Degree and at the completion of the 5-1/2th year they will be awarded a Master in Medical Science Degree by research from the prestigious Lincoln University College, Malaysia in addition to the Doctor of Medicine (MD) degree at the completion of 6-years from VSMU.
What is FIS? – It's a 1 Year IMC Pre Medical Program for students to progress successfully to undergraduate Medical studies at the medical school in the Republic of Belarus namely "Vitebsk State Medical University (VSMU).
Where can you obtain this? - IMC Education is the only approved and accredited International learning center in Sri Lanka of Vitebsk State Medical University (VSMU), Republic of Belarus to deliver the Foundation in Science (Pre-Medical) Program in Sri-Lanka (English Medium).
Entrance Procedure?  -  The Program has been specially designed for students who have completed their O/L's (London/Local) or less A/L's (London / Local) who have the eager and the drive to fulfill their dream of becoming a Medical Doctor at a younger age.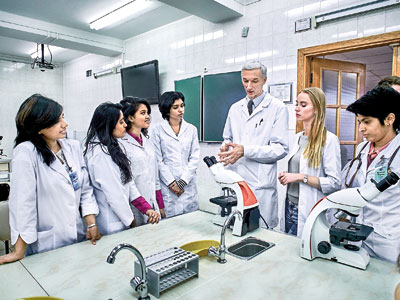 Full time career overseas with the best pays for Medical doctors? – If students are seeking for a career overseas, the ultimate pathway is to join through Foundation in Science (Pre-Medical) in Sri-Lanka and enter to Vitebsk State Medical University, Republic of Belarus. The demand for Medical doctors in overseas are increasing at an exponentially high rate, thus through the completion of the foundation students can achieve to fill the demand. IMC is the exclusive partner in Sri Lanka representing Kaplan Medical which is the world's largest and premier provider of USMLE test preparation that helps thousands aspiring Medical Doctors to become an ECFMG, USA Certified Internationally recognized Medical Doctor in the USA. IMC Education has created a unique system for VSMU students to be trained for the United States Medical licensing examination (USMLE) partnership with KAPLAN MEDICAL. IMC Education also offers the students the opportunity to be trained for the Australian Medical Council Examination through our partner trainer in Australia on completion of the Medical degree.
How do I obtain the 60% Scholarship?
IMC Education, the only accredited learning center of Vitebsk State Medical University in Belarus to deliver the FIS in Sri-Lanka now offers scholarships for the candidates for the August 2020 Intake. Obtaining scholarships in Medical education is a tough call but as a growing helping hand, the 60% worth scholarship is now the affordable pathway to the Doctor dream. The 60% scholarship is offered upon a general interview with the applicant. Make a phone call today to reserve your interview slot!
Option of "Online or Classroom studies".
Due to the current pandemic situation in the country, facility of both online and classroom studies are available. Students can opt for the online program or physical classroom studies as their options and this would be advantage for students who are living outside Colombo to attend medical studies at the comfort of their homes.  The faculty of Pre-Medical program is led by Dr. Inoka C. Perera (PhD) – Senior Lecturer, University of Colombo with a team of expert Internal Lecturers. The curriculum and assignment design with blended teacher support services delivered virtually & physically now at IMC Education with a 60% scholarship.
IMC Education will guide students on choosing the best possible option to match student's needs and
achieve their career aspirations.
Admissions for 2020 July/August intake is now open. We invite all students for the Virtual Interview Week 17th July – 31st July 2020 to obtain the 60% scholarship. Please call on the hotline to book your online appointments!
IMC Education – 0773 08 88 40 | 0774 42 15 97 | 076 826 8168 | 077 440 1206
No. 154, Havelock Road, Colombo – 05.