Food safety can slip with election fever, officials warn
View(s):

Hard-pressed health authorities worry that the food outlets and eateries gradually opening up in cities and towns will forget about keeping COVID rules as next month's parliamentary election heats up with rallies and meetings.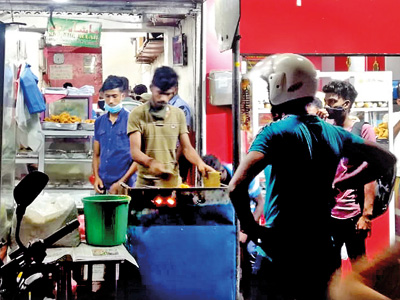 "In Colombo, initially these shops catered to a very small crowd coming to the city for work. This was ideal during a time of pandemic. But now, with campaign rallies, the city is attracting huge crowds, and the food outlets tend to forget health guidelines when crowds enter the small shops," Colombo's Chief Medical Officer Dr. Ruwan Wijeyamuni said.
Dr. Wijeyamuni said the city had only 45 Public Health Inspectors to work across the 47 municipal wards.
"Our inspectors are overwhelmed and exhausted with work," he said. "Apart from dengue prevention and ensuring food hygiene, they have to make sure every little meeting, rally, religious place, school and many other institution is following COVID guidelines.
"Small eateries can aid the spreading of COVID if precautions are not taken. The lack of powers under the Quarantine Ordinance to take legal action against those violating health guidelines is forcing us to watch people violate health rules and limit ourselves to just warning them,"
he said.
Kandy Regional Director of Health Dr. P. Nitheshini is also worried about cafes and restaurants becoming centres of COVID infection with campaign
rallies being held during a pandemic.
"People will gather around with their masks removed and will be sitting close and cramped inside small eateries. I have instructed medical officers to keep on creating awareness among the community. That's all we can do," she said.
Kurunegala Regional Director of Health Dr. P. Shanthilatha said she had met party organisers and highlighted the importance of health authorities being informed three days prior to the holding of a rally
or meeting.
"Giving us prior notice gives us time to inspect the eateries around the area and make sure both food hygiene regulations and COVID guidelines
are followed.
"We can deploy Public Health Inspectors to that specific area during the meetings," she added.