Month to go for polls, campaigning still on low key due to pandemic
By Our Political Editor
View(s):
Health and Election Commission restrictions severely affect parties, drive them mainly to hi-tech mode
President launches SLPP campaign at Anuradhapura, but directs that no candidate should carry his picture
Major new crackdown on drug mafia and underworld gangs; but drug barons buy over police narcotics sleuths
A highly unusual feature ahead of the August 5 parliamentary elections, thirty days away, is the absence of visible campaigns by the contestants.
There are no large public meetings, display of posters or placards.
A handful so far have been confined to small gatherings inside buildings. With no fee except the cost of a template with their symbol and number, candidates have launched their propaganda mostly on social media hoping it will reach their target audience. In their clamour for votes, some are even circulating puffed up biographies.
For the United National Party (UNP), among the oldest in the country, it was a case of going hi-tech. A meeting addressed by its leader, Ranil Wickremesinghe, was streamed via internet. Recordings were later posted on YouTube.  Some candidates used their Facebook accounts and yet others the Zoom, the public video conference tool, to get their propaganda across. It is no secret that in the far-flung villages of Sri Lanka, and even some provincial towns, computer literacy is extraordinarily little or none at all. Not many own computers, laptops, or tablets. This is a country with 1.7 million Samurdhi (poverty alleviation) recipients, and 600,000 more on a waiting list.
There are plans to hold smaller meetings in the coming weeks but the question is how much their message will reach grassroots levels. This is crucially important for UNPers to prevent a debacle in the first polls after being in power for four and half years. UNP General Secretary Akila Viraj Kariyawasam, however, is confident. "We will also engage in the conventional house-to-house campaign in addition to our digital promotion," he told the Sunday Times. He said the UNP would follow the health guidelines and also directives of the Election Commission not to display pictures of candidates or their preference numbers in offices countrywide. "We hope to win the elections", he added.
The UNP's breakaway offshoot, the Samagi Jana Balavegaya (SJB) has also taken a leaf from its onetime parent party. "We will use digital screens in our offices in Colombo and the districts. This is besides holding 1,000 small scale meetings which we are now conducting," SJB General Secretary Ranjith Madduma Bandara told the Sunday Times. He said, "We have made our opposition known to the Election Commission over its decree that no photographs or preference vote numbers of candidates should be displayed in our offices. I also raised issue personally during a meeting last week."
He complained that "we are displeased with the EC. How can the underprivileged candidates carry out their propaganda? They have no funds to pay for costly television commercials and newspaper advertisements. Even as a party, we cannot afford it for every candidate. EC Chairman Mahinda Deshapriya told us during last week's meeting that we could use posters and banners at any election meeting. We will adopt that."
The Janatha Vimukthi Peramuna (JVP), which goes now as the National People's Power for the elections, has embarked on a programme where there will be one meeting in each electorate, its leader Anura Kumara Dissanayake told the Sunday Times. He said their candidates were explaining their policies to the people during these meetings and enumerating the hardships the public faced.
The Tamil National Alliance (TNA) began its polls campaign in the north last week. Mavai Senathirajah, Leader of the Ilankai Thamil Arasu Katchi (ITAK), the main constituent in the alliance, told the Sunday Times; "We have decided to finalise our election manifesto today (July 5) and conduct more political meetings across the North. This will be followed by a meeting with our members from local government bodies."
"It has been proven that one political party could secure a majority of votes in the South on nationalist lines. We are telling our voters that this could be dangerous for the whole country. Therefore, the Tamil people will have to vote for us in unity," he added.
The ruling Sri Lanka Podujana Peramuna (SLPP) led alliance, which stands at a formidable position at the upcoming polls, launched its campaign with a rally in Anuradhapura. It was addressed by President Gotabaya Rajapaksa. Causing some serious unease among candidates from different parties within the alliance is a directive issued by President Rajapaksa this week. He has decreed that his photographs should not be displayed during the election campaign.
This meant that no candidate in the SLPP-led alliance – Sri Lanka Nidhahas Podujana Sandanaya – can display photographs of them being together with President Rajapaksa. Those disappointed with the move argued that that they had campaigned at the November presidential election for Gotabaya Rajapaksa but were now being debarred from using his picture for their own campaign. No formal reason was given by President Rajapaksa when he made the decree. However, sources close to the Presidency opined that the President did not wish to become a tool at the campaign for different reasons, but did not elaborate.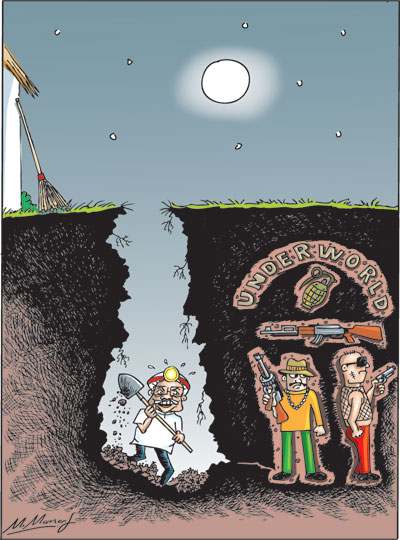 The COVID-19 factor
President Rajapaksa told the Anuradhapura rally on Friday that issues such as shortage of water supply and fertilizer for agriculture were being addressed by the government. Failure to make payments to suppliers, he said, was the cause for the delay. He is due to address meetings in Polonnaruwa today.
That the deadly coronavirus had brought about a dramatic change in the political landscape during an election campaign in addition to affecting all aspects of life in Sri Lanka is now all too well known. The threat from the deadly virus is far from over. The only salutary feature is the absence of clusters and community spread which would have pushed the number affected to much higher levels. Yet, almost regularly Sri Lankans returning from abroad are being detected as positive cases. Now, the government is worried about another factor.
That is the fear that fishermen from the southern Indian state of Tamil Nadu could become carriers of the wildly contagious disease. This has created problems for the the Sri Lanka Navy, patrolling the International Maritime Boundary Line (IMBL), the waters that divide Sri Lanka and India in the Palk Strait. When incursions into the Sri Lankan side occur, the naval patrols are now prevented from physically boarding or rounding up those who poach. This is to avoid coming into physical contact with the fishermen. There have been occasions when patrols have fired into the air to drive them away. The number of affected Covid-19 cases in Tamil Nadu is now more than the 100,000 mark with 1,321 deaths so far.
Another is the difficulty faced by naval patrols in bringing errant South Indian fishermen to the shores of Sri Lanka's north western seaboard. They are required to hand them over to the Police together with their boats for action in courts. In the event anyone of them is found to test Covid-19 positive, then personnel involved in the patrol as well as those in the Police are required to undergo quarantine for 21 days. There are no ways fishermen could be tested for coronavirus at sea. Poaching in Sri Lankan waters by Indian fishermen has been going on and on despite protracted discussions between both governments for the Indian fishermen to stop it. Those engaged in such preventive work, however lukewarm it is on the Sri Lanka side due to Colombo's reluctance to press the issue, are not willing to risk a quarantine period. In the north-west coast, security establishments have been alerted to the dangers posed. That includes prevention of south Indian civilian movements towards Sri Lanka.
Easter Sunday massacre probe
In this broad background, the non-visibility of a vibrant parliamentary election campaign has to a great extent been obscured by yet another factor. Strange but true, that very factor has assumed the flavour of a suspense laden poll campaign of sorts. They are playing out every day in both the national and social media.
One is the Commission of Inquiry appointed by the then President, Maithripala Sirisena to probe the horrible Easter Sunday massacres in April last year by local Muslim extremists. Past several days have seen hitherto unheard of testimony from witnesses. They have revealed one sordid episode after another. Witnesses have confirmed how top politicians, then in the Yahapalana government, were well aware of the plot by the extremists and yet chose to ignore it. Their testimony raises a nationally important question. That is the urgent need to review the mechanisms available to Parliament to probe national issues.
As previously pointed out, the Parliamentary Select Committee (PSC) that probed the Easter Sunday attacks was deeply flawed. Firstly, the majority composition was from the ruling Yahapalana  government. Secondly, by hindsight it has become clearer that the probe took a route which was more to save some of their own members than to get to the truth – identify those involved and recommend punishment. This process cost millions of rupees in public funds. Even worse, it was for unearthing less than partially correct information and thus depriving the public the knowledge of what exactly happened.
There have been many such instances. One in the recent past is the PSC that probed the bond scandal at the Central Bank of Sri Lanka (CBSL). One member who was in the Committee had previously written a book on the scam giving his own version and plugged this line in the PSC. Those who prodded an incohesive line of argument even produced footnotes to the report openly demonstrating the line they were taking. Their findings came in marked contrast to those from a Commission of Inquiry that followed. These highlight the immediate need to re-vamp procedures related PSCs so they may function as credible bodies and their integrity is not doubted.
Matters were even made worse when the media were allowed to cover the PSC meetings. Not that they should have been disallowed. In reality, they were only reporting on the course taken by those in power and creating a wrong impression in the public mind. They had no choice and the promoters of the line of exposure succeeded. Another body, which is less supreme than a parliamentary one, a Commission of Inquiry, later reveals the stark truth. Public funds and time are wasted to promote wrong messages. Should this be a part of parliamentary democracy? Is it not a gross abuse of privileges?
Witnesses have also revealed damning testimony against the country's intelligence services, the Police hierarchy and those in the Defence Ministry. What has compounded the situation is the prior intelligence warning that came from India. Even to the dumbest, it would be clear that acting on such a warning would have saved the lives of 268 men, women and children. Even here, there are contradictory contentions. Former President Maithripala Sirisena has publicly declared that he was unaware of the warnings relating to the attacks. The tragic irony is that the Police were well aware after a string of incidents in Mawanella, details of which were revealed in these columns. Others who held high positions claim they informed President Sirisena. He was responsible for the Ministry of Defence as well as the Police Department. After the Easter Sunday massacres, President Sirisena also publicly declared that the attacks were carried out after he declared war on drug barons. In other words, he was accusing the drug mafia of the Easter Sunday incidents though no such evidence has surfaced through any state investigative arm so far.
Needless to say, that Catholics, largely concentrated in the coastal belt north of Colombo, are heaving a sigh of relief. It is known that President Gotabaya Rajapaksa assured the Archbishop of Colombo, Cardinal Malcolm Ranjith, before last November's presidential election that he would get to the truth behind the attacks. Unconfirmed reports spoke of the likelihood of the Commission's final report being handed over before the parliamentary elections on August 5. If it does happen, that will undoubtedly become a significant factor to Catholic voters. Even if it is beyond that date, the importance of the Commission's findings will not diminish.
Another matter of importance to Catholics were critical remarks SJBs parliamentary elections Campaign Manager and a former UNP minister  Harin Fernando made against Cardinal Malcolm Ranjith, as reported in these columns last week. SJB leader Sajith Premadasa accompanied Fernando for a meeting with the Cardinal on June 27 (Saturday). They later posed for photographs which ran in the social media the same day.
Fernando told the Sunday Times; "We met his eminence the Cardinal on Saturday. We explained about the miscommunication created by the media.
We resolved the issues. Now it is water under the bridge. His Eminence also explained that his statements were not based on politics. He genuinely explained that he was troubled and hurt after the Easter Sunday attacks as the investigations were delayed." It is interesting to note that Fernando, by his own admission, declared that he "did not apologise to the Cardinal." He blamed it on the media and claimed "the miscommunication" is now cleared. Going by what Fernando said, it was SJB leader Premadasa who extended a public apology to the Cardinal and not his All Island Campaign Manager.
Drug and criminal mafia
Another matter that has dominated all media is the two major campaigns ordered by President Gotabaya Rajapaksa — a crackdown on drug offenders including those in prisons as well as new measures to deal with the criminal underworld. Both have begun with a bang and have been dominating the news cycle. With new developments day by day, they have become the main news in print, television, radio, and the social media. Though such exercises were, perhaps, not intended with the parliamentary elections in mind, they have drawn public interest. Therefore, the voters among them are sure to take cognisance of the two major offensives.
True, that former President Maithripala Sirisena also launched an anti-drug drive during the last stages of his tenure. In fact, during a visit to the Philippines, he told his counterpart Rodrigo Duterte, that in Sri Lanka, he wanted to emulate him and punish drug barons. The difference — Duterte ran a ruthless campaign of murder and mayhem killing over 6,000 under his anti-drug campaign. In Sri Lanka, Sirisena wanted to re-introduce the death sentence and hang drug barons who have been handed down death sentence by courts. The move was condemned by western powers and human rights activists, and a fundamental rights petition against the move is now pending before the Supreme Court.
Sirisena's move was doomed to fail, for he entrusted the Police Narcotics Bureau (PNB) to do the investigations into the contacts outside with whom drug barons inside prisons dealt, sometime ordering even murder and assault on opponents. President Rajapaksa's directive to probe the illicit drug trade uncovered the reason that was uncommon to what some known drug barons in the world practised.
In Colombia, Pablo Escobar built a drug empire worth US$ 50 billion smuggling drugs to the United States. His 'hit men' (sicarios) killed policemen, judges, judicial officers and others who stood in their way. On one occasion, when Escobar's hideout was identified after his mother was found attending Church, he fled to another home in a remote area. When he realised there was no heating to keep his young daughter warm, he opened a wall-cabinet, pulled out a large bundle of US$ 100 currency notes amounting to a million, and burnt them. The heat from the fire comforted her. Escobar was killed in a US-Colombian operation when he tried to flee from a safehouse. His location was tracked from a surveillance plane that flew overhead. Another is Joaquin Guzman of Mexico, better known as El Chapo who the US Drug Enforcement Agency (DEA) estimated to have had a drug empire worth two to four billion US dollars. He was captured and extradited to the US where he faced charges and is now serving a jail sentence. He also was responsible for a spree of murders and even declared 'curfew' in towns his men dominated.
Investigations so far have revealed that there was no need for Sri Lankan drug barons to kill couriers or others obstructing them. Some in the Police Narcotic Bureau have been acting as couriers, transporting drugs in their official vehicles. Those who helped, wearing the Police uniform, had not only built up fat bank balances but also a repository of drugs from sources known and unknown. A direct link between PNB officers and drug lords has been established. Names of some politicians have also figured though the Criminal Investigation Department (CID) detectives are maintaining a strict veil of secrecy. This is one of the most damning instances where the Police did the opposite of what they were entrusted with — fight the drugs menace. To a lesser degree, it is much the same as the stronghold public bus drivers have with select traffic policemen. They get away even if they are booked.
By last Friday, 15 Police Narcotics Bureau officers were under arrest together with three civilians. They include an Inspector (IP), two sub inspectors (SI), four sergeants and eight constables. Another Inspector, believed to be the ringleader of the group, is on the run. It has also come to light that the PNB officers had been involved in arms trafficking for drug dealers. One pistol that had been sold to drug traffickers by them has been recovered while at least four others are missing.
Investigators are still trying to determine if the officers had also sold drugs kept at the evidence room at PNB headquarters. The room has now been sealed but it will take weeks, perhaps months before a thorough inventory of items there is completed and crosschecked. Heads have already rolled at the very top, with the DIG in Charge of PNB Sajeewa Medawatte and PNB Director SSP Manjula Senarath both being transferred out this week. Police insist that the senior officers are not under suspicion, but that they could not escape "supervisory and administrative responsibility." Evidently, they were unaware what was going on.
A separate presidential directive to crack down on the underworld of crime is being hotly pursued by the Police. In two different instances, two suspects died after Police said they were forced to fire when they were shot at. In a separate incident, the Special Task Force (STF), the Police Department's commando arm, swooped down on an arms cache at Pitipana in Homagama. This new drive has come as a counter to burglaries particularly during the lockdown for Covid-19. Moreover, it is at a time when there were fears that a spiral in essential consumer commodities would lead to thefts and burglaries, another move that will help voters decide.
Opposition campaign
The major parties contesting the parliamentary elections are yet to come out with their manifestos. SJB leader Sajith Premadasa told a poorly attended meeting at the Cultural Centre on Chavakachcheri last Wednesday that his aim was to set up a Development Task Force under his personal supervision. The lower turnout was perhaps due to the Covid-19 pandemic. A head count by one of those present put the number at 71. (See photograph on this page) They will function under him. His first task after winning the elections, he said, was to set up a Fiscal Stimulus Package. He said he would assure Rs 20,000 per family. He would also reduce fuel prices immediately and grant, within a week, loans for the Small and Medium Enterprises sector. The speech was during a three-day visit to the north. In Kilinochchi on Friday, Premadasa played football with residents of a housing scheme which was built during his father's era. There, he told a meeting that his government would go beyond the 13th Amendment to the Constitution in addressing Tamil issues.
In his first election campaign speech transmitted through the internet, UNP leader Ranil Wickremesinghe declared "…..Already hundreds of thousands have lost their employment and their incomes have dropped while the cost of living is increasing. Three-wheel operators do not have an income, sales have dropped in grocery shops, and even the garment factories are closed."
"Can we live like this for another six months? Think about that. Corona affected lots of countries in the world and their economies were hard hit. However, the governments of most countries acted to protect people and re-built their economies. Yet, the SLPP (Pohottuwa) has not been able to rebuild the economy even though it has been in power for eight months.
"This government has failed; our country is currently facing the largest crisis. This (SLPP) government has not given any solution for this. The UNP is the only party that resolves all those matters. It is the party that can recover the economy of the village and country. The UNP is the only party which is capable of increasing your income.
"We are ready to take charge of the responsibility of increasing your income. We are the only ones who have the experience of fixing the economy of the country. This coronavirus crisis will remain for another two or three years.  The International Monetary Fund (IMF) says that it will at least take two years to recover from the crisis.
"So how can we protect the people? What are the steps that we could take to rebuild the economy? What did the Pohottuwa (SLPP) do during the past five months? Did they scrape coconut?
"There is a shortage of foreign revenue. The government has not found money for that. Until we resolve that issue by earning foreign income, we will not be able to resolve any other matter. Issuing money is not the answer for the problem. Issuing 450 billion rupees does not solve the issue.
"We need to protect the export market; we need to protect local industries. We need to re-start tourism industry. We need to protect the garment industry. We need to develop small businesses. The UNP has plans and programmes to strengthen economy and safeguard the mentioned sectors. The programmes would be revealed at a future date…."
In a month, voters will go to polls to elect a new government. It is highly unlikely that the existing political dynamics will change in the next
four weeks.