Operational challenges aplenty for restaurants, hotels, and eateries
View(s):

Restaurants and hotels operators say they are following health guidelines in anticipation of a rebound in diners and guests now that they have been allowed to reopen after a two-month shutdown due to the coronavirus epidemic in the country.

"The hotel industry is positive with regards to the steps taken by the Government to open hotels and we have resumed our services for weddings and other events while adhering strictly to health guidelines," Sanath Ukwatte, president of the Sri Lanka Hotels Association, said.

But bookings have not increased. He said there had been inquiries from locals and overseas.

"With the prospects of the airport opening up in a couple of months, we hope to accommodate and cater to foreigners," he said.

M Shanthikumar, president of the Colombo City Hotels Association, said more walk-in guests are expected.

"It's still too soon to expect the pre-pandemic turn up. People should be willing to patronize hotels like before and they are still adjusting to the situation. It will take more time for things to get back to normal," he said.

The president of the Colombo City Restaurant Collective (CCRC), Harpo Gooneratne, told the Sunday Times that dine-in at restaurants has not been great so far, but he believes that a positive mindset will help regain confidence.

"We have to understand that this is the new normal and it is very important that we adhere to the Ministry of Health guideline, which we are following," he said.

Dine-in restaurants in Colombo are asking customers to make reservations to help maintain the 20% of capacity requirement.

But, eateries that serve middle-and lower-income earners are in dire straits.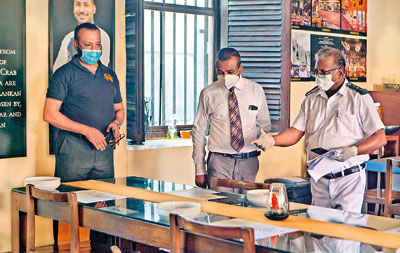 Asela Sampath, the national organizer of the Association of Sri Lanka Restaurant Owners, said owners have suffered financially. He said the two-month closure means that eateries are "not in the right conditions to operate".
The association represents about 500,000 eateries and hotels (not star-rated) islandwide, and have presented three demands to the government.
"We want the authorities to help disinfect and sanitize these eateries, provide infrared thermometers and allow sinks to be built on pavements as most of these eateries are beside roads," he said.
Mr. Sampath insisted that if these demands are not met, eateries will not open.
Chief Medical Officer (CMO) of the Colombo Municipal Council (CMC) Dr. Ruwan Wijeyamuni said that out of the 500-odd eateries within the Colombo city limits, 95% have temporary owners and most premises are leased. The building owner does not allow renovations fearing it would create ownership issues. So, the shop owners must agree with the building owner to make necessary changes.
"We will, however, take legal action against people who fail to follow the Ministry of Health guidelines."
Some of the guideines include reducing seating capacity to less than 50%, keeping up with the cardinal rule of the one metre distance, allowing only two people at a table, except for a family.
Staff must wear a mask, gloves, fully covered attire (long sleeved) and a face shield.
Buffet-style dining is discouraged.
So far, 487 restaurants and 94 tourist-friendly eateries registered at the Sri Lanka Tourism Development Authority (SLTDA) have been allowed to reopen.
Authority director general, Dhammika Wijayasinghe, said guidelines have been issued. She said eateries will be checked to ensure compliance. Public Health Inspectors (PHIs) and Medical Officers of Health (MOHs) will make random checks.
"This drill will be in place only until the [coronavirus] risk prevails. It has been around 29 days and no community spread has been reported apart from the Navy cluster. We can be somewhat certain that the risk is curbed to a certain extent," she said.
Dr. Wijeyamuni said hotels and restaurants not registered with the SLTDA are allowed to open from June 1 and the CMC will only be responsible for those within its purview in the Colombo city limits.
Other eateries islandwide will have to be inspected by the area PHIs and the MOHs.