Millers dance celebration samba as Gota gives them good price
By Kasun Warakapitiya
View(s):
After a ding-dong battle with government officials, rice millers won the day this week in a long-drawn-out dispute over the price of rice.
It was only last week that the Chairman of the Consumer Affairs Authority (CAA), retired Major-General Shantha Dissanayake, accompanied by a team from the Police Special Task Force (STF), visited a leading miller and urged him to put out stocks or face action. On Wednesday, however, the millers won.
They were allowed to put up their prices. The new controlled prices of Rs. 96 for nadu, Rs. 98 for samba and Rs. 125 for keeri samba were set at a meeting between President Gotabaya Rajapaksa and millers on Wednesday.
On Thursday, small-scale millers raised concerns with the government over the price of kekulu rice and so the price of white and red kekulu rice was revised to Rs. 93 while the controlled price of keeri samba was once again reduced to Rs. 120.
The old prices were Rs. 90 for nadu and samba and Rs. 85 for kekulu.
Downward price revisions in April had created a shortage of nadu and samba in the market as millers withheld stocks.
The Sunday Times learns that the Consumer Affairs Authority, the Paddy Marketing Board (PMD) and the Hector Kobbekaduwa Agrarian Research and Training Institute (HARTI) which engages in research and regulation of food prices were not present at Wednesday's meeting with the President.
The delayed reversal of prices of kekulu and kiri samba is to allow small-scale millers the opportunity to bring rice to the market and minimise artificial shortages of those two varieties.
Meanwhile the Consumer Affairs Authority (CAA) sources said that there was an urgency to publish the gazette with the new prices after millers pointed out that they could not provide rice at the existing prices.
A senior CAA official who requested anonymity said CAA raids last week against erring millers and merchants had been in vain: the price reversal had cut across the authority's actions against those who had been creating an artificial shortage of rice.
CAA Chairman Dissanayaka said the authority would make sure millers and merchants sell rice at the newly-set prices.
"Last week I visited all the large-scale millers and asked them to sell rice without imposing conditions to merchants. I also inspected their silos and storage facilities and asked them to provide information on their production and quantities of rice and paddy stored," he said.
He said he had challenged the millers to show evidence of "dhaiyya", the dust created when cleaning paddy, when they claimed to have been storing rice in their warehouses, and had sternly advised them to sell rice at prices below the controlled price to allow retailers to sell at controlled prices.
"We will still monitor activities both large and small-scale millers and stop artificial shortages being created," Maj-Gen. Dissanayaka vowed.
Lankeshwarage Mithrapala, a large-scale miller and Managing Director of New Ratna Rice, said the four main mill owners had told President Gotabaya they were unable to produce nadu and samba for Rs. 90 as production expenditure was high.
"We have huge stocks of paddy, we admit, but to maintain the large silos and to dry wet paddy we have to make large investments. Therefore we find it impractical to issue rice for a controlled price," he said.
"We were forced to use business tactics by selling more keeri samba to merchants to cover up the losses incurred by selling small amounts of nadu and samba at controlled prices," he added.
Some millers claimed the rice price issue had been used to further political rivalry and settle scores but one, Araliya Rice Mills owner Dudley Sirisena, said businessmen should not comment on political matters.
Smaller mill owners had mixed feelings about the new prices.
The Deputy Chairman of the Small and Medium-Scale Millers' Cooperative Society, K.A.B. Abeykirthi, said the previous prices were impractical as production and transport expenditure amounted to more than the market price.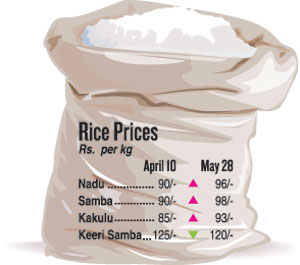 He said, however, that his members had asked the government to reduce the controlled price of keeri samba to Rs. 110 to stop profiteering by the big millers.
Agricultural experts said there was no shortage of paddy and a bumper harvest was expected at the Yala season. Given this, they said, the government should increase storage capacity at the Paddy Marketing Board to keep buffer stocks.
Agriculture economist Dr. R.M. Herath, who is also Director of the Socio-Economic and Planning Centre, said more farming activity had been carried out during the pandemic period and thus a substantial harvest of 1.7 million tons of paddy was expected in two months; a normal Yala harvest was about 1.5 million tons.
There was no paddy shortage, Dr. Herath emphasised: the shortage of rice was an artificial one created at the market by millers and merchants.
The government should increase the amount of paddy purchasing and use it to create a buffer stock to be used whenever merchants and millers created artificial shortages, he said.