Milk rice of STF kindness for Mahiyangana monkeys
View(s):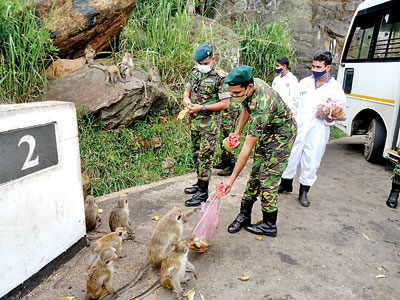 Who says men in military uniform are hard-hearted?
Proving this stereotypical image of soldiers wrong, a group of Special Task Force personnel showed that in their heart, too, the milk of human kindness is available in abundance, when they fed a troop of monkeys which could not find enough food due to the pandemic and curfew.
While travelling along the Kandy-Mahiyangana highway, the STF personnel noticed the hungry monkeys by the side of the road at the 18-bend stretch. Before the lockdown, the monkeys depended on food given by travellers and passersby.
The STF personnel were from a camp at Ambakote in Digana and were being deployed to spray disinfectant at various places. They felt for the starving monkeys, but did not have food with them.
So the next time they were to take the same road, they made it a point to take with them cooked milk rice and buy some fruits on the way. They stopped by and fed the primates, which did not know how to say 'thank you' in human language. Neither were the STF personnel expecting it, for real generosity is doing something without expecting anything in return.
Text and Pic by
Shane Seneviratne