Tuktuks gearing to go, but lack of regulatory body may create problems, warns official
View(s):

Hundreds and thousands of three-wheeler drivers battered financially for over a month are waiting to hit the roads of Colombo and its suburbs once the island-wide lockdown is relaxed, but desperate drivers may overcharge and even act irresponsibly with no regulatory body to check on them, the three-wheeler drivers' association warns.

Association president Lalith Dharmasekare said a majority of the drivers had no source of income at all during the lockdown, especially those in the Western Province, and a large number of them may converge on the city and its suburbs tomorrow.

According to the Department of Motor Traffic, by 2018 there were 1.1 million three-wheelers in the country.

"Around 800,000 drivers and their families solely depend on the income generated from three wheeler taxi rides. About 60-70 percent of them are from the Western Province," he said.

Health Services Director General Dr. Anil Jasinghe announced it is compulsory for three-wheeler drivers to wear masks and limit the number of passengers to two at a time, in accordance with social distancing and other health measures put into place to avoid the spread of COVID-19.

"Once the curfew was lifted in other areas, three wheeler drivers wore masks, and some even gloves. Authorities should make sure safety and hygiene is maintained among three wheeler drivers once public and private sector work commence and crowds start coming into the cities. Similarly, there should be regulations on fixing metres and controlling charges," Mr. Dharmasekare said.

He said they have been pressing governments to regularise three wheelers, bringing some professionalism to it, by providing uniforms, making meters compulsory and maintaining fixed charges.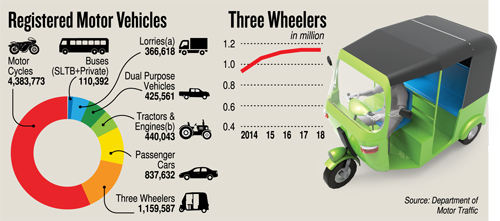 Passenger Transport Management Minister Mahinda Amaraweera told the Sunday Times that a cabinet paper was forwarded a few weeks ago, to appoint the National Transport Commission (NTC) as the regulatory body of three wheelers.
"We are aware of the need to regulate three-wheelers — recognising it as a profession and having certain control as they play a major role in public transportation. At present only the police has the authority to act against wrongdoers," he said.
He said the government decided to provide Rs.5, 000 allowance to three-wheeler drivers too, so that they could cover the basic expenses until the curfew was lifted.